OUR THANKS TO DAVID W. VIKNER
Dr. David W. Vikner, JICUF President 2002-2015
On August 31, 2015 Japan ICU Foundation President Dr. David W. Vikner will be retiring. David's career has spanned five decades and two continents, North America and Asia. He has taught and worked in Hong Kong, Taiwan, China and New York City, where he spent the latter half of his career serving as the President of two significant organizations, the United Board for Christian Higher Education in Asia and the Japan ICU Foundation. He has left a positive impact on the lives of thousands of students and colleagues in all corners of the globe. Please join us in extending our utmost gratitude to Dr. Vikner!
---
LETTER FROM THE PRESIDENT
Perhaps one of the most rewarding aspects of my years with the Japan ICU Foundation has been the many wonderful people that I have gotten to know and to work with. In New York, at the Japan ICU Foundation itself, there have been numerous trustees, counselors, program partners, fellow members of the staff, ICU's North American alumni, and friends of ICU. Then, in Tokyo, at International Christian University on the other side of the Pacific, there have been a variety of administrators, faculty, staff, students, more ICU alumni and more friends of ICU.
I am delighted that together all of us have been able to assist ICU in now coming to a point in its history which is turning out to be a remarkably auspicious time for both ICU and the Japan ICU Foundation. 
President Junko Hibiya and Board Chair Kakutaro Kitashiro are well settled into their new positions at ICU, and the stage has clearly been set for many more promising accomplishments.
At the Japan ICU Foundation, incoming Executive Director, Paul Hastings, and recently elected Board Chair, Sam Shepherd, are well positioned to creatively explore some exciting new dimensions in the 66-year relationship between ICU and JICUF.
With the leadership changes at JICUF, there is a clean slate and a number of administrative changes at the Foundation are being actively explored. An important part of the JICUF restructuring efforts will involve ways in which the Foundation can move to the next stage in its relationship with ICU and be even more responsive to a new generation of collaborative endeavors.
A strategic restructuring of the administration at ICU is also moving forward and clearly includes, among many other components, more effective ways of solidifying the partnership between ICU and JICUF.
ICU's selection as a "Super-Global University" by the Ministry of Education in Japan has already opened up significant opportunities for ICU and JICUF to work even more closely together in enhancing ICU's international dimensions.
Forbes Magazine's recent recognition of ICU as one of the top 10 liberal arts institutions in all of Asia, along with four other universities with Christian roots (Ewha Womans University in Korea, Yonsei University in Korea, Chinese University of Hong Kong and Lingnan University in Hong Kong), brings not only increased visibility for ICU, but also the possibility of even more creative partnerships between these five universities that have so much in common.
With a variety of complex social, political and educational challenges emerging these days, both across Asia and beyond, there are numerous special opportunities to which ICU can creatively respond and truly remain a "University of Tomorrow."
Studying abroad and integrating an international dimension into academic pursuits, hallmarks of an ICU education, are both being increasingly promoted by governments, employers and academic institutions around the world. ICU is indeed well positioned to remain on the cutting edge.
It is very apparent that, in our ever-shrinking world, fluency in the English language is becoming even more broadly essential.  With ICU's consistent emphasis on English language proficiency ever since it was established in 1953, the university has an excellent opportunity to play an important role in furthering the mastery of English.
With rising political tensions in today's world, especially in both Northeast and Southeast Asia, perhaps there is now a unique opportunity for ICU to place renewed emphasis on peace and reconciliation. Just as ICU played an important peace-building role in the aftermath of World War II, it may be in a position to, once again, have a very special impact.
With inter-religious confrontations also escalating throughout the world, mutual tolerance and mutual understanding have become absolutely essential. This spirit is also among the defining hallmarks of what ICU has been from its very beginning.
The most recent generation of new buildings on the ICU campus – four new dormitories, a conference center, a dining hall, a guesthouse and an addition to the library – has had a notable impact on the university as a whole. Now, with a continuing need for essential facilities, there is already an interest in ICU and JICUF continuing to work together on the next generation of functional and harmonious buildings on-campus.
In the years before the Japan ICU Foundation closed its doors in 1991, public support for the Foundation had diminished, and its endowment had been significantly depleted.  However, since the Foundation's doors re-opened in 1997, there has been generous financial support totaling almost US $35 million. Thankfully, the Japan ICU Foundation has been able to use these resources to creatively respond to recent challenges at ICU. However, we have also become aware that there is much more to be done.
To take fuller advantage of the auspicious opportunities that both ICU and JICUF now find coming our way, we at the Japan ICU Foundation are looking forward to a continuation of our close partnership with International Christian University. In fact, there probably has never been better timing for such collaboration since ICU's establishment in the late 1940s and early 1950s.
I look forward to watching from the sidelines.
In abiding gratitude,
David
---
1997-2015: RENEWAL AT THE JAPAN ICU FOUNDATION
After the Foundation and ICU were both established in the late 1940s, they first worked closely together for some 40 years building on the ashes of the Second World War and creating a visionary liberal arts university that became remarkably self reliant. When the Japan ICU Foundation closed its offices on the Upper Westside of Manhattan on December 31, 1991, it was generally agreed that the Foundation's original mission had been largely accomplished.
However, primarily because of the still growing international character of International Christian University, it soon became apparent that, as the University moved forward, it could benefit from a North American partner to assist in fundraising, maintaining ties with its alumni, recruiting faculty and students, and enhancing its international character. With the strong encouragement of ICU, the Japan ICU Foundation's offices were re-opened on April 30, 1997.
In October of 1997, David Vikner, who was then president of the United Board for Christian Higher Education in Asia, was invited to join the reconfigured Board of Trustees. In April of 2000, when Dr. Paul Gregory retired from the position of Board Chair, after being deeply involved with the Foundation for almost 50 years, Dr. David Vikner was elected Chairman of the Board of Trustees to carry on. Then, in April of 2002, after an open and comprehensive presidential search, Dr. Vikner became the President of the Japan ICU Foundation and remained in the position for 13 years.
During his 18 years with the Foundation, there were numerous initiatives that set the stage for a new relationship between ICU and JICUF, which turned out to be exceptionally dynamic and creative.
A Visiting Scholars Program was established to bring esteemed international scholars in fields such as Environmental Studies, Architecture for the Liberal Arts, the History of Jazz, the Changing Role of Women in the Modern World, Peace Studies and the Relationship Between Science and the Religions of Asia to the ICU campus for a week to ten days of interaction with faculty and students.
A summer internship and staff development program was initiated in New York City for key ICU staff members.
Numerous need-based scholarships for both international and Japanese students were funded.
There was programmatic outreach into Burma, China, Zimbabwe, and other under-represented areas of the world.
Engagement in creative international programming such as faculty support for the University of California's short-term program, support for students in the ICU-Nanjing University Program, and early organizational support for the Middlebury College Program were given special emphasis.
Collaboration with ICU in hosting conferences such as the Aspen Forum, Rethinking Peace Studies, the East Asian Science and Religion Conference, Training Programs for Librarians in Asian Universities and a variety of Gender Studies conferences became a priority.
The JICUF worked closely with ICU in rejuvenating the core of the ICU campus through the construction of four new dormitories, a new dining hall, a new conference center, a new guesthouse and an extension of the library.
Cooperation with the Advancement Office at ICU in fundraising efforts to provide critically important financial resources for ICU was remarkably successful.
Cooperation with the Admissions Office at ICU in recruiting both long-term and short-term students from North America increased dramatically.
Engaging with ICU students through the Dream Competition, the Global Link Program in New York City, and a new Social Service Fund became a priority.
Supporting ICU in reaching out to their alumni in North America was also showing encouraging results.
ICU's first president, Dr. Hachiro Yuasa, frequently referred to International Christian University as a "University of Tomorrow," and the Japan ICU Foundation has long been striving to be a "Foundation of Tomorrow," not a "Foundation of Yesterday" or even a "Foundation of Today." 
On September 1, 2015, Mr. Paul Hastings will become the Executive Director of the Japan ICU Foundation.  Under his leadership and inspired by President Yuasa, the trustees and staff of the Japan ICU Foundation will undoubtedly continue to focus on tomorrow. However, the period before the Foundation closed its doors in 1991 and the period after the Foundation re-opened its doors on 1997 will undoubtedly both provide some firm groundwork for innumerable exciting and innovative endeavors in the years that lie ahead.
THE DAVID W. VIKNER SOCIAL SERVICE FUND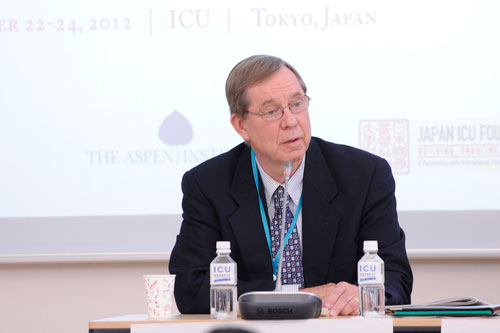 David's unceasing commitment to Christian higher education in Asia has been an inspiration to so many, and we celebrate his lifetime of achievements by establishing the David W. Vikner Social Service Fund. Please join us in supporting this initiative by making a donation in honor of Dr. Vikner today.
Fund Description
The David W. Vikner Social Service Fund is awarded to a group of students, or an individual student, at International Christian University who propose a worthy project that has a strong social service component. The project may relate to community service, disaster relief, peace studies, reconciliation, or other significant areas of activity, and must be completed within one year. The amount of this grant is a minimum of $2,000, available annually, and, over the long run, will be contingent on the availability of funds. It has been created by The Japan ICU Foundation to honor President David W. Vikner, upon his retirement at the end of August 2015, for his devoted service to ICU and the Japan ICU Foundation.
---
FINANCIAL REPORT FROM FISCAL YEAR 2014-15
GRANTS TO ICU

Campus Facilities – $550,493
Global House/Othmer Library – $538,343
Named Rooms in Dialogue House – $12,150
Student Scholarships – $405,121
Peace Bell Scholarship – $202,200
Scholarships for students from countries under-represented at ICU – $50,000
Scholarships for exchange students from Asia – $30,000
Norman and Ruth Q. Sun Loan Fund for Chinese Students – $20,620
Graduate students in Peace Studies – $22,000
ICU Church Scholarship – $20,000
Scholarships for Students from Service Learning Partners in Asia – $20,000
James C. Caraher Scholarship Fund – $16,616
Warnhuis Fund – $10,515
Study Abroad Scholarship – $10,000
Horie Takematsu and Koh Endowed Scholarship – $2,500
Jessie M. Bader Scholarship Fund for Asian Students – $670
Faculty Support – $166,190
Othmer Chair – $150,000
UBCHEA Endowment Fund for Chinese Christian Professors – $11,803
Visiting Scholars Program – $4,387
Special Projects – $11,200
60th Anniversary Fund – $5,200
Student Global Leadership Project – $4,000
Dream Competition – $2,000
Total Grants – $1,133,004

2014-2015 CONTRIBUTIONS

General Contributions – $31,491
Designated Contributions – $192,839
Peace Bell Scholarship – $54,200
General Scholarship Support – $51,871
Fujimoto Scholarship Fund – $50,000
Study Abroad Scholarship – $13,400
David Vikner Social Service Fund – $6,300
Campus Facilities – $5,500
Peace Studies Fund – $3,005
Sakura Fund – $2,100
ICU Church – $2,090
Elrick Williams Memorial Scholarship for Translation – $1,753
East Japan Counseling Center – $1,050
Kidder Memorial Fund/Yuasa Museum – $850
Chris Wada Scholarship Library Support – $300
Library Support – $300
Christian Work at ICU – $120
Total Contributions – $224,330
FREQUENTLY ASKED QUESTIONS
Question:
How much support was provided by the Japan ICU Foundation and JICUF Endowment to ICU in 2014-2015?

Answer: 
Campus Facilities – $550,493
Student Scholarships – $405,121
Special Projects – $11,200
Faculty Support – $166,190
JICUF Program Expenses – $546,882
Total Support for ICU – $1,679,886

Question:
How are contributions to the JapanICU Foundation from ICU alumni and friends used?

Answer:
100% of all contributions from alumni and friends are used for program and project grants approved by our trustees. These gifts are tax-deductible for U.S. tax purposes

For complete financial statements, audited by Tait Weller & Baker, LLP, please contact the Japan ICU Foundation at information@jicuf.org.


$10,000 AND ABOVE
Atsuko & Akira Fujimoto, Fumiko & Yukihiko Sasaki, Valerie Hoffman Takai

$5,000 TO $9,999
Yasuyuki & Judy Owada, Shyanne & Kurt Roeloffs

$2,000 TO $4,999
Benjamin & June Duke, Violet Kuroki, Iqbal Mamdani, Lin & David Vikner, Louise & Laurence Woodruff

$1,000 TO $1,999
Katsuhiko Abe, Thomas L. Benson, David Chan, Elizabeth Conant, Machi Fukuyama Dilworth, Joan E. Ericson, Noriko Iwase, Joseph Yuen Chor & Nelly Lee, Yoshiro Matsuo, John Pearson, Delores & Jon Roeder, Thomas Schoenbaum, John Coventry Smith, Jr., Carolyn Treadway, George & May Wang
$500 TO $999
Takeshi Amemiya, Po-chuen & Lillian Chan, Cynthia Chang & Brian Scanlan, Danny Ha, Mitsuhiro & Kaede Kaneda, Koaki Harris, Allan Hinglun Lee, Pichon Loh, Anne Love, Kazuko & Chad Love, Nakako Memon, David & Zenora Rackham, Atsuko J. Rasic, Frank Smith, Junko Usuba
$200 TO $499
Shigeru Aoki, Michael H. Armacost, Satomi Bol, Elizabeth Bryant, Maria Tseng Chen, Laura Chiu & Shin-Cheng Simon, William Clark, Mikiko Davis, Lisa & Charles Dent, Yuko Folgate, Frank Gamelin, Roger & Lois Geeslin, Paul Hastings & Debbie Wissel, Saneteru & Hisako Hirose, Shoji Kent Ikeda, Paul Kidder, Evelyn Kreider, Yuko Kuriyama, Phyllis Larson, Robert & Nancy Lee, Yasuko Moyer, Sawa Nakagawa, Kaori Nishikida, Samuel Nukazawa, Peter & Amy Prahar, Stanley Reedy, Mary & Bruce Rigdon, Samuel & Connie Shepherd, David & Cindy Stinson, Roscoe Stuber, Yuko Sugiyama Lynch, Tomoko Takahashi, Roy & Ute Tellini, Curtis & Jinx Tong, Jaqueline Wasilewski, Hiroko Matsushima Williams, Michael Yochum & Priscilla Otani,
Weimin Yuan

$100 TO $199
Chihae Arafune, Annie Awanohara, Carl & Marie Bade, Joan Bennett, Keith Brown, Moyne Cubbage, Tara DeWorsop, Katherine Durgin, Stephen Dyer, Yoko Murayama Eide, Mark Flanigan, Namiko Golden, Dorothy Goldman, Thomas & Carol Hastings, Dale & Karen Haworth, Junko Murray, David& Patty Janes, Joel & Peggy Johnson, Donald Johnston, Tomoko Nakamori Kempf, Helene Keran, Shirley Kondo, Keiko Koshiya, Robert Hing Keung Kwan, Walter Lange, William K. Lee, David Lee, George & Joan Lewis, Roger & Michiko Matthews, Margery L. Mayer, Liza McGuckin, Ryo Nakamura, Tsuyoshi Ohyama, Izumi & Michael Osawa-Minevich, Elaine Rich, David P. L. Sachs, Atsushi & Michi Sasahara, Jim Scherer, George & Etsuko Schulenberg, Motoko Shimizu, Seiichi Shinomiya, Hallam & Yasuko Shorrock, Yoshihiko Sinoto, Mari Snyder, Kurt Tong & Mika Marumoto, Lawrence & Joanna Tsuyuki, Joan Uht, Kazue Watlington, Katherine Wurfel, Shizuka Yamagata, Anonymous
BELOW $100
Thomas Baier, Paul & Helen Baumgartner, Regis & Marilyn Birckbichler, Lynn C. Cohee, Ayako Cone, Carmen Dagnino, Susan Duke, Keith E. Edwards, Quentin & Christa Gamelin, Dorothy Gibbs, Owen Gingerich, Aaron Hassad, Evelyn Headen, Rebecca Hoke, Doris Kersten, Quentin Knauer, Lawrence P. Lake, Elizabeth Landerholm, Lyle & Melba Larson, Dennis Lubeck, Richard Mellott, Kesaya Noda, Mitchell Porten, John E. Rosenbaum, Robert F. Smylie, Harumi Takahashi, Dorothy G. Thomason, Hiroko Tsuchiya, Yoichi Usui,
Shoko Williams

CORPORATIONS, ORGANIZATIONS & MEMORIAL FUNDS
April Manzinger Fund, Elrick Williams Memorial Fund, JP Morgan Chase Foundation Matching Gift & Volunteer Grants, J.U. & Hazel Simmons Scholarship Fund, The Prudential Foundation Matching Gifts, Wells Fargo Bank, Emma Lee Yu, Deutsche Bank Americas Foundation

MEMBERS OF THE DR. HACHIRO YUASA SOCIETY
The Dr. Hachiro Yuasa Society was formed to recognize those thoughtful graduates and friends who make an estate gift or other form of deferred gift to the Japan ICU Foundation.

Harvey & Tamiko Anderson
Jean K. Ando
Hatsuya Azumi
Ray W.G. & Hazel Bayley
Thomas L. Benson
Ben & June Duke
Joan E. Ericson
Atsuko & Akira Fujimoto
Margaret Garrison
William & Eleanor Honaman
Emily Jackson
Douglas D. Melick
Hiroshi & Ikuko Mizukami
Nancy Mulford
Yasuyuki & Judy Owada
John D. Pearson
David Pittle
Peter and Amy Prahar
Jon A. & Delores J. Roeder
Kurt & Shyanne Roeloffs
Hallam C. Shorrock, Jr.
Lin & David Vikner
Louise S. Woodruff
TAIZANSO SOCIETY
The Taizanso Society honors donors who have made cumulative contributions to the Japan ICU Foundation totaling more than $100,000. 

Henry Berman
Atsuko & Akira Fujimoto
Donald & Mildred Topp Othmer
Fumiko & Yukihiko Sasaki

Thank you to all of those who generously supported our work this past year. We rely on the ongoing support of ICU's alumni and friend community in North America. The donations listed here were received between April 1, 2014 and March 31, 2015. If you have any questions, please do not hesitate to be in touch.