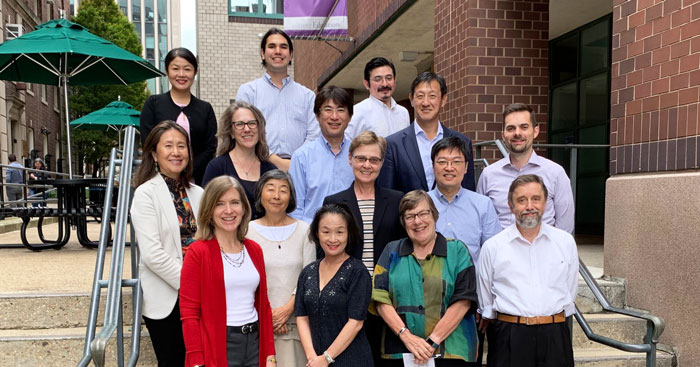 Staff
Paul Hastings is the Executive Director and CEO of the Japan ICU Foundation. He joined the JICUF staff in 2006, and served in numerous positions before assuming the Executive Director role in September 2015. Paul is a graduate of Bowdoin College and received his MA in International Education from Teachers College, Columbia University. He is the recipient of the Aspen Institute's Nakasone Scholarship and serves on the Board of Trustees of the American Friends of Asian Rural Institute. Paul spent 11 formative years in Japan, living in Kanazawa, Kobe and Tokyo between the ages of 4 and 18. He lives with his wife and two sons in Maplewood, NJ.

Luke Takuya Palermo joined JICUF as Program Assistant in November 2017. He received his BA in Communication Studies from American University, where he served as co-General Manager of WVAU, the student-run online radio station. Born in Tokyo and raised mostly in New Jersey, Luke has a particular interest in the many facets of his Japanese-American bicultural identity. In his spare time he enjoys critical unpackings of media and culture issues, and tending to his many houseplants.

Fernando Rojas joined the JICUF in August 2016. In his role as Program Manager, Fernando oversees and manages the administration of JICUF Grants and Scholarships, as well as collaborates with other JICUF staff on other initiatives. Born and raised in New York City (with a brief stint in NJ), Fernando received his BA in Architecture from Columbia University. Upon graduating, he spent two years on the JET program teaching in a junior high school in Fukui Prefecture. He also served as Fellowships Coordinator at the Social Science Research Council. Fernando's hobbies includes learning different languages, perfecting his shodou skill (jun 5-dan level), adding recipes to your repertoire of dinner ideas, and enjoys volunteering with kids in the South Bronx.

Aki Takada was first appointed Director of Communications at JICUF in May 2016, and is now the Associate Director. A Tokyoite who spent half of her childhood in NY, LA and London, Aki graduated from ICU High School,  ICU and ICU Graduate School (GSPA). She received her second master's degree in political science from the University of Oxford. As a New York transplant, she has worked for the Permanent Mission of Japan to the United Nations and the United Nations Development Programme (UNDP) among others, and has also been a small business owner. 
Trustees
Phyllis Hyland Larson lived in Shizuoka and Tokyo, Japan, with her missionary parents from 1950 to 1966. She attended ICU in 1965-66. After graduation from St. Olaf College, she completed a PhD in Japanese literature at the University of Minnesota and taught in Asian Studies departments at Macalester College and St. Olaf College until her retirement in 2013. She lives in Northfield, MN, with her husband Ken.

Danny Ha is US Counsel at Aberdeen Standard Investments, a global asset management company.  Prior to Aberdeen, he was General Counsel of Arden Asset Management LLC, an investment firm specializing in hedge fund investments.  Danny's connection to ICU is through his junior year abroad during 1993-1994 academic year, where resided at 2nd Men's Dormitory.  Subsequently, Danny attended ICU's summer language program in 1999.  A lifelong student of history,  Danny's interest in the field includes comparative culture between Korea and Japan.  Danny received his bachelor's degree from University of Massachusetts at Amherst, master's degree in Japanese History from the University of Chicago and JD from Fordham University School of Law.   

David Janes is Director of Foundation Grants and Assistant to the President at the United States-Japan Foundation, where he leads the Foundation's multi-million dollar grant-making program and serves as the public face of the Foundation to potential and current grantees in the U.S. and Japan. He manages over 100 active grantees annually and has key responsibility for fiscal and programmatic oversight of these organizations' grant-related programs.

Machi Fukuyama Dilworth most recently served as the Vice President for Gender Equality and Human Resource Development at the Okinawa Institute of Science and Technology. Prior to her role at OIST, she had a 33-year-long career in Washington D.C. as a government research administrator, including serving as the Associate Program Manager/ Associate Chief of Competitive Research Grants Office at the U.S. Department of Agriculture and the Director for the Office of International Science and Engineering at the National Science Foundation. While at NSF, Machi served as Head of the NSF Tokyo Office and concurrently Science & Technology Attache at the US Embassy from 2007 to 2010. In 2002 she was awarded the Presidential Distinguished Rank Award from the White House, and in 2007 was designated a fellow for both the American Society of Plant Biologists and the American Association for the Advancement of Science. Machi has always been conscious of the gender-based biases in scientific workplaces and Japanese society, and works for the professional and educational advancement of women at all levels. She received her B.A. in Natural Sciences at International Christian University and both her M.A. and Ph.D. in Plant Biochemistry and Physiology at University of California at Los Angeles.

Mitsuhiro "Mitch" Kaneda is an ICU graduate (CLA 1986, GSPA 1988) who has a Ph.D. in economics from the University of Pennsylvania. He is currently Associate Dean and Director of the Undergraduate Program at the School of Foreign Service of Georgetown University. He teaches International Trade, and is published in the Journal of Economic Theory and Journal of Development Economics. His goal is to be useful to Japanese higher education by applying knowledge from U.S. college administration.

Kenji Kushida is the Japan Program Research Associate at the Walter H. Shorenstein Asia-Pacific Research Center (APARC) at Stanford University, Project Leader of the Stanford Silicon Valley – New Japan Project (SV-NJ), research affiliate of the Berkeley Roundtable on the International Economy (BRIE), and international research fellow at the Canon Institute for Global Studies (CIGS). He holds a PhD in political science from the University of California, Berkeley, and has an MA in East Asian studies and BAs in economics and East Asian Studies from Stanford University.

Katherine Tegtmeyer Pak is an Associate Professor of Political Science/Asian Studies and the Department Chair for Political Science at St. Olaf College in Northfield, Minnesota. Kathy earned her M.A. and Ph.D. in Political Science from the University of Chicago, and her B.A. in East Asian Studies and Political Science from the University of Illinois at Urbana-Champaign.  Between college and graduate school, she worked at Toshiba Corporation's Tokyo headquarters for two years, and she returned to Japan for 16 months of field research during graduate school. Before joining the St. Olaf faculty in 2003, she taught for five years at New College of Florida. Kathy teaches both broad international and comparative politics classes (Introduction to International Relations, Immigration and Citizenship) and Asia-focused classes (Asian Regionalism, Japanese Politics, Human Rights in Asia). She has published several papers on Japanese immigration and citizenship politics. She spent the 2009-10 academic year as a Visiting Research Fellow at the Institute of Social Science, University of Tokyo, thanks to a Fulbright Research Grant, investigating democratic ideals and political socialization. She also teaches a St. Olaf class based at the Asian Rural Institute, and is a member of the board of the American Friends of Asian Rural Institute.

Susan Schmidt lived from 1972 to 1996 in Tokyo, where she worked as a staff editor of English-language books at the University of Tokyo Press. Currently she is Executive Director of the American Association of Teachers of Japanese, a 1,500-member professional organization of Japanese language educators in the United States. One of her major projects at AATJ is encouraging American college students to study abroad in Japan, and administrering a scholarship program for that purpose. She lives in Boulder, Colorado.

 

Masako Shinn joined the Board of Trustees of the Japan ICU Foundation in April 2016. She is a partner of Graphis Inc., a publisher of books and magazines on design, and a trustee of The Asia Foundation. Prior to Graphis, she held senior positions at Drexel Burnham Lambert Inc., Salomon Brothers, Inc., and Morgan Stanley, Inc. Masako has served on the boards of the Japan Society, the Freer and Sackler Galleries and the Kennedy Center's President's Advisory Council on the Arts. She received her bachelor's degree from the International Christian University in Tokyo, Japan, master's degree in Business Administration from Harvard Business School, and master's degree in East Asian Studies from Columbia University. She is currently working towards a doctorate degree in design at the Bard Graduate Center in New York. 

Takeshi Ueshima is a Principal of Heritage Fund Management, LLC in New York, which specializes in alternative Investments for institutional Investors and high net worth individuals. In addition, he has served as a member of the International Committee of The John F. Kennedy Center for the Performing Arts, a Fellow of UK World Fellowship, a Scott M. Johnson Fellow of the U.S.-Japan Leadership Program, a trustee of the U.S.-Japan Foundation, the treasurer of Tanaka Memorial Foundation, and as a director for various other entities.

Takeshi holds a B.A. in Economics from Fordham University. He started his financial career at the Sumitomo Trust & Banking Company Ltd in Tokyo. He also worked for UBS (formally Paine Webber, Inc.) in New York.

Anne Goodsell Van Der Karr, Ph.D., is a Teagle Assessment Scholar; she was Associate Provost for Assessment and served in other academic and student affairs roles at Wagner College on Staten Island, NY, from 2000 – 2017. Her work in higher education includes research about student well-being and engaged learning, and she has an extensive record of practice in and publication about learning communities. She has taught graduate courses in Higher Education and consults widely. She is a co-leader of the Atlantic Center for Learning Communities and blogs about living life with faith: Inspired by Love.

Jacqueline retired from ICU in 2008 after teaching 18 years in the  Department of Communication & Linguistics in the old International Studies Division.  While at ICU she was the first female Chair of the Faculty Meeting.

She was invited to teach at ICU because of her focus on multiculturation.  Her US family carries 11 lines of history.  Her doctoral dissertation was based on 192 life histories written by Native-, Hispanic-, Black- and Asian-Americans.  She was able to offer Japanese returnees and international students schema through which to view their complex experiences and was able to offer hon Japa their own schema through which to view the increasing "internationalization" of Japan and Japanese society itself as a "multicultural" society … remember the Ainu!      

This multicultural focus led to a concern for MIID Communities, Multicultural, Inclusive, Interlinked, Discursive Communities.  These are diverse communities that talk with not at each other when trying to solve problems.  Her final project at ICU was a Center of Excellence (COE) Project funded by the Japanese Ministry of Education.  Using a computer-assisted dialogue process this three year project brought together Japanese, Chinese, Korean and Russian students and civil society members to talk about relationships in North East Asia.
INVESTMENT COMMITTEE
Takeshi Ueshima (Chair)
Robert Chen
Yoko Fukaya
Danny Ha
Kurt Roeloffs
Aya Weissman
Kenichiro Yamada