Dear ICU alumni & friends,
The last year has been marked by transition and growth at the Japan ICU Foundation. On September 1, 2015 I started my new role as Executive Director and CEO of the JICUF. Together with our staff, board of trustees and colleagues from ICU, we established and put into motion a plan to build on the success of JICUF's over 60-year partnership with ICU. The plan centers on creating impact through our grants, scholarships and programs. Each of these areas help achieve our mission of supporting ICU's broadly international and ecumenically Christian dimensions in a unique way.
In January 2016 we launched our new Grants for Faculty and Grants for Students initiative, enabling ICU faculty and staff to apply directly to the JICUF for funding. Between the Spring and Fall terms we received 41 inquiries, 18 from faculty and 23 from students and awarded a total of ¥6,598,623 in grants.
As you can see in the Financial Report below, we provided ICU with $249,223 in scholarship funding in FY2015-16. The bulk of this support is awarded to international students studying at ICU. We have also begun a process to reform JICUF scholarship awards, with the goal of increasing the number of international students at ICU.
In June we held the Rethinking Peace Studies conference on the ICU campus. The conference brought together over 20 academics and practitioners from around the world to present original papers focused on peace and conflict studies. Then, in July a group of ICU students participated in the third annual Global Link summer program in New York City. The program is planned and administered entirely by the JICUF staff, and this year we doubled participation from 6 to 12 ICU undergraduate students.
To personalize some of this year's accomplishments, immediately below I highlight one person we have supported through our grants, scholarships and programs during this past year. I hope these brief sketches give you a sense of the human impact of our work. None of this would be possible without the generosity of so many ICU alumni and friends in North America. Thank you for your continued support!
Sincerely,
Paul Hastings
Executive Director
---
Professor Matthew Gillan – JICUF Grant Recipient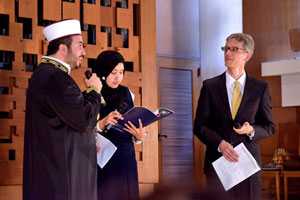 Matthew Gillan is a Senior Associate Professor in the Department of Music and Director of the Sacred Music Center at ICU. On June 4, 2016 he and his colleagues convened "Sacred Voices," an innovative interfaith event at the University Chapel. The four-hour program featured sacred vocal performances from the Buddhist, Christian, Hindu and Islamic traditions. Each performance was followed by thoughtful discussion. The sold out event was attended by alumni, students, faculty and members of the general public. To read more about this event, please click here.
Kosinara Sok – JICUF Scholarship Recipient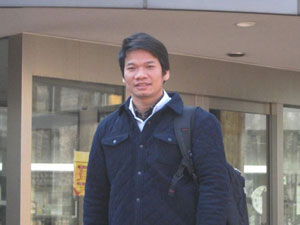 Kosinara Sok is the recipient of a jointly sponsored JICUF/ICU/United Board scholarship for students pursuing an MA in Peace Studies. Kosinara is from Phnom Penh, Cambodia. Before attending ICU, he served as a public servant in the Ministry of Education, Youth and Sport, as well as a university lecturer in the department of international studies of the Royal University of Phnom Penh. He just completed his MA in June 2016 and is planning to help develop a new curriculum on Peace Studies, Democracy and Human Rights at the Royal University. In the long term, he would like to continue to focus on youth development in Cambodia. To learn more about Kosinara, please click here.
Priscilla Balona – Participant in JICUF's Summer Program, Global Link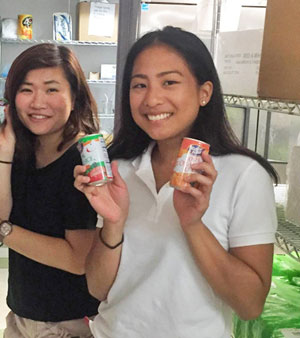 Priscilla Balona has just begun her junior year as a four-year September student at ICU. This past July she participated in our Global Link summer program in New York City, along with 11 other ICU undergraduates. Priscilla, who is Filipino-Japanese, grew up in Saitama and attended Christian Academy in Japan, an international school in Tokyo. Priscilla's boundless energy and curiosity was a joy for all of us involved in Global Link to witness. You can get a sense of this by watching the short video montage she complied of her experience in New York.
FINANCIAL RPEORT FROM FISCAL YEAR 2015-16
GRANTS TO ICU
Campus Facilities – $469,357
Global House/Othmer Library – $463,857
Named Rooms in Dialogue House – $5,500
Student Scholarships – $249,223
Peace Bell Scholarship – $54,100
Norman and Ruth Q. Sun Loan Fund for Chinese Students – $26,787
Ten one-year scholarships for international students – $87,500
ICU Church Scholarship – $17,500
Scholarships for Students from Service Learning Partners in Asia – $18,500
James C. Caraher Scholarship Fund – $20,120
Warnhuis Fund – $11,875
Study Abroad Scholarship – $10,000
Horie Takematsu and Koh Endowed Scholarship – $2,000
Jessie M. Bader Scholarship Fund for Asian Students – $841
Faculty Support – $169,833
Othmer Chair – $150,000
UBCHEA Endowment Fund for Chinese Christian Professors – $13,134
Visiting Scholars Program – $6,699
Special Projects – $46,392
The Carnegie Council's Global Ethics Network Gathering in Tokyo – $30,000
Student Global Leadership Project – $4,000
Dream Competition – $2,000
"Sacred Voices" Symposium – $9,342
Clinical Educational Center for Fukushima Reconstruction – $1,050
Total Grants – $934,805
2015-2016 CONTRIBUTIONS
General Contributions – $24,097
Designated Contributions – $70,104
Peace Bell Scholarship – $3,200
Fujimoto Scholarship Fund – $50,000
Study Abroad Scholarship – $1,600
David Vikner Social Service Fund – $4,425
Peace Studies Fund – $1,850
Sakura Fund – $3,525    
Elrick Williams Memorial Scholarship for Translation – $1,791
Kidder Memorial Fund/Yuasa Museum – $100
Miscellaneous – $3,613 (includes April Ann Manzinger $122, Christian scholarship from ICU Church $1,690, J.U. & Hazel Simmons $226, general scholarships $1,400, ICU Church $175)
Total Contributions – $94,201

FREQUENTLY ASKED QUESTIONS
Question:
How much support was provided by the Japan ICU Foundation and JICUF Endowment to ICU in 2015-2016?
Answer:
Campus Facilities – $469,357
Student Scholarships – $249,223
Special Projects – $46,392
Faculty Support – $169,833
JICUF Program Expenses – $497,814
Total Support for ICU – $1,432,61
Question:
How are contributions to the JapanICU Foundation from ICU alumni and friends used?

Answer:
100% of all contributions from alumni and friends are used for program and project grants approved by our trustees. These gifts are tax-deductible for U.S. tax purposes

For complete financial statements, audited by Tait Weller & Baker, LLP, please contact the Japan ICU Foundation at information@jicuf.org.
---
$10,000 AND ABOVE
Atsuko & Akira Fujimoto
$5,000 TO $9,999
Yasuyuki & Judy Owada, Valerie Hoffman Takai
$2,000 TO $4,999
David Chan, Benjamin & June Duke, Hiroko Kiyoshi-Teo, Louise & Laurence Woodruff
$1,000 TO $1,999
Elizabeth Conant, Machi Fukuyama Dilworth, Joan Ericson, Noriko Iwase, Iqbal Mamdani, Yoshio Matsuo, Atsuko J. Rasic, Delores & Jon Roeder, Takeshi Ueshima, George & May Wang
$500 TO $999
Katsuhiko Abe, Takeshi Amemiya, Po-chuen & Lillian Chan, Laura Chiu & Shin-Cheng Simon, Mitsuhiro & Kaede Kaneda, Koaki Harris, Allan Hinglun Lee, Pichon Loh, Anne Love, Nakako Memon, David & Zenora Rackham, Mary & Bruce Rigdon, Hallam Yasuko Shorrock, John Coventry Smith, Jr., Roy & Ute Tellini, Junko Usuba, Stephen & Yumi Yamaguchi
$200 TO $499
Michael Armacost, Arthur & Danita Bauer, Lisa & Charles Dent, Frank Gamelin, Lois Geeslin, Fred & Eleanor Honaman, Shoji Kent Ikeda, Phyllis Larson, Robert & Nancy Lee, Nizar Mamdani, Kaori Nishikida, John Pearson, David Sachs, Kazuya & Elizabeth Sato, Mari Snyder, Yuko Sugiyama Lynch, Tomoko Takahashi, Curtis & Jinx Tong, Grace Yamamura, Michael Yochum & Priscilla Otani
$100 TO $199
Tamiko & Harvey Anderson, Chihae Arafune, Annie Awanohara, Carl & Marie Bade, Satomi Bol, L. Keith Brown, Elizabeth Bryant, Virginia Coleman, Kenneth & Eloise Dale, Stephen Dyer, Mutsuko Endo Hudson, Mark Flanigan, Namiko Golden, Dorothy Goldman, Jason Inzer, Tomoko Ishibashi, Joel & Peggy Johnson, Tomoko Nakamori Kempf, Helene Keran, Judith Kidd Held, Paul Kidder, Quentin Knauer, Elizabeth Landerholm, Hitoshi Maruyama, Margery Mayer, Richard Mellott, Sawa Nakagawa, Samuel Nukazawa, Kiyo Okazaki, Kazumi & Robert Pestka, Fumiko Radile, Elaine Rich, Pacita Roberts, George & Etsuko Schulenberg, Frank Smith, Brian Szepkouski, Colin Teraoka, Kurt Tong & Mika Marumoto, Kazue Watlington, Shizuka Yamagata, Emma Lee Yu, Anonymous (2)
BELOW $100
Mutsumi Angevine, Ayako Cone, Susan Duke, Wilbert Ericson, Janet French, Quentin & Christa Gamelin, Dorothy Gibbs, Owen Gingerich, Kathleen Hurty, Doris Kersten, Fukuko Kobayashi, Sharon Komatsubara, Lawrence Lake, Dominic Lobuglio IV, Lafayette Mathews III, Andrew Neuman, Tsuyoshi Ohyama, John Rosenbaum, Harumi Takahashi, Kurt & Leslie Thompson, Hiroko Tsuchiya, Joan Uht, Yoichi Usui, Shoko Williams, Aya Yabe-Duruz
CORPORATIONS, ORGANIZATIONS & MEMORIAL FUNDS
April Manzinger Fund, Elrick Williams Memorial Fund, ICU Church, J.U. & Hazel Simmons Scholarship Fund
MEMBERS OF THE DR. HACHIRO YUASA SOCIETY
The Dr. Hachiro Yuasa Society was formed to recognize those thoughtful graduates and friends who make an estate gift or other form of deferred gift to the Japan ICU Foundation.
Tamiko & Harvey Anderson
Jean Ando
Hatsuya Azumi
Arthur & Danita Bauer
Ray & Hazel Bayley
Thomas Benson
Emily Clifford Jackson
Benjamin & June Duke
Joan Ericson
Atsuko & Akira Fujimoto
Margaret Garrison
Fred & Eleanor Honaman
Douglas Melick
Hiroshi & Ikuko Mizukami
Nancy Mulford
Yasuyuki & Judy Owada
John Pearson
David Pittle
Peter & Amy Prahar
Delores & Jon Roeder
Shyanne & Kurt Roeloffs
Hallam Shorrock
Lin & David Vikner
Louise & Laurence Woodruff
TAIZANSO SOCIETY
The Taizanso Society honors donors who have made cumulative contributions to the Japan ICU Foundation totaling more than $100,000.
Henry Berman
Atsuko & Akira Fujimoto
Donald & Mildred Topp Othmer
Fumiko & Yukihiko Sasaki
Thank you to all of those who generously supported our work this past year. We rely on the ongoing support of ICU's alumni and friend community in North America. The donations listed here were received between April 1, 2015 and March 31, 2016. If you have any questions, please do not hesitate to be in touch.