ICU (International Christian University) is a private, four-year liberal arts college in Tokyo. Founded on the principles of the Universal Declaration of Human Rights, ICU aims to cultivate "responsible global citizens" who will contribute to world peace and to help people in diverse backgrounds live together harmoniously.
ICU has been a pioneer in liberal arts education since its founding in 1953, pursuing, as its name suggests, international, Christian and academic missions. Visit ICU's website.
JICUF offers scholarships through four initiatives: the Syrian Scholars Initiative (SSI), U.S. Scholars Initiative (USSI), Study Abroad Initiative and Exchange Students Initiative. Learn more
JICUF runs two overseas programs for ICU undergraduate students: Global Link New York and Global Link China. Learn more
JICUF News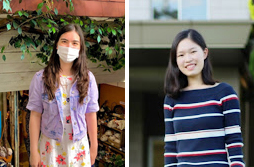 JICUF recently recruited two ICU students, Kira Taylor and Rika Asakura, as our first Communications Interns. Their main responsibility is to disseminate information about the opportunities that JICUF provides to current ICU students, and with their help, we launched the JICUF official LINE account!

JICUF is relaunching the grants program this fall! Starting August 30, ICU students, faculty, and now alumni can apply for funding for projects focused on sustainability, DEI or peacebuilding.
Mr. Yoshito Dobashi graduated from ICU in March 1991. His parents and wife all being ICU alumni, ICU has been a part of Mr. Dobashi's far beyond graduation. He is currently the chapter president of "ICUICU," the group of  ICU alumni involved in international cooperation. We asked him to reflect on his path from childhood to ICU, and to his current work on disability and development.