Application for admission in 2021 has closed.
Please check back in spring 2021 for information on application for admission in 2022.
⚠ Note regarding ICU's standardized test (SAT/ACT) scores requirement:
Applicants to ICU are still required to submit SAT with Essay/ACT with Writing scores if they are able to sit down and take an exam. If, however, applicants are not able to take the exam, they now have the option to take ICU's "Essay and Interview Exam" in lieu of submitting SAT/ACT scores.
In order to take advantage of this option, applicants must submit a form to ICU explaining the reasoning and circumstances that do not allow you to take an SAT/ACT test. If ICU finds an applicant's reasons are reasonable, then they can proceed with the "Essay and Interview Exam." This option is only available to students applying during ICU 2nd Application Period from Feb. 12 to Mar. 2. You can read ICU's announcement HERE.
For more information, contact Program Manager Fernando Rojas at frojas@jicuf.org. You can also sign up for the USSI Email List below to receive any updates.
Click here to join the USSI Email List to receive the latest information about the USSI scholarship as well as notification about the online information sessions in the fall.
What is USSI?
The United States Scholars Initiative (USSI) aims to increase the number of international, degree-seeking undergraduate students from the United States at ICU. This merit-based scholarship will cover academic fees (tuition and facilities fees) for four years of undergraduate study at ICU. Starting in 2018, two incoming first-year students will receive the scholarship annually. The applicants must be United States citizens and have completed high school in the United States. They must also demonstrate an interest in Japan, the Japanese language and the liberal arts.
What is ICU?
ICU is a private, four-year liberal arts college in Tokyo. Founded on the principles of the Universal Declaration of Human Rights, ICU aims to cultivate "responsible global citizens" who will contribute to world peace and to help people from diverse backgrounds live together harmoniously. ICU has been a pioneer in liberal arts education in Japan since its founding in 1953, pursuing, as its name suggests, international, Christian and academic missions.

Although founded on Christian principles, ICU does not proselytize. The majority of students are not Christian. All undergraduate students are required to take "Introduction to Christianity," but otherwise participation in Christian programs is completely optional.

Please visit ICU's website for information on the majors offered (fields of study), student life, location, etc.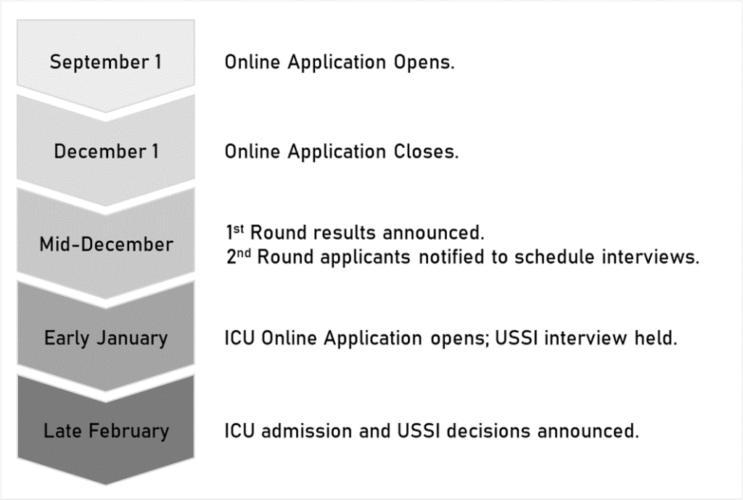 Upcoming Information Sessions
There are no more information sessions in 2020. Please check back in spring 2021.
United States citizen
Will graduate from U.S. high school
Strong interest in Japan and the Japanese language
Interest in liberal arts education
Single with no dependents

| | |
| --- | --- |
| Sept. 1, 2020 | USSI online application opens |
| Dec. 1, 2020 | USSI online application closes |
| Mid-December 2020 | Shortlisted candidates notified |
| January 2021 | Application to ICU opens |
| January 2021 | Interviews (shortlisted candidates only) |
| February 2021 | ICU & USSI results announced |

Application to USSI

Application to USSI will open on September 1, 2020.

Please make sure that you have all the necessary documents listed under the "Required Documents" tab. You will be able to upload all necessary documents through the application portal.

Document Screening & Interviews

Once you have submitted your application, it will be reviewed by our document screening team.  

A shortlisted group of successful candidates will be invited for interviews (either in-person or via skype) in January 2021.

Application to ICU

The shortlisted applicants will apply to ICU in January 2021. Most of the necessary documents have already been submitted to JICUF, so this process should not be difficult. JICUF staff will also assist the application process if necessary.

Admission to ICU

The results will be announced by ICU in February 2021. Immediately after acceptance, the scholarship recipients will commit to study at ICU.

Personal statement (500-600 words) o

n why you would like to study at ICU, and what your plans are after graduation

Short essay (400-500 words)

Copy of transcript (at least the last 3 years of secondary school)

Educational certification (SAT with essay, ACT plus writing or IB full diploma)

2 letters of recommendation (One from HS principal, guidance counselor, tutor or IB coordinator; one from a HS instructor who has taught a core academic subject eg. English, SS, math, science, foreign language)

If you have graduated from a U.S. high school but have NOT spent the last continuous six years at an institution in which English is the language of instruction, you will need to submit either a TOEFL or IELTS score. Please contact us for more details at information@jicuf.org.

Q: What does this scholarship cover?
A: It covers the academic fee (tuition plus facilities fee) at the International Christian University for four years.

Q: Does this scholarship cover living costs?
A: No, the scholarship only covers the academic fee (tuition plus facilities fee). You will be responsible for housing, various fees and living costs. You can find a list of fees and estimated living cost here. Information on financial aid options are also found on that same page.

Q: I have dual citizenship (Japanese and American) – am I eligible?
A: Yes, you can apply for the scholarship. However, please note that we prioritize students who do not have Japanese citizenship as there are more financial aid and scholarship options available to those with Japanese citizenship.

Q: How will our level of Japanese language be assessed?
A: Japanese language abilities are unnecessary to apply for either USSI or to ICU. Japanese language assessment will take place after matriculation to ICU.

Q: What happens if I decide to transfer to other schools?
A: The scholarship is meant for students with a strong interest and desire in completing their undergraduate education at ICU in four years. We strongly discourage those who wish to transfer to other schools from applying. In case the scholarship recipient does transfer to another school, the scholarship will be terminated.

Q: Are green card holders considered eligible?
A: Green card holders (permanent residents) are not eligible to apply at this time. We will notify all applicants if this policy changes.

Q: Do I need to travel to Tokyo for the second round interview?
A: No, you don't. We will arrange an interview via Zoom.

Q: Can I live in the ICU dorms or do I have to live off-campus?
A: International (non-domestic) students are given priority when dormitory assignments are made. You may live in student dormitories at ICU but don't have to. You may choose to live off-campus. ICU's Student Affairs Group will assist students with finding housing.

Q: Can I use the same materials submitted for the USSI when I apply to ICU?
A: Yes, you may. In fact, we have tried to use the same application requirements as ICU whenever possible. JICUF staff will work closely with finalists to prepare their application to ICU.

Q: Do we need to submit both the SAT and ACT?
A: No, you are only required to submit one, but can choose to submit both. Please note that you must take the optional essay/writing portion of both tests.

Q: What is the difference between the personal statement and the essay?
A: The personal statement is more biographical and should reflect the applicant's personality and interest in Japan and ICU. The personal The essay should demonstrate your writing ability on one of the topics provided or a topic of your choosing.

Q: Are we able to send the standardized test scores (SAT, ACT, etc) via the tests' respective websites?
A: You may send your scores directly to ICU for their records. Here are the institution codes for ICU.

SAT Institution Code Number: 0860
ACT Institution Code Number: 5279

You must, however, submit a copy of your scores to us via the application portal. Unofficial scores are acceptable for this scholarship.

Q: Will ICU transfer community college credits earned during high school?
A: ICU will determine what gets transferred on a case-by-case basis.

Q: Are there part-time jobs that international students can have while they are on this scholarship?
A: There are part-time jobs available to international students. However, ICU discourages students from taking any part-time work for at least the first trimester at ICU, as the first-year students adjust to live in Japan and at ICU.

Q: Are there mandatory Christian classes taught at ICU that I must take?
A: All ICU undergraduate students, including those from Japan, must take the "Introduction to Christianity" course at some point. The course, however, is not meant to proselytize and teaches Christianity from an academic point of view.

Q: Do you have to major in Japanese studies or can I major in another subject? Do I have to know my major before applying?
A: You do not have to know your major when you apply to ICU. Students don't choose their major until the end of their second year. During those first two years, you are welcome to explore and take classes in departments that interest you.

Q: Is a degree from ICU recognized by colleges and universities in the United States?
A: Yes. ICU is a member institution of the Japanese University Accreditation Association. As such, credits earned at ICU are fully recognized by graduate schools of major universities in Japan, the United States and elsewhere and are also normally accepted for transfer provided they fit into the student's overall program at his or her home institution.

A link to the application portal will be posted on September 1, 2020.
The U.S. Scholars Initiative aims to increase the number of international, degree-seeking undergraduate students from the United States at ICU. If you are interested in supporting this scholarship, please contact us at 212-870-3386 or information@jicuf.org. Thank you for your interest!