Mr. Yoshito Dobashi graduated from ICU in March 1991. This is a summary of his presentation from the July 2021 Global Alumni Speaker Series event. His parents and wife all being ICU alumni, ICU has been a part of Mr. Dobashi's far beyond graduation. He is currently the chapter president of "ICUICU," the group of  ICU alumni involved in international cooperation.
---
"Act First, Think Later"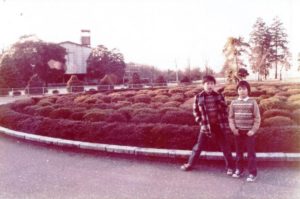 Childhood
As the child of two ICU alumni (Nobuo Dobashi, 5th class & Fumiko Yamaguchi, 4th class), and my father being ICU staff, I was raised on campus during my infancy. Before I could even speak, our family moved to Syracuse, New York, accompanying our father who enrolled in a PhD program there. Although English became my first language, we returned to Japan right when I was beginning elementary school, and alas, I forgot all my English. If there is one thing I regret in this life, it is the attitude I had towards English around this time.

The rest of my elementary, middle, and high school days were spent in Sapporo. It was during this time that I developed an interest in international cooperation, and began thinking of dedicating my life to it after reading Michiko Inukai's Ningen no Daichi. ICU was my top choice university because many alumni were active in the field of international cooperation. However, by high school, not only did I lose native fluency in English, but it had become one of my weaker subjects. Adding to this, I was so focused on baseball that my grades suffered. While organizing my father's possessions after his passing, I even found a  handwritten note he wrote after meeting with my teacher that my academic performance was "not quite there". Despite the obstacles, I actually managed to pass ICU's entrance exam. During this time, my parents divorced and my mother moved to America while my father remarried.
ICU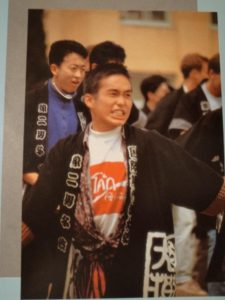 At ICU, I was drawn to dorm life, and entered the Second Men's Dorm which was known for being unconventional. Although the initiations tend to stand out, the daily interaction with dorm mates from different backgrounds and respecting the differences enriched my student experience. I was also roommates with OYR and nikkei students. The bonds I made with my dormmates are for life. friends I made there are lifelong. The motto I learned at the dorm was "Act First, Think Later", and this has led me to a lifetime of unique experiences. On the academic side, after getting some low grades, I bounced back and majored in sociology. My advisor was Professor Koichi Niitsu, who was known for his research on urban slums.
Aside from dorm life and academics, I got myself dirty on the rugby team for four years (so jealous of the artificial turf they have now!) and joined the handbell club even though I couldn't read sheet music. I had many different experiences, including participating in workcamps in Thailand and the Asian Rural Institute (ARI), and visiting my mother in Oregon during the summer of my third year. I will remember the experiences and connections of my university days for life. I focus on dorm life here, but the friendships I made in the rugby team, ELP section, zemi, Bakayama, and D-kan and elsewhere are all important to me.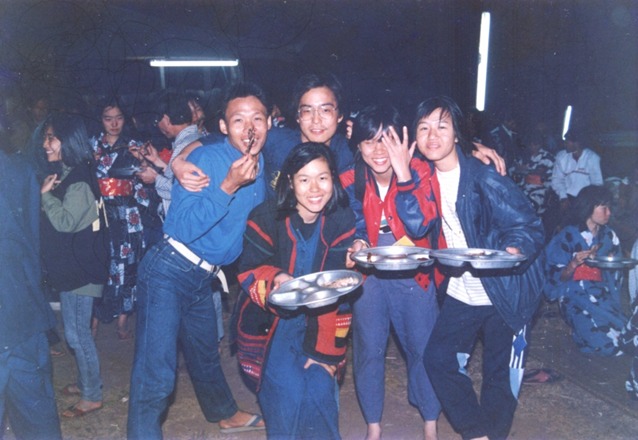 Career
I graduated right at the tail-end of the bubble. Despite my interest in international cooperation, I thought it important to work as an ordinary businessman first, so I took a job at Sanwa Bank (now MUFJ Bank) believing I could interact with people from diverse fields. Thankfully, I was blessed with good customers and a supportive work environment, and received many commendations for my performance. I credit devotion and diligence for my success.
After five years at the Hamamatsu and Yokohama branches, I decided to apply to the Japan Overseas Cooperation Volunteers (JOCV) to begin my journey into the world of international cooperation. Interestingly, there was little resistance from my family, and my father encouraged me to be responsible and resign from the bank before joining JOCV.
During my three years in Fiji, I learned that what we can learn from developing countries was far greater than any support we could provide them. During my first year and a half, I couldn't do anything and was often scolded by my host mother for being useless. Eventually our activities began picking up steam, and I worked with local women's groups, youth groups, fishermen, and village leaders on many programs and gained their trust. Programs included supporting community gardens, sewing, cash crop cultivation, sea cucumber exporting, school stores, rugby team, grain production, and tourism.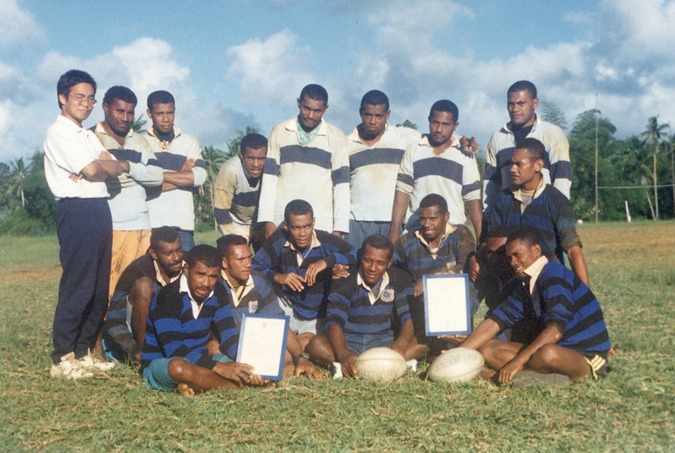 Automobile Accident
With programs running smoothly and about six months left on my deployment, I was involved in an automobile accident. I was on a motorcycle and the other party was driving a taxi, drunk. It was an unavoidable head-on collision. I was in critical condition, but thankfully I was rushed to a hospital in town and spent about three days there, followed by two months in Australia and another six months in Japan, hospitalized. While recovering in Australia, I was visited by my handbell club kouhai who was studying there as well as a dormmate from Japan. I underwent joint replacement and physical therapy after my return to Japan in 1998 right before Christmas. Although I was left disabled in my left leg (hip, knee, ankle), I returned to work the following summer. Afterwards, I enrolled in the Institute of Developing Economies Advanced School. Coincidentally, three of my 11 fellow enrollees that year were  ICU graduates.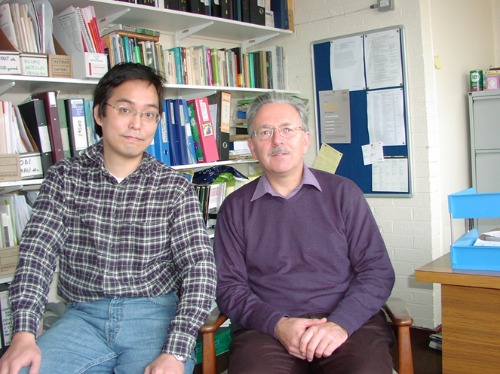 Study Abroad
I enrolled in the University of Manchester, since I felt a connection to it and the Dean of the school, Professor David Hulme, did research on Oceania. I still maintain contact with Professor Hulme to this day, and I believe that I was able to network in a way that I wouldn't have been able to at a larger university. I also met with a senpai from ICU there, with whom I collaborated on the translated publication of Professor Hulme's book Should Rich Nations Help the Poor? many years later.
I also learned a lot outside of academia. Experiencing the life and culture of England was very educational for me. My peers also had many cultures and customs that I could learn from. Studying abroad was a great opportunity for me to reflect on my personally held beliefs. I believe that studying abroad in your 30s is the ideal time for this type of experience. You are able to think about how your studies can influence your work, and one can expect a surprising degree of personal development.
Re-entering the Workforce
Following my return from abroad, I was able to land a job at the Japan Bank for International Cooperation (JBIC), an agency responsible for executing the Japanese ODA. JBIC was a specialized agency working to distribute ODA loans to developing countries to support  economic and social development. While job-hunting, I was torn between working on loans (JBIC) or grants and technical cooperation (JICA). However, after consulting my graduate school friends, I decided on JBIC. I find it funny that after all that worrying, the two organizations would end up merging seven years later. In the beginning, I was assigned to the Latin America department despite not speaking a word of Spanish, and so conversations were a mixture of English on my end and Spanish on the other.
Later, I was finally able to fulfill my dream of an overseas assignment in Bangladesh, but upsettingly, had to return to Japan after contracting MRSA from my operative wound. Even worse, despite finally making my way into the world of international cooperation, the persistent infection in my leg kept me from making even short work-trips let alone a long-term assignment.
Discovering my Life Work: Disability and Development
During all this, I discovered the field of "Disability and Development." Mr. Ryosuke Matsui (7th class), from the same dorm as my father and my own ICU senpai, was already working in this field. With Mr. Matsui's introduction to many networks, I was soon able to forge connections with various experts throughout Japan. Thanks to this, I was able to make preparations for many programs related to disability and development.
Following my 2008 transfer from JBIC to JICA, I began analyzing the progress of work related to disability and development. I wrote an article comparing loans, grants and technical cooperation, and analyzing the change over time of the percentage of disability and development-related project requests within JOCV and in all programs. This was research that had never been done before.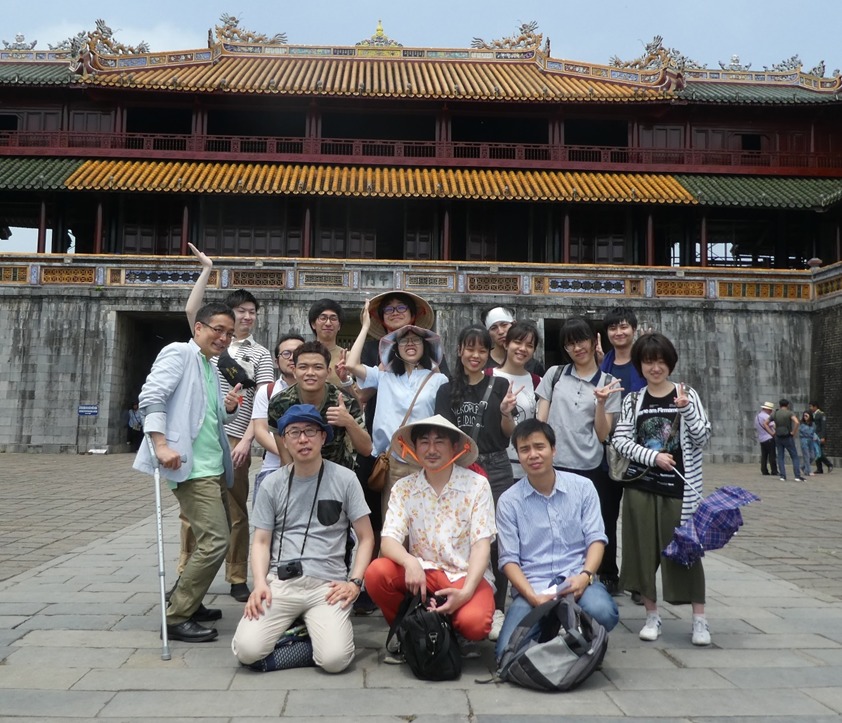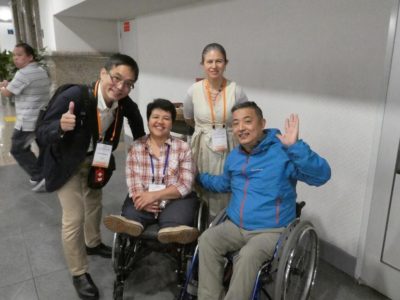 Graduate Research and My Research Moving Forward
My time spent conducting graduate research was sometimes fun, sometimes tough, and sometimes borderline exhausting. Despite the age gap between the students in the lab and myself, we all got along quite well. Utsunomiya University started a joint workshop with Danang University of Science and Technology the year I enrolled, and after joining this, I felt as though I was in the workcamp days of my youth. I still keep in touch with my fellow members of the first class. When it was confirmed that I would receive my degree within the expected timeframe of three years, I was elated. The graduation ceremony remains one of my major life events.
I am currently continuing my research as a visiting professor. I am also a part-time lecturer and seminar advisor in other universities, and I hope to steadily build up experience in preparation for the next chapter of my life.
Message to Current Students and Young People
My life has taken a lot of twists and turns. While struggling with my options, I always remembered to "act first, think later." The lesson I learned in the dorm has been invaluable. Universities can give you a degree, but it is up to you to gain more than that. The path you choose is a reflection of your attitude to life. The support of your friends and peers becomes a great boon. I owe a lot to my Second Men's Dorm brothers.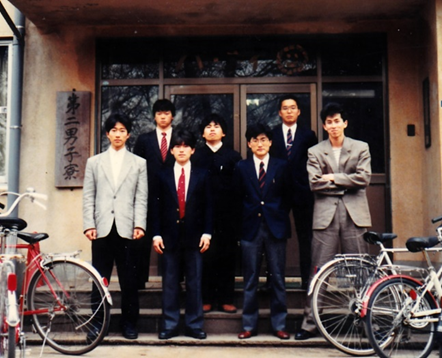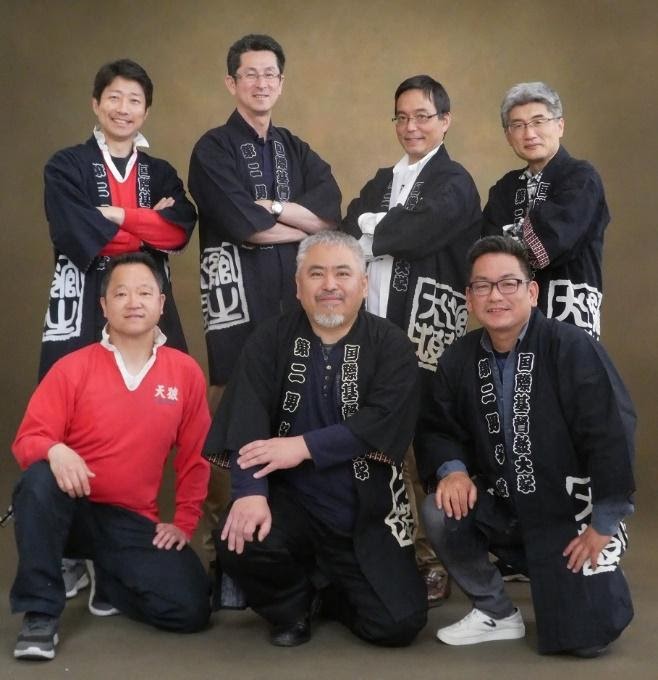 A solid vision for your future is also crucial. To accomplish this, it is important to always be putting out your feelers for opportunity. I have personally been supported by all the advice I have received from countless others. Without them, I would not be where I am now. Never forget though: only you can decide what's best for you. All the decisions, all the responsibilities, and all the rewards are yours and yours alone.
For those of you looking forward to a life partner, always communicate with them about your thoughts and dreams (and be sure to listen to theirs). My wife (Makiko Ishiwata, 35th class) was the one that understood and supported my decision to quit my job. Even though I decided to quit my job after only a year from our marriage, she was always encouraging. Without the support of your partner, you cannot have the life you want. In our case, the husband following the wife's lead (婦唱夫随) rather than the wife following the husband's lead (夫唱婦随) was key. Once you're older, you'll understand.