The Donald F. and Mildred Topp Othmer Distinguished Professor of Sciences at ICU was established through a generous bequest from Professor Donald Othmer, and his wife, Mildred Topp Othmer, of Brooklyn, New York. This honor is bestowed upon top scholars in Japan.
Professor Hiroshi Kouchi was awarded the Othmer Distinguished Professorship in April, 2013.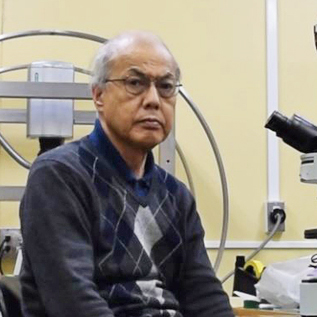 JICUF: Thank you for agreeing to this interview, Professor Kouchi. Please tell me how you first JICUF involved with ICU.
Hiroshi: For the first 30 years of my career, I worked in the National Institute of Agrobiological Sciences (NIAS) at Tsukuba and I retired in March 2008. Mandatory retirement age is 60 years old in Japan, but I stayed for two more years at NIAS as a Distinguished Senior Researcher because I had to finish my work as a project leader for a project supported by the Japanese Government.  
I started to teach undergraduate and graduate students in ICU in September 2008 as a part time lecturer (PTL). My first connection with ICU was through Professor Robert W. Ridge. Professor Ridge is a Professor of Cell Biology in ICU's Life Science Department and we collaborated on research for 20 years.
JICUF:You have had long relationship with ICU! Please tell me about your research focus and academic specialty.
Hiroshi: My academic specialty is in plant molecular biology and genetics. In particular, I have been employed in the analyses of molecular mechanisms of plant-microbe symbiotic interactions for long periods.
I take pride in that I am one of the leading and pioneer scientists in Japan in the field of molecular biology of legume-rhizobium nitrogen fixing symbiosis. Based on my specialty and research experiences, I teach Genetics, Plant Development, Biotechnology and so on at ICU.
JICUF:That is quite an accomplishment. How did you first get interested in this topic?
Hiroshi: I started my academic career as a plant physiologist. I was interested in the nitrogen-fixing symbiosis of soybeans and I worked on the physiology of soybean nodules with a special emphasis on metabolic interrelationships between host plant cells and symbiotic bacteria for 10 years after graduating from university. I then moved to molecular biology. This topic has critical importance in agricultural practice.
JICUF: Very impressive. Where else have you taught?
 
Hiroshi: I have taught in many graduate schools: Tokyo University, Tokyo University of Agriculture and Technology, Hiroshima University, Kagoshima University, Nagoya University, Nihon University, etc. At present, however, I am teaching only at ICU.
JICUF: What do you like about teaching at ICU?
Hiroshi: The quality of the students is very high and they are enthusiastic about learning. Also, unlike other universities in Japan, at ICU the students and teachers get to know each other well and are very close. In most classes, the number of students is few and so I can get to know the students individually. Having this type of relationship with the students is one of the great pleasures of teaching at ICU.
I also like the ICU campus very much. It is filled with green and reminiscent of the old Musashino landscape. It is also very nice for me that ICU is located very close to my hometown where I spent ten years of my childhood. Indeed, when I was a school kid in elementary and middle school, the ICU campus was a favorite place for me to ride my bicycle and play.
JICUF: That is very nice to hear. Do you have any hobbies?
Hiroshi: My favorite pastime is listening to classical music on my hand-made vacuum tube amplifier. I also like to read many different types of books on social sciences and history.
JICUF: Wow, that is a unique hobby! What advice would you give to ICU students who are about to graduate?
Hiroshi: Under the principles of liberal arts programs, many students have a broad range of interests. For instance, when I ask them to write essays after the class on topics such as  Genetics and Plant Development, they often incorporate social aspects of the topics I taught. This reflects, I think, ICU's liberal arts science program.
I would advise they remember that, while it is good to have broad knowledge, they must also have a specialized, updated, and deep knowledge in current natural sciences. This is important in particular for the students intending to go to graduate course in other Japanese University. We must work to reconcile the wide-range general educational style of liberal arts with the  highly advanced and specialized natural sciences.
JICUF: Thank you for your time and thoughtful responses, Professor Kouchi. I am sure the ICU community will enjoy reading your interview.