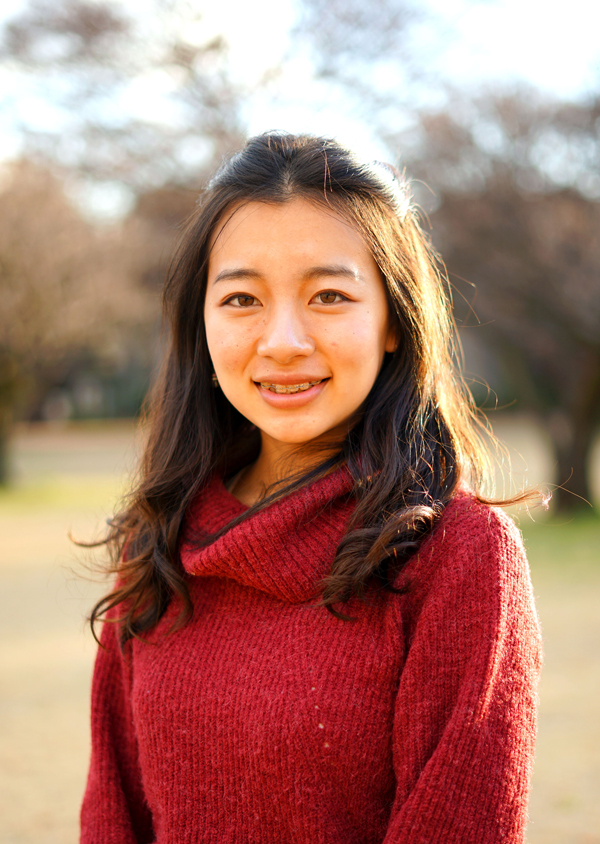 We are happy to announce that ICU student Mone Ikeda has been awarded the 2019 JICUF Study Abroad Scholarship earlier this month. This scholarship was established in 2012 with support from the ICU Alumni Association in the Americas and direct donations from individuals to encourage more ICU students to study abroad. JICUF now awards $10,000 to one student each year who plans to participate in one of ICU's Exchange/Study Abroad Programs worldwide. Mone will study at the University of California from fall 2019. She is still waiting to hear which campus she is headed to.
We recently interviewed Mone by e-mail.
---
JICUF: Congratulations Mone. Please tell us a little bit about your background.
Mone Ikeda (MI): My name is Mone Ikeda, and I am a second-year student at ICU. I was born and raised in Tokyo. I attended Toho Girls' Junior and Senior High School in Sengawa, Chofu-shi for six years, where I poured my heart into softball. At ICU, I am majoring in biology and have a special interest in the microscopic world of cells and genes that compose living bodies. My hobby is playing the piano and exploring places where I've never been before. Recently, I've become increasingly aware of my lack of knowledge and have been reading more.  
JICUF: What motivated you to apply for the study abroad program?
MI: There are three main reasons. First, I'd like to study immunology and oncology. Since I was in junior high school, I have been interested in the human body, and I've dreamt of researching the mechanism of diseases and saving people's lives. After entering ICU, I took various courses in biology such as genetics and cell biology. Through them, my desire to study the human immune mechanism and cancer grew stronger. As I consulted ICU faculty about where I could study immunology and oncology and looked into research performances of overseas institutions, I learned that immunology research is advanced in the U.S. This is how I decided that I would try to study in the U.S.
Second, I wanted to challenge myself. When I was a first-year student in university, I participated in the SEA program and studied at Saint Michael's College in the U.S. Although it was just a six-week program, I had never traveled outside Japan before that, and it had a life-changing effect on me. I realized that I was still immature and needed to become more independent. During the program, I not only had to study every day but manage everything on my own including doing the laundry and cleaning. It was not easy. Through this experience, I learned that studying abroad was going to be a challenge, but was convinced that it would enrich my life, and I decided to apply.
Third, I would like to interact directly with people having different cultural backgrounds. Last summer, I participated in an international volunteer work camp and spent two weeks in a shared house with about twenty foreigners. My experience communicating with people from different parts of the world with diverse cultural and religious backgrounds was invaluable. I realized that I had unconsciously been prejudiced towards other cultures and that it was important to communicate directly with people. The University of California attracts exchange students from all over the world, and I am excited to meet people from all kinds of backgrounds.
JICUF: What do you hope to achieve in the year that you are in the U.S.? What are you most excited about?
MI: What I hope to achieve are the three things that I just mentioned. In addition, I would like to experience how research is conducted outside Japan, and learn how to write lab reports in English by taking lab classes. I also hope that through daily conversations with exchange students and local students as well as classroom discussions, I can expand my perspective and train myself to see things from multiple angles. I am most excited about how I will change and grow during my year abroad. To be honest, going abroad for a year is full of unknown factors and I feel a little anxious. However, I am determined to make the most of it so that I can confidently say that studying abroad was the right decision when I return to Japan.
JICUF: What are your future goals?
MI: In addition to my dream since my junior high school days to research treatments for diseases and help save lives, the liberal arts education at ICU sparked my interest in bioethics. I am concerned about the development of medical technology outpacing that of laws. Perhaps what we need is someone to bridge cutting-edge technology with people who do not have access to such technology. Moreover, only those who know the benefits and risks of technology can play that role. I started thinking about such issues, albeit vaguely. I'd like to be involved in cancer research, but I'd also like to engage in activities that focus on the relationship between medical technology and those who utilize it. I don't know for sure yet, but through my studies at ICU and UC, I'd like to think more deeply about my future.
JICUF: Thank you Mone! Good luck with your studies in the U.S.!