In late October, JICUF Executive Director Paul Hastings and Chair of the Board of Trustees Sam Shepherd visited ICU. They spent most of their time with President Junko Hibiya and the newly appointed Vice President for International Academic Exchange Mark Williams. They also met with several other members of the administration, faculty, staff and students receiving support from JICUF. Below are reports of the visit from Paul and Sam.
---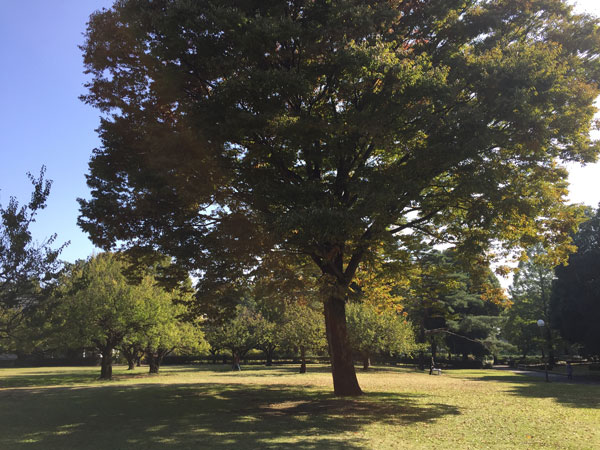 Report from Paul Hastings
The primary objective of our visit was to explore ways in which we can further strengthen our partnership with ICU over the next several years. Since reopening our offices in the late 1990s, JICUF has been deeply involved in working with ICU to further develop its campus facilities. Since 1999, JICUF has provided approximately $20 million to ICU to help with the construction of the Global, Oak, Zelkova and Gingko House dormitories, the Othmer Library extension and the Dialogue House/dining hall facility. The new dormitories allow for almost one-third of students to live on campus, ICU's library has consistently been ranked as the most heavily used university library in Japan, academic symposia and workshops are hosted regularly at the Dialogue House conference facility and the dining hall bustles with activity on a daily basis. The focus on campus facilities was enabled by a designated bequest from Donald and Mildred Othmer. Having utilized the majority of the Othmer Building Fund, now an increasing proportion of JICUF's endowment is unrestricted.
Along with the generous support from ICU alumni and friends, we have begun utilizing some of these unrestricted funds to increase our support for scholarships and international programs. We have a chance over the next several years to explore additional ways we can help ICU achieve its mission of being, in ICU's founding President Hachiro Yuasa's words, a "University of Tomorrow." After many hours of fruitful discussion and exchange last week, I am confident in the future of our 60+ year partnership with ICU.
A secondary objective for our visit included further meetings with ICU colleagues about the newly created Syrian Scholars Initiative and United States Scholars Initiative programs. We are currently finalizing selection for the first cohort of scholarship recipients, who will matriculate at ICU in September 2018. We are looking forward to sharing more information about the SSI and USSI scholarship programs soon.
Last but certainly not least, we had a chance to meet with current recipients of JICUF scholarships. We met in the shokudo, and everyone had a chance to introduce themselves and share how they had come to study at ICU. It was a great mixture of international undergraduate, graduate and short-term exchange students.
Reflecting on our visit, Sam and I both agree that it truly a privilege to work so closely with colleagues at ICU. In today's often divisive world, ICU is a unique institution committed to our shared humanity.  
---
Report from Sam Shepherd
At the end of October, I had the privilege of once again visiting ICU and staying at beautiful Togasaki Memorial Dialogue House. My stay at ICU was bookmarked by driving rain provided by Typhoons #21 and 22. But the rain did not discourage students from plowing ahead with the annual student Fall Festival, which fell on my first weekend at ICU. The rain was so heavy many of the outdoor food and activity stalls had to be taken down, but inside the various buildings, the Festival carried on with great energy.
Dropping by the old Gym, I found large numbers of Taiko Club members beating drums of many sizes, energizing a gym full of students and guests with extraordinary rhythms and energy. The Taiko Club members went about beating their drums with almost religious fervor. Truly amazing. Then I was off to sit in on some swinging big band music in a "jazz spot" created in one of the larger rooms in the Main Building.  
By Monday, the sky was deep blue and the campus was bathed in sunlight, with the fall color beginning to break among the many deciduous trees on campus. JICUF Executive Director Paul Hastings and I spent much of the week visiting with President Junko Hibiya and the ICU administrative leadership, faculty, and students. These face to face meetings are valuable in so many ways, including getting a feel for ICU as a living, vibrant community to planning for future areas of Foundation support for ICU, especially in its Christian and International dimensions.  
It's always inspiring to meet with faculty and students who have benefited directly from JICUF funding, from international students who are likely at ICU thanks to Foundation scholarships to faculty who are provided funding for targeted projects.  
Then there was rain again, with Typhoon #22 sweeping by. Then sunshine again on Monday, and it's time once again to say good bye to all that is ICU.