Last fall graduate student Philip Reed, majoring in Japanese Culture Studies within the Comparative Culture department, was awarded ¥69,000 from the JICUF Student Activities Fund to conduct thesis fieldwork at Mt. Kōya in Wakayama prefecture. Despite delays related to the pandemic, Philip was able to successfully complete his fieldwork this March.
Philip is studying the shōmyō chant of Shingon Buddhism, a series of chants and singing techniques involved in Shingon Buddhist rituals. As part of his research Philip stayed at the Muryōkō-in, a dormitory for Buddhist pilgrims, from March 22nd to the 27th. Beginning at six o'clock each morning, Philip observed the daily rituals of the monks which include the goma fire ceremony and the chanting of the hannya rishu-kyō (aka Prajñāpāramitā Naya Sūtra), both parts of the rishu zammai hōyō ritual. Guests are allowed to observe, make offerings, and receive a blessing during the rituals.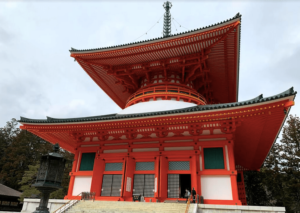 During the course of his trip, Philip was able to accomplish several key components to his research: obtain recordings of the shōmyō chants, purchase several texts relating to the chants used by the monks, and connect with people within the Mt. Kōya Shingon Buddhist community including monks of Muryōkō-in and Buddhist scholars. Philip is excited to continue his research and utilize the resources gained during his fieldwork to their fullest extent.