In 2017, JICUF awarded Study Abroad Scholarships to five students with excellent academic standing. These students studied at ICU's partner institutions in the United States and have recently returned to Japan.
The Study Abroad Scholarship was established in 2012 with donations from the ICU Alumni Association in the Americas and individual alumni and friends. Until 2017, $2,000 was awarded to five top students studying in the U.S., but from 2018, JICUF decided to support one student with a $10,000 scholarship. This change was made so that the scholarship could better support a student with financial need to study abroad. In addition, the scholarship is now available to students who wish to study in institutions outside the U.S. as well.
The following students received the scholarship in 2017.
Keita Hanaoka (Pomona College)

Kaho Magami (The Ohio State University)

Maria Sangroulla (University of Pennsylvania)

Mayu Sunamura (University of California, Berkeley)

Yuka Takeda (University of California, Santa Cruz)
The 2018 scholarship recipient,Tamae Kishi, will begin her studies at Rutgers University this fall. You can read more about Tamae here.  
Application for the 2019 Study Abroad Scholarship will open on September 1st and close on October 31th, 2018. Please visit the Study Abroad Scholarship page for details.
Three of the five 2017-18 scholars shared comments about their time abroad with us.
---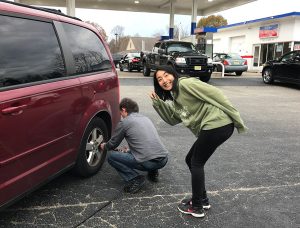 Maria Sangroulla
The most memorable part of my study abroad experience was probably the people I met there. Playing cards, sparring at our unofficial martial arts club, and just talking forever with the people in my dorm definitely influenced me to grow as a person. Classes were agonizing due to its difficulty and I struggled especially during the first half of the year. But by taking my time and striving hard, I was able to get a satisfying result increasing my confidence. I am very thankful for everyone who helped me experience this exchange program, as well as the JICUF members who supported me. Thank you very much!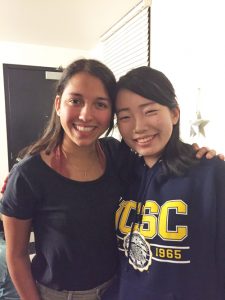 Yuka Takeda
I studied at UC Santa Cruz. In class, I learned about the racial discrimination and class society that persists in the U.S. today, and the policies and social activism that concern these issues. I feel that it was very meaningful to study these issues in the very place where they are occurring, rather than through written work. As the saying goes, a picture is worth a thousand words. Discussing future employment opportunities with friends who happened to be immigrants, and walking around the city of San Francisco which has a huge income disparity significantly widened my perspective. I also witnessed the difference between American students and Japanese students. Once, in a class on social activism, several students suddenly raised their hands and said, "We're going to march with our friends to oppose the tax increase for graduate students. Anyone who wants to join us should come too!" Even though it was in the middle of the class, more than half of the students left and joined the demonstration. I had never expressed my views on social issues through action, and was deeply shocked by the spontaneity and proactiveness of American students. Studying abroad was a good opportunity to reflect on my own thoughts and values. I would like to make use of what I observed, heard and felt during my time in the U.S. in the remainder of my days at ICU and beyond. I would like to thank the Japan ICU Foundation for supporting my study  abroad.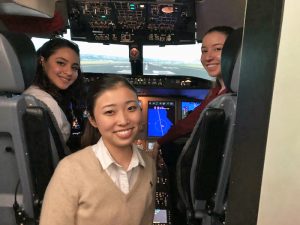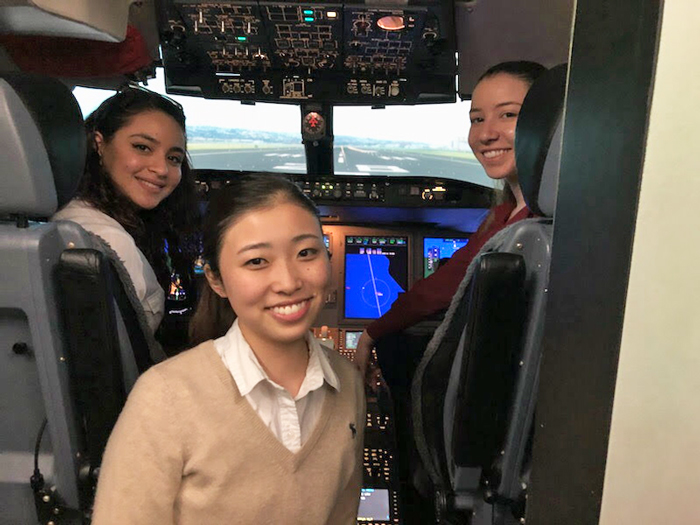 Kaho Magami
"I want to study aviation psychology, which I cannot study in Japan." I started the application form of the exchange program with this sentence. The Ohio State University (aka OSU) is well known for its aviation program and ergonomics studies. Needless to say,  this university was perfect for an aspiring aviation psychologist to deepen the understanding of this field. As I had sworn to do before embarking on this journey, I fulfilled my goal of studying and experiencing so many things related to aviation psychology: much more than I had expected. I took classes in several departments, such as aviation, psychology, and engineering, and I was also able to discuss the issues of the aviation industry with professors and people from airline companies. However, the more familiar I became with this field, the further I drifted from the aviation industry; I realized that I could not be passionate about it. This unexpected outcome surprised me – or more accurately, terrified me – and I once tried to ignore it  by continuing to study aviation psychology. It seemed too risky to take my plan back to the drawing board. What saved me in that situation was a simple suggestion from one of my professors; " You always overthink and try to make everything perfect, including your future. It is not a bad thing to just focus on what you want to do now, even if it is not directly connected to your long-term plan." This simple but valuable advice made me realize how I was fixated with the idea of a ''perfect'' plan. I totally forgot about the importance of trusting my instinct and feeling. It is not too much to say that this small paradigm shift was the most significant experience I had during this exchange program.
Other than that, it was also fruitful that I saw firsthand what it means to have a hypothesis rejected, which is a core experience for scientists. Hypotheses (in my case, the hypothesis was that aviation psychology was my calling) spur researchers to collect supportive data to confirm them, when they genuinely believe in their hypotheses. As the amount of favorable data increases, the credibility of the hypotheses also increase, but in that process, we might also find evidence that rejects the hypotheses. In that situation, the most important thing is to have the courage to recognize the shortcomings of the premise, and not to ignore them. In retrospect, I literally went through this whole process, and I actually got a new hypothesis, a new area of study, as a gift. Although I don't have enough space to talk about my new interest, cognitive neuroscience, I am sure I have a passion for it. Now  my new journey in this field begins and I might find proof that rejects the new hypothesis too. However, it is no longer a painful process for me since I've already gotten over it. Including other experiences that I could not talk about this time, I can confidently say that the whole year's experience made me stronger in many senses.
Lastly but certainly not least, I would like to thank JICUF for the support.