Mr. Stephen Dyer spent over a year on the ICU campus as a kenkyusei in the early 1980s. The Honolulu-based alum shared his ICU story.
---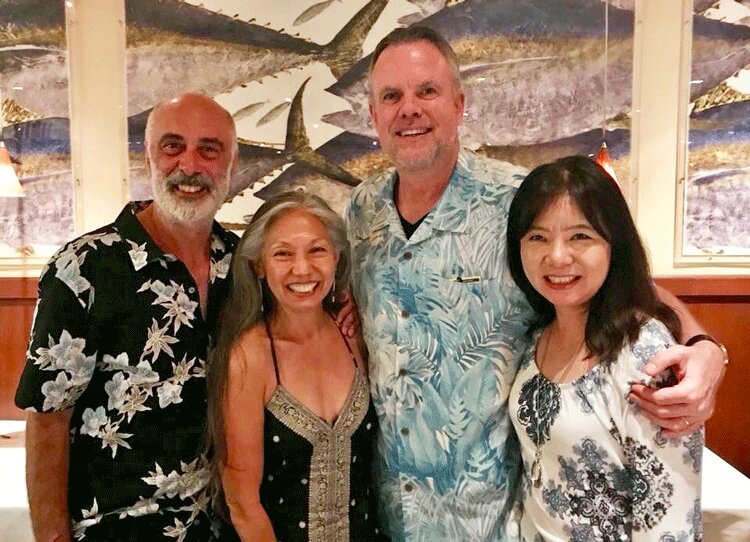 I was a kenkyusei at ICU for 15 months, from June 1981 to August 1982.  I was one of approximately 25 post-grad "Ambassadorial Scholars" funded by The Rotary Foundation, selected from around the world and sent to ICU to get their Japanese ability to a level where they could attend grad school in Japanese, and/or do a meaningful internship in Japan. 
I took a two-year leave of absence between my first and second years of law school to fulfill the scholarship.  After completing the highest level of Japanese offered by ICU, and passing the then new Joyo Kanji test, I attended classes at Chuo University's Graduate Law Department in Hachioji, and interned at the Tokyo law firm of Yuasa Hara.  
After finishing law school, I joined the U.S. Army Judge Advocate General's Corp ("JAG"). The JAG Corp asked me where I'd like to be assigned if possible, and I responded by asking how many JAG officers are fluent in Japanese?  The response was orders assigning me to Korea, but that worked out well because I was able to learn Korean and get valuable experience while defending soldiers at courts martial and administrative proceedings.  
The Army next sent me to Hawaii, where I defended Tripler Army Medical Center in medical malpractice claims for three years, which prepared me well for private practice.  I left active duty, and began law practice in Honolulu, but remained in the Army as a reserve JAG. I was assigned to U.S. Pacific Command (PACOM), history's largest geographic, and most powerful,  military command, responsible for all US military assets from California to Africa, where I served 17 years, being sent all over the Pacific Rim to provide legal advice to commanders in real life events and training exercises and putting on an annual international and military law conference for JAG officers of Pacific Rim nations.  
Simultaneously, I was a partner in the law firm of Chong, Nishimoto, Sia, Nakamura & Goya, where I have practiced since 1994.  Of the firm's 23 lawyers, 15 are of Japanese descent, but I am the only one who speaks Japanese, and it is a constant source of entertainment when a Japanese speaker is requested and I walk into the room.
My wife Junko is an Edokko whom I met while at ICU, and we have made  Honolulu home not only for the health aspects (she is a golfer; I am a hacker) but it is the perfect halfway point, both culturally and geographically, between our families in Chicago and Tokyo.
At ICU, I enjoyed meeting and befriending students from all over the world, and Japanese students who were almost all able to communicate in English, on a beautiful campus.  I have remained friends with many classmates, and even my Japanese teachers, and the networking has paid dividends. I am active in the Hawaii ICU alumni group.  
Having played varsity basketball in high school, I was shooting around by myself in the ICU gym after classes one day when a group of guys came in: they were ICU's basketball team having their first practice of the season.  The student player/coach asked me if I played. When I told him I did in high school, I was asked to stay. By the end of practice, I was the starting center. I recruited two other ICU kenkyusei who had played in high school, they were the two leading scorers, and the team went 32-5.  I remain friends with my teammates, and even a player from an opposing team, who made me the godfather of his only child.  After basketball season, I joined an Iaido dojo, and just before leaving Japan, was awarded a black belt (shodan).   
This combination of culture, language and experience, along with my physical presence in Honolulu, turned out to be an advantageous mix for the United States in 2001 when a fatal ship accident could have escalated into international discord. 
On Feb. 9, 2001, the Ehime Maru, a Japanese fishing trawler owned by Ehime Prefecture, was in the midst of a 74-day training mission for high school students interested in becoming fishermen. The 191-foot-long ship, which had docked at Honolulu the day before, was carrying 35 people: 20 crew members, 13 high school students and two teachers.  Also, on that date, the USS Greeneville, a U.S. Navy nuclear-powered attack submarine, was in the midst of a demonstration for civilian visitors on board. 
A little before 2 p.m. on that hazy Friday afternoon, about nine nautical miles off the coast of Oahu, the Greeneville failed to detect the Ehime Maru while demonstrating an emergency rapid-ascent maneuver and the sub's rudder sliced through the ship, which immediately began to sink.  Nine people died, including four high school students. The US Coast Guard rescued the remaining 26 survivors. 
That night, the active duty JAG for the four star commander at PACOM called and because of my Japanese experiences, asked me to meet with the Ehime Maru survivors as PACOM's representative to discover their condition and needs.  I asked if I could make an apology, but as the facts had not yet been fully investigated, I was not so authorized initially, so I suggested, and was authorized, to express regret.
I was a Lieutenant Colonel, and recommended I be accompanied by an officer of higher rank (General or Admiral) to show PACOM's level of concern and respect.  We went to the U.S. Coast Guard facility around midnight and met with the captain and crew, who were all wearing orange jumpsuits from the brig, as all their belongings had been lost, and those were the only clothes the facility had.  I noted I needed to get them clothes and personal items.
The captain may have been initially startled that I was speaking to him in Japanese (or more likely it was my less-than-perfect, accented Japanese), but I believe he drew some comfort from being able to communicate in his native language.  The captain was shell-shocked and maybe embarrassed not to have gone down with his ship, but eventually he told us his needs.
I believe that in Japanese culture, the importance of doing the right thing cannot be overstated.  In this situation, doing the right thing was doing it the Japanese way, or at least understanding Japanese customs and meeting their loss with compassion and understanding on their terms.
After expressing regret, I set about taking care of the survivors, to include arranging for basic necessities.  I recommended that PACOM provide solatia payments to the survivors so they could purchase some clothes, necessities and phone cards. I communicated information from the investigation, and assisted efforts to bring family members from Japan to Hawaii.   
During these efforts, understanding Japanese culture was a way to avoid missteps that could have made the situation worse. I knew, for example, that rather than hand a check to the captain to purchase supplies for his crew, as PACOM presumed, Japanese custom dictated that each man receive an envelope with his name inscribed in kanji with crisp new cash inside.  Telling PACOM's Finance Officer on a Saturday to get crisp new $100 dollar bills instead of just handing over a check, was a challenge.  
By Sunday, I had received the cash, 26 envelopes had been inscribed, the facts had been sorted out and I was authorized to make an apology.  Borrowing from my Iaido training, I delivered an official apology on behalf of PACOM as I distributed the solatia envelopes. I think that if my efforts had any effect, it was that things could have turned out much worse if we had not acted with culturally sensitive compassion and done the right thing.   Monday morning came and the active duty folks took over, thus ending a 48 hour unexpected experience where I was grateful for my training at ICU which helped me be, hopefully, "the right guy in the right place at the right time."
PACOM later recognized my efforts via a medal and citation, noting that I was "called in on short notice to assist with the urgent handling of international issues…. invaluable to reaching an amicable resolution," crediting me "with defusing an extremely embarrassing incident for the U.S. and avoiding what was rapidly mounting into a major international incident."  
Thank you ICU!
---
Here is an article about the Ehime Maru incident published by Stephen's law school.