Danny Ha was an OYR (One Year Regular student) at ICU from 1993 to 1994. He currently resides in New York and is the U.S. Counsel for Aberdeen Asset Management. We are pleased to announce that Danny will be joining JICUF's Board of Trustees this April!
---
"It's hard to believe that 25 years have passed since I studied at ICU.  It makes me sound like a dinosaur but in certain ways, the world hasn't changed all that much since then. North Korea is still a nuclear problem, the US continues to have trade disputes and relations between Korea and Japan are just about where they were 25 years ago.  I probably didn't realize any of that when I applied to study at ICU as a One Year Regular student after studying Japanese for two years at University of Massachusetts (UMass).
Japanese was quite the popular language back in 1993.  Japanese firms were buying up assets all across the US and the world.  There was a popular book published titled Japan That Can Say No, the thesis being that Japan was too accommodating to US demands.  A resurgent Japan it seemed was going to take over the world.  I think about half of the 120 students in my first year Japanese class were interested in Japan for economic reasons and I would guess the other half was interested in animation/karate/tea ceremony.    BY end of my second year, that number whittled down to about forty students and four of us would go on to study in Japan the following year.
UMass had exchange programs with several schools in Japan.  Sophia University was the go to school that year and everyone wanted to study there. My Japanese professor asked me if I wouldn't mind going to ICU instead.   No one applied to ICU and they needed to send someone.  I said yes!     
I landed at Narita Airport maybe having spoken two hours of Japanese during the prior two years. It was quite a shock when the immigration officer asked me for my passport in Japanese.   Next big shock was arriving at my dormitory without any of my bags.  I didn't realize baggage delivery service was for next day delivery.  Misunderstandings (on my part) were quite common that year.  My dorm mates at 2nd Men's Dormitory (2MD) whom I had just met found blankets for me to sleep in and a clean shirt to wear at the matriculation ceremony the next day at the chapel, where I dutifully yelled out 'hai' (another big shock of having to speak Japanese in public) when my name was called.  
I lived in 2MD during my year at ICU.  2MD was quite unique and different from any other living arrangement that I've experienced.  There were about thirty Japanese students and eight foreign students from all across the US, Asia and Europe. The rules were pretty simple. We had to man the dorm office two hours a week and clean the communal bath once a month. There were no locks or keys to our rooms or desks. Privacy was respected but we generally lived communally more so than in dormitories in the US.  I had some great conversations late into the night about what it meant to be Japanese, American, Korean and what we hoped for our lives and the world.  There was a special sense of belonging that might have been common in Japan but rarely experienced in the US.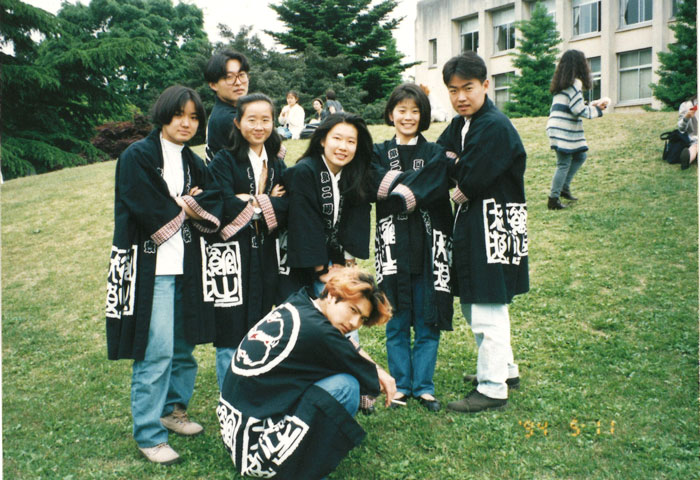 2MD was a very Japanese institution.  Every year, when new students were admitted in the spring, the members would decide whether they would hold Initiation for the new members which comprised of making the new members believe that the dorm was extremely strict when the exact opposite was true.  Opinions varied for and against but we would not hold Initiation unless there was a consensus from all the members.  Dorm mates met late into the night for a week to come to an agreement.  I think in the US, we would have taken a vote and been done with it.  I gave up attending the meetings after the second day but I got to experience Japanese style decision making and group thinking first hand.
Outside of dorm life, there was the Japanese Language Program. My teachers were passionate and dedicated to teaching us every nuance of Japanese. My only regret is that I didn't study harder while I had the opportunity.  And what would Japanese university life be without club and circle activities. After flaming out of a tennis circle, I joined the Glee Club in the fall, followed by Folk Dance Club in the spring.  
What I value from my time at ICU and why ICU holds a special place in my heart is because ICU created the space and environment for people from different countries and cultures to come together to study, eat, live, laugh and do life together regardless of whether we  saw the world in the same way or not.  I still remember the discussion we had about rice in my Japanese class. Due to trade frictions and an unusually poor rice harvest in Japan that year, Japan was about to import rice.  It was a heated debate over trade fairness, tradition, quality of rice, etc… but one student from Bangladesh said she liked Bangladeshi rice the best and couldn't really understand the distinction between Japanese rice and California rice because both tasted the same and not particularly good.  I don't know if I ever had Bangladeshi rice but it left a lasting impression on me, about listening to others, seeing others as people just like me and thinking out of the box.     
I majored in history when I returned to UMass and went on to study Japanese history at the University of Chicago. My academic career ended there as I went on to pursue a career in law instead.  I never got to use Japanese for any practical purpose nor did it help me in my career but it enabled me to appreciate a culture not my own to a degree I would not have been able absent my time at ICU."
Thank you Danny! We look forward to working with you from April!