Last year, Mr. Hiroshi Yamauchi, instructor in the Health and Physical Education Department at ICU, received a JICUF grant of ¥120,000 to host a Blind Soccer Workshop on campus. Blind soccer is an inclusive sport in which sighted players are blindfolded and play alongside blind or visually impaired players. It is an official Paralympic sport.
According to Mr. Yamauchi, blind soccer was introduced to students in a compulsory P.E. course for the first time in fall 2016. Although ICU has offered adapted P.E. programs for students with disabilities, this was the first time that an inclusive program was implemented. He explained in his project proposal that the blind soccer sessions during P.E. succeeded in prompting students to be more considerate of others, and to realize the importance of verbal communication. The motivation for organizing this workshop was to provide another opportunity to promote respect for diversity and improve students' communication skills through participation in the inclusive sport.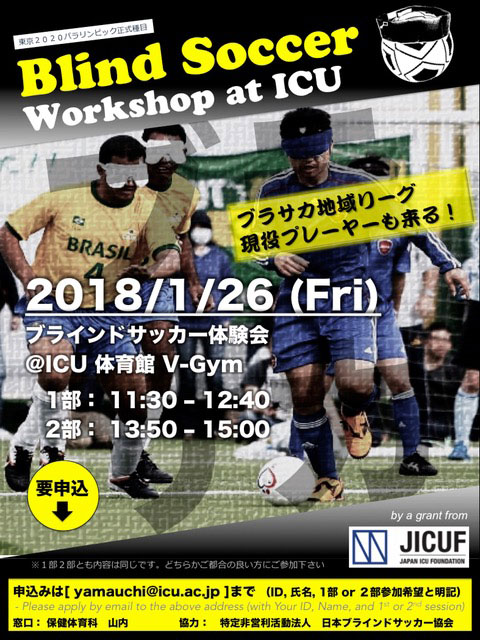 The Blind Soccer Workshop was held on Friday, January 26th, in the ICU gymnasium. Two 70-minute sessions were held and a total of 30 students (including three observers) participated. Mr. Yamauchi invited two guests to the event: Mr. Go Sato, facilitator, and Mr. Hiroyuki Komazaki, a blind soccer player. Both Mr. Sato and Mr. Komazaki are members of the Japan Blind Football Association.
Moe Yoshino, a visually impaired senior student who participated, said: "Through this experience, I learned that communication is very important in blind soccer. It has inspired me to be more considerate of how other people feel on a daily basis from now on." (Moe is second from the right in the back row in the above photo.)
Amane Tsuchimoto, a senior student, shared the following comment: "This was the first time I played blind soccer, although I'd known about it from the news. It was harder than expected, and I realized how important visual information is. While I was playing, those around me helped me by using their voices and other sounds, and I felt strongly that we were supporting each other. In April, I will start a job that provides aid to developing countries. I would like to apply the lesson I learned from this experience to my work, which is to put myself in other people's shoes." (Amane is fourth from the right in the back row in the above photo.)
Below is the report of the event from Mr. Yamauchi.
---
Using Sports to Build a Better Society – the Blind Soccer Workshop
Some students were wearing eye masks.
Others had to explain how to do various types of stretching just by using words.
What we think and take for granted is not necessarily shared by others.
This workshop started by dismantling such stereotypes.
With none of the participants able to see, we created groups.
Everyone was nervous, waiting for the first person to speak.
If everyone spoke at the same time, no one could discern what each person was saying.
Leaders, followers, observers – there is need for diverse people.
How does one lead a teammate who is far away to yourself?
The one being led and the one leading both face challenges.
It takes trust to follow someone's lead.
Teams were formed through activities.
The speed in which teams were created could be unique to ICU.
We embarked on an activity using a ball with a bell inside.
It was very difficult to stop, carry and kick the ball.
Trusting everyone's voices, we all tried our best.
Even if we missed, we encouraged each other, sometimes laughed, and continued to challenge ourselves.
I wished that the ICU community and the greater society could be this way.
One rule in blind soccer is to say "voy!" when we go for the ball.
It means "I go" in Spanish.
It is my hope that each student who participated today will act with the spirit of "voy!" and contribute to building a better society.
I would like to thank JICUF for their support.
---
Thank you, Yamauchi sensei!