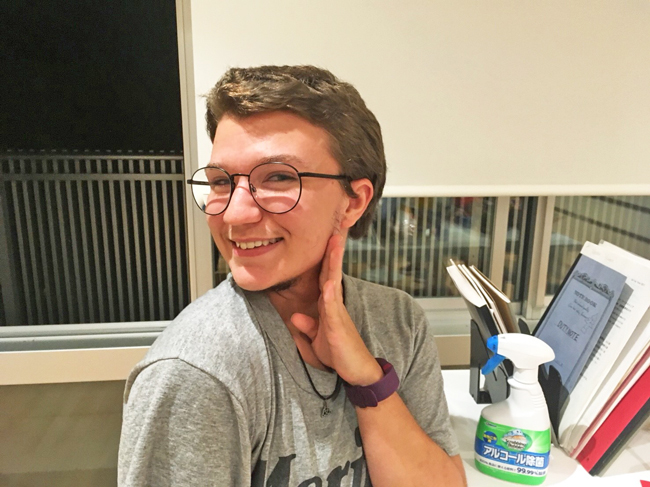 Anastazy Maletz is the first recipient of JICUF's United States Scholars Initiative (USSI) scholarship. USSI aims to increase the number of international, degree-seeking undergraduate students from the United States at ICU. This merit-based scholarship provides full-tuition support for four years of undergraduate study at ICU.
Born and raised in Virginia, Anastazy has been studying Japanese for several years and aims to become a teacher of English in Japan. He arrived in Japan in late August, and matriculated at ICU on September 1st. We sat down with Anastazy and discussed his experiences at ICU so far.
JICUF: What made you want to apply for USSI?
Anastazy (AM): My Japanese teacher was the one who showed me the scholarship. She printed out all the info, put it on my desk, and said, "The deadline is close, you have to apply NOW!" After reading through it, I thought, "I've wanted to study in Japan for years, I've studied Japanese for years, this is the perfect opportunity for me." College was always a tricky subject for my family, the concept of "Can we afford college?". I want to be a teacher so I need a higher education, but I was always worried about applying for all the scholarships I can and getting all the help that I can. I read the requirements for USSI and decided that I couldn't pass up this opportunity, which is what drove me to apply.
JICUF: What do you think about life in Japan and ICU so far? Anything surprising?
AM: I love it! I love the campus, it's gorgeous and has cats. There are a lot of international students here, so you're constantly meeting people that aren't just Japanese and aren't just American. I have friends that are from Germany, Spain, Korea, all over. I grew up in a very international community at home, so to continue having that has a homey feeling.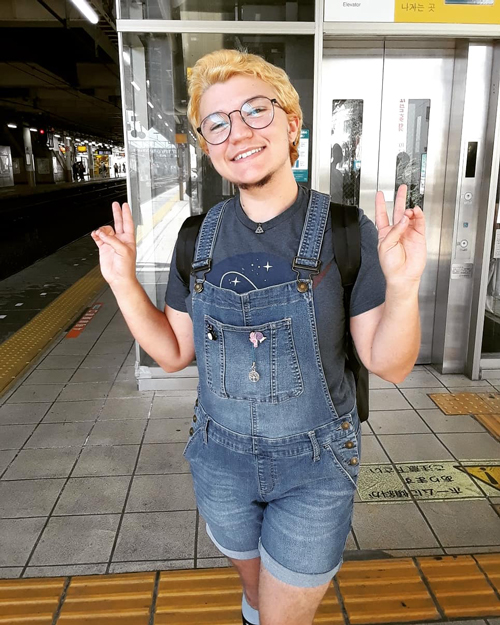 Life in Japan is amazing. When I was here the first time, a lot of it was tourist stuff – sinking your toes into the culture but not getting too deep. Now, it's basically a nosedive and I love it. The most difficult part was probably grocery shopping since I don't know as many food words as I should.
The most exciting thing for me is the public transportation, since I'm not really used to it. Where I'm from, the buses were spotty at best, so to be able to have a whole time-schedule at the major stations is, like, "Whoa." I've done research and I've learned about the culture, but now I'm learning a lot of stuff first hand.
JICUF: What do you hope to accomplish during your time at ICU?
AM: Graduate, that's the first thing. My goal for college is to ultimately become a teacher, learn how I learn and help other people learn. Besides that, I really want to find myself. This is the first time I've been able to take control of my education and my life. I've only been at ICU for about a month now, but even in that short amount of time I've learned so much about myself, about Japan, about Japanese.
I hope that by the time I graduate I will know if I want to stay in Japan to further my education. I'm considering staying to get my master's here because I want to teach English in Japan, and I hope the opportunity doesn't go away. For six years of my life Japanese has been a huge thing so I'd love to continue with it.
The other thing is I've already shown a lot of people a different side of the world by just being who I am and being open* – my bag is covered in very loud Pride pins and I get a lot of questions about that. For many people I'm a first, so I want to continue that and I want to show people who may have never had a chance to meet people from the LGBTQ community that I'm friendly and I love questions. I also love learning that the world is not as mean as I make it out to be, especially considering the C in ICU, since growing up where I did, I did not get along so well with the church. I was always uncomfortable going into a church, but at ICU it's not like that. Here, everyone is accepting and open. There's no stigma, I'm just myself.
JICUF: Thank you for your time Anastazy, and I wish you the best at ICU.
*Anastazy is transgender, and he welcomes the opportunity to discuss it freely.