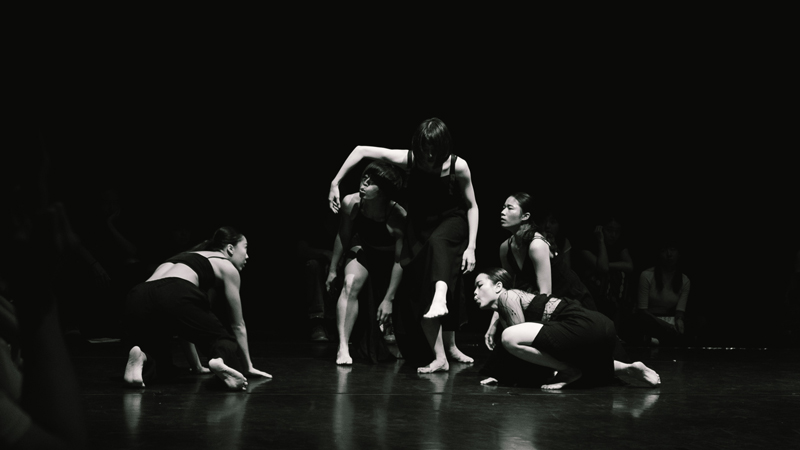 Mana Yamagata, a fourth-year Literature major, received a ¥474,500 grant this spring to plan a Modern Dance Society (MDS) performance. This fall, they invited New York-based choreographer and ICU alum Kensaku Shinohara, and Taiwan-based dance group Seed Dance Company to ICU to put on a collaborative performance. The ICU × Taiwan × New York Dance Project: "Woohi Chung" (meaning "five minutes" in Chinese) was performed four times in the multi-purpose hall in the West Wing of the Diffendorfer Memorial Hall (known as the "Shin-D") from September 18th to 20th. We spoke to Project Director Mana Yamagata, Lighting Director Yuta Minakawa, and dancers Uhi Chon and Bomi Kwon about their experiences with this project. Mana, Yuta, and Bomi are undergraduate students, and Uhi is a graduate student at ICU.
JICUF: Tell me a little about this project. What were your personal goals for this project?
Mana: We wanted to design a project to get MDS more widely known on campus. We don't have many members to begin with, and this year three of us will be graduating, so we were thinking about what we could do as a group before leaving campus. It was around this time that we were approached by Shinohara-san and were able to plan this project. We all joined this group as beginners without much experience planning or executing dance shows, but with Shinohara-san's support, this project was able to come to fruition. In order to increase campus awareness of MDS, we thought that it would be helpful to post invitations on Facebook for people to participate, regardless of experience. We ended up with a group of 12 dancers, and moved forward with the project. A main theme of the project was the desire to create a space for anyone to participate and enjoy dance, regardless of whether they were a beginner or experienced dancer.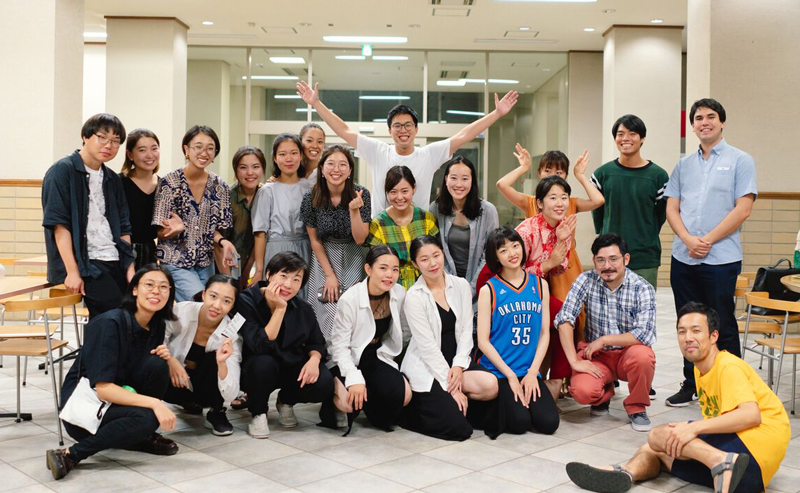 Uhi: I myself don't have a lot of experience with dance, and the few times I tried dancing I often got caught up with precisely following the rules of movement and felt self-conscious about it. Modern dance's emphasis on freedom of movement interested me, and I wanted to experience it first hand.
Yuta: I was also invited by Mana to participate. As a lighting designer I didn't have any experience actually dancing, but after working on a MDS production three years ago, I wanted to collaborate with them again. I also took an interest in Shinohara-san's style, which didn't concern itself with form and aimed to further explore the boundaries of dance as a means of expression.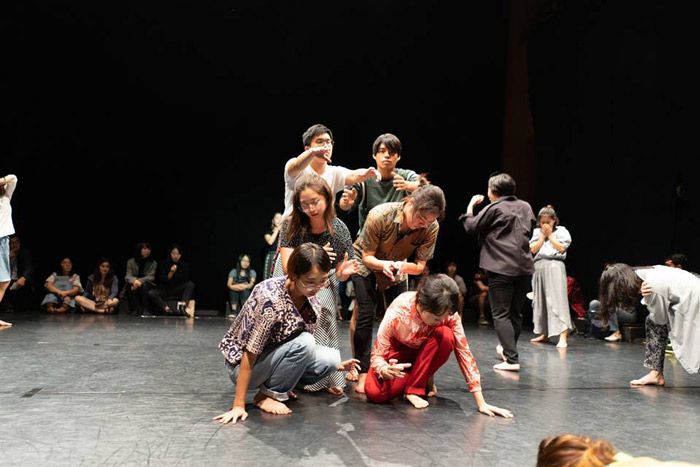 Bomi: I also happened to see the invitations on Facebook, and decided to participate after being inspired by the plan to invite professional dancers from NYC and Taiwan to put on a performance in such a short amount of time. The small amount of dance experience I have comes from studying traditional Korean dance for a year in high school, but the careful choreography and slow movements honestly weren't very exciting for me. Modern dance allows for a certain degree of expressive freedom, and I thought that by participating I could discover something new about myself. I'd participated in projects before helping with preparation or as an interpreter, so I also wanted to stand on the stage and experience performing myself.
JICUF: How do you feel having seen this project reach completion?
Mana: There was a lot that had to be done! The preparation took seven months, so I am so glad to see it come to fruition. The dancers from Taiwan arrived in Japan the day before the performance, and only being able to speak in English with the Taiwanese dancers was a challenge. When everything went well, I felt relieved and happy. Overcoming difficulties was satisfying, and having the opportunity to communicate in English with the other dancers was a good experience. Usually the stage and the audience are clearly divided during dance performances, so being able to blur that distinction was also very satisfying.
Bomi: Having taken a year off, this is my fifth year in college and most of my classmates have already graduated. Facing down my thesis, I was happy to be able to participate in this project during a stressful time for me. Moving my body with unfamiliar people, I felt a very deep connection with them if even for a short time. I'm thankful for the opportunity this project granted me to be myself from start to finish and meet others who accepted me for who I am.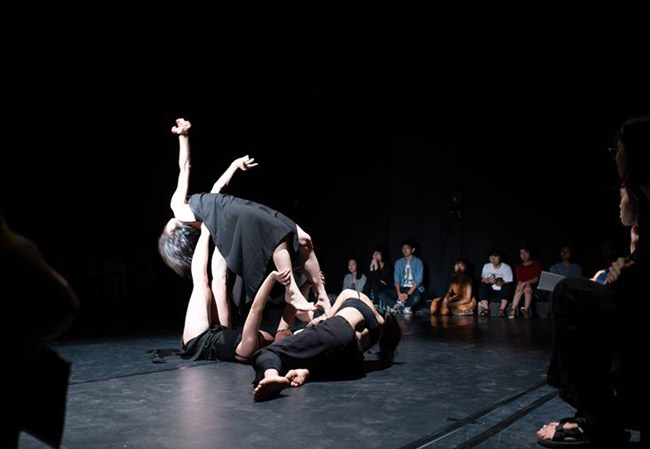 Uhi: I also took a year off, so being surrounded by people who I didn't know worried me, along with the uncertainty of being able to pull off this project with such little time. However, dancing and interacting with the others gave us a chance to get to know each other very well.
Mana: After a week of practicing with people, you begin to be able to recognize them just by touch and smell. I was familiar with all the participants and had my own understanding of them, but seeing them dancing reveals a new side to them that I'd never experienced. I felt that we all became a cohesive unit, and I have a feeling that those connections will last for some time.  I thought it was a refreshing way of communicating. Having not only danced but also planned this project from the beginning, I'm relieved that it went well and happy that I got to see it through to completion.
JICUF: How did you use the funding from JICUF?
Mana: I'd say 90% of this project was thanks to funding from JICUF. We used it for everything from airfare to lodging to food costs for the dancers. Thanks to the funding, we received valuable experience and communication with the dancers. Something money can't buy. I haven't had much experience budgeting for a project like this, so I'm thankful to have been able to realize a project that is about more than just money and costs. Usually I'm just spending my own money on myself, so using money from someone else to benefit people other than myself made me feel a special type of connection with everyone involved.
JICUF: I'm very glad that JICUF was able to play a role in this project. Thank you for your time!