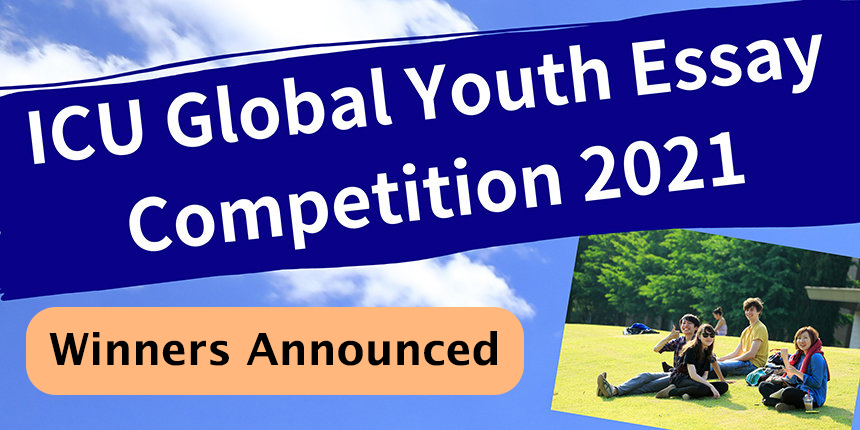 On March 14th, the winners of the 2021 ICU Global Youth Essay Competition were invited to an online awarding ceremony hosted by ICU President Shoichiro Iwakiri. The competition was cohosted by ICU and JICUF.
Youths aged 14~18 from around the world (excluding Japan) were invited to submit essays based on contemporary global issues. (access to education, gender equality, and the COVID-19 pandemic) The purpose of the competition, as outlined by ICU, was "to fulfill our social role as an institution of higher education in fostering the next generation by providing youths opportunities to be exposed to various global issues in the contemporary world, to think about how they can contribute to society from an interdisciplinary perspective, and to acquire persuasive writing skills."
Out of 355 essays from 36 different countries, 72 essays exhibiting a solid understanding of the competition's purpose and having good overall structure were selected. Then, 14 finalists (12 third-place, 1 second-place, and 1 first-place) were chosen based on 4 criteria: a strong thesis statement, good supporting arguments, creativity & originality, and good execution of writing. The finalists and their essay topics are listed below. Congratulations to all the winners!
FIRST PLACE
Jea Campos (Philippines)
"A Book for Every Child"
SECOND PLACE
Jesslyne Yau (Singapore)
"Diamonds in the Sky"
THIRD PLACE WINNERS
Chloe Wrzesinski (Australia)
"Addressing Gender Inequality in Australia"
Keiko Ito (USA)
"Left Out: Racial Inequality and Education in the United States"
Imran Aly (USA)
"An Essay of Hope: The unequal scars in the United States education system and how they can fade"
Prisha Agrawal (India)
"Gender [In]Equality"
Sena Gesteland (USA)
"COVID-19 and How to Solve Global Inequality between Rich and Poor Nations"
Kotomi Hasegawa (Hong Kong)
"Respect Your Team"
Grace Lee (South Korea)
"Not So Temporary Measures"
Angela Patrice Navarrete (Philippines)
"Quality Education in The Philippines – Right or Privilege?"
Caden Coleman (USA)
"The Human Right of Quality Education"
Elisabeth Eckstein (USA)
"Solutions for Education Inequality in the United States"
Mija Pranckutė (Lithuania)
"Gender norms should not exist"
Karen Tun (USA)
"Education Deserts Across the Nation"