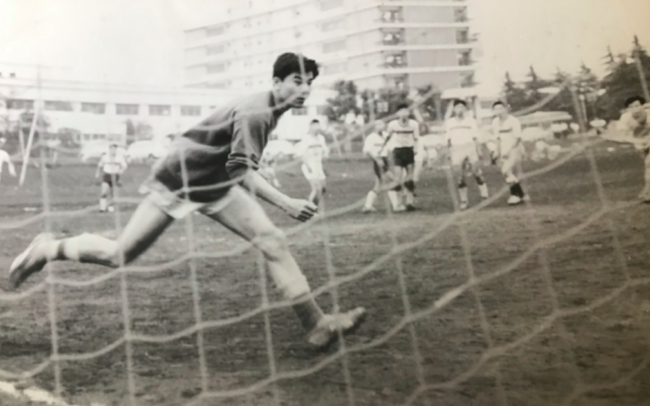 The following was written by Weimin George Yuan, ICU class of '64.
Since the four and a half years I spent at International Christian University are of cardinal importance to me, I will do my best to record what I can remember while I am still alert and capable of recollecting what transpired. One thing I feel extremely proud of is having contributed to the formation of the ICU Soccer Club.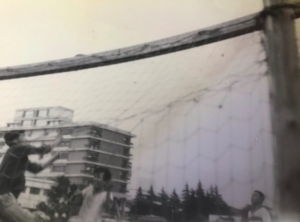 I was fifteen years old when I first became a member of the Diocesan Boys' School's (拔萃男書院) football (soccer) team in Hong Kong. I was the goal keeper and later the captain for four years. I played in various other clubs until I left to study at ICU in August, 1960. Soccer in HK at the time was the best in Asia, like today's Japan, so I was used to playing organized and competitive soccer.
What a disappointment it was for me to discover that my university in Tokyo didn't have a university soccer team! Most of my Japanese schoolmates did not even know what "football" was. There was a soccer field behind Honkan, but it was covered with dusty, dried earth, and became muddy after it rained. The goal posts consisted of three rectangular poles, and the nets hanging from the horizontal pole were never secured to the ground. Since there was no maintenance, we often had to pick up pebbles, pieces of concrete, or even broken glass from the mouth of the goals. Even after ICU established a soccer team and joined Division Three of the Kanto University League we, the players, had to work and draw the lines with white chalk powder ourselves before matches began.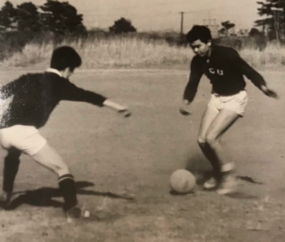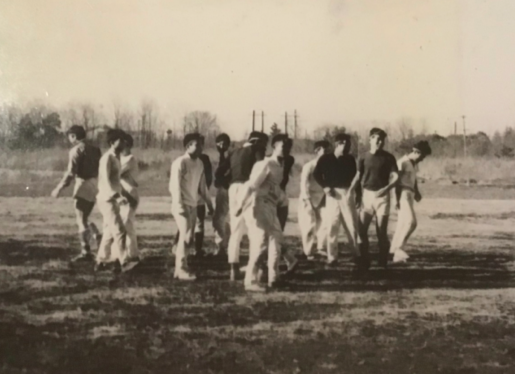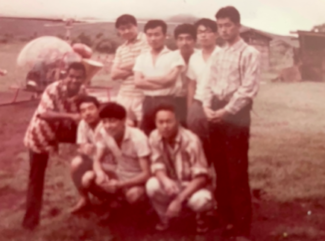 Even in the first few years of the soccer club, the members came from diverse backgrounds. In my freshmen year, there were Japanese students (Sugimoto-san, Tamura-san, Mizoi-san), students from Hong Kong (Samuel Ng and Tony Lam) and a few American students. 
Over the next few years, more members joined: Japanese students Arima-san and Hirose-san, Rumbino from Papua New Guinea, Mandani from Tanzania, and two more players from Hong Kong (C.Y. Choi and Daniel Fung)
I pleaded with the Athletic Director at the time, Niwa-sensei, to have a university soccer team. He reminded me that the university required a Doukoukai (同好会), a loosely organized group of people of similar interest, be formed before a sports team could be established, so I began to count heads. In my freshman year we could not even gather eleven people to make a team!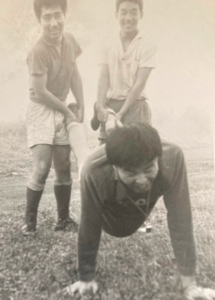 In the next two years, ICU soccer suddenly enjoyed a boom with the arrival of new Japanese and international students. In 1963, Mr. Niwa granted us permission to form a Soccer Doukoukai. During that summer break the ICU Soccer Doukoukai held its first ever training camp (合宿) in Nobeyama, Nagano Prefecture. Although we only had nine members partaking, we treated the entire week-long camp seriously. In the morning we did physical training, in the afternoon we practiced passing and shooting, and after dinner we played games and sang songs. That short week cemented our friendship. We reported the camp activities to Niwa-sensei, and later in the same year we were officially granted the status of a university club! For the first time we could have a uniform and participate in the Kanto University League.
While in Tokyo on March 11, 2017 visiting relatives with Mrs. Yuan, I learned that the ICU Soccer OB/OG Club was having a practice match and went to watch. How happy and proud I was to see OUR CLUB had grown and expanded to that extent. Not only in terms of numbers, but also including female players and officers. Not to mention, they now had a beautiful field and changing room facilities to call home. We need to thank and congratulate our Alma Mater and the generations of ICU soccer players and supporters for transforming the club to what it is today. 
I would also like to take this opportunity to congratulate the current soccer team for their unbeaten record in the past season despite difficulties of the pandemic. Please continue to enjoy this great team sport, and follow the high standards set by Japan's men and women national teams in their international plays. Whenever it happens I hope very much that I will be able to return to ICU to watch a regular league match played by the current team. Won't that be exciting!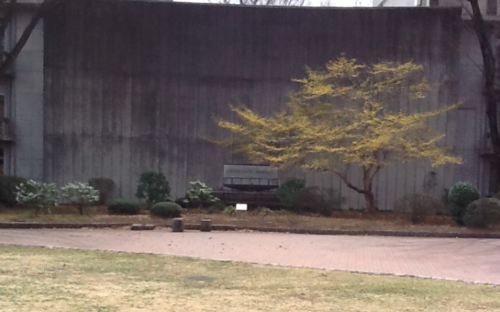 In the 60s, the two most desirable patches of green grass lawn at ICU were in front of the ICU Church and beside D-kan. When I felt like having some exercise, I would often take a soccer ball to dribble in front of the Church or gather some friends to practice passing and shooting using two of the trees as goal posts. I was warned numerous times by the Reverend Furuya (古屋先生). One day I discovered that I could actually kick a ball against the concrete side-wall of Diffendorfer Hall facing the Honkan, let the ball bounce back, then jump or dive to catch it – a near perfect exercise for a goal keeper. After that, I would practice there almost every weekend and sometimes even after school. Months later, one day I was stopped by Dr. Troyer who told me that the wall was not there for soccer practice. I complained to him that the university lacked proper facilities for athletic training. As he walked away I yelled in frustration that I needed a place to train myself properly. Since there was no other good place for my kind of exercise I continued to use that wall until my senior year.
I do not recall any tree was planted at that spot when I left ICU in March, 1965. However, when I returned in the spring of 1983 I saw a small tree with green leaves. I kind of knew why it had been planted there. Since then I have been back to my Alma Mater numerous times. Each time I pass that wall and see that tree, I smile in the deepest corner of my heart and recall this sweet and sour memory.