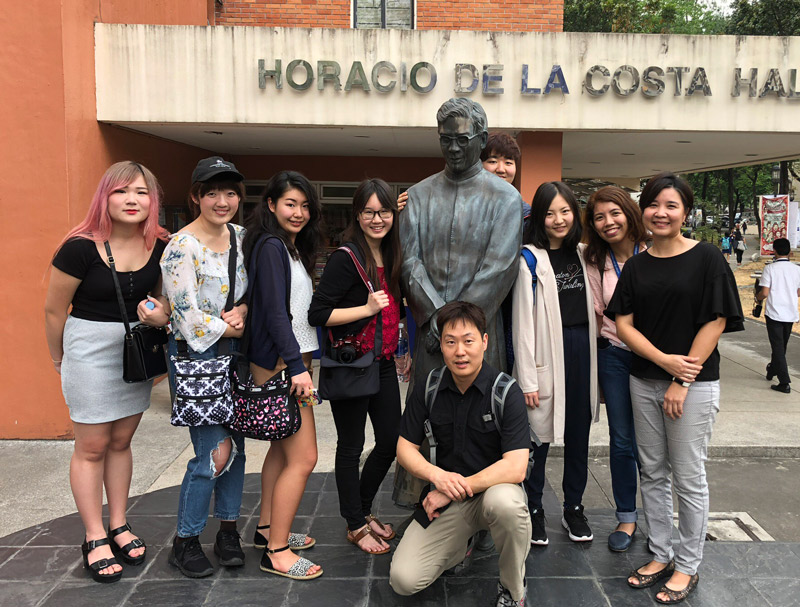 Associate Professor Allen Kim (sociology) received a faculty program grant from JICUF last fall to hold the Japan-Philippines Student Summit (JPSS) this spring. Six students travelled to the Philippines with Professor Kim from March 7th to 15th. Below is a condensed version of the grant report from Professor Kim.
Application for JICUF's fall grants will open on August 27th. Interested faculty and students should submit an online inquiry form by October 1st.
---
The Japan-Philippines Student Summit (JPSS) is a pilot program funded by the Japan ICU Foundation that emphasizes the importance of student leadership, cultural awareness, and promoting mutual cooperation and friendship between Japan and the Philippines. Japan-Philippines relations have strengthened despite deep historical scars including colonization. Today, international aid, development projects, defense agreements, and vibrant immigrant communities are shared between both countries. These two countries provide interesting intellectual and cultural contrasts.  The Gender Inequality Index (GII) in 2016 showed that, while the Philippines was 7th in the world in gender equality, Japan ranked 111th. The economic involvement and role of women in society is a significant and notable difference. While Japan has been characterized as a group-oriented and patriarchal society, the Philippines is more family-centered and matriarchal.
Gaining first hand knowledge of the Philippines and newly formed friendships, JPSS served as a positive first step towards enhancing cultural sensitivity and mutual cooperation not only between both countries, but in Southeast Asia as a whole. Students gained the opportunity to develop critical comparative inquiry while also developing important leadership skills for the future.
JICUF funds covered travel, lodging, historical tours, and food expenses during the trip. In total, six selected ICU students, one former Filipino ICU OYR study abroad student, and Sociology Associate Professor Allen Kim explored Philippine society from March 7th to 15th. JPSS students attended a pre-departure conference at ICU where Philippine professors lectured on indigenous issues and diversity. In the Philippines, students attended lectures and roundtable exchange discussions at Ateneo de Manila University and the University of the Philippines (Diliman and Baguio campuses). In addition, students had an opportunity to learn about Philippine history, culture, and contemporary issues by visiting important sites including Filipinas Heritage Library, Ayala Museum, Ateneo de Manila University's Rizal Library, University of the Philippines Baguio's Museo Kordilyera, Baguio City (where many Cordilleran-Japanese descendents reside), and Corregidor Island (an important WWII site).  As highlighted by ICU students, JPSS provided a foundation for cultural sensitivity, global awareness, and bridge-building and friendship between both countries.  The powerful impact of ICU is highlighted in reflections of some of the ICU students below: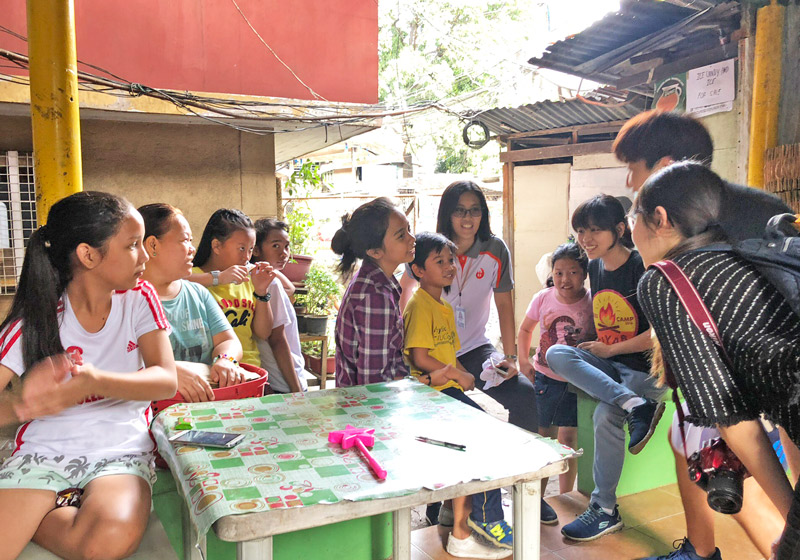 Maria Matsuki (First Year Student)
On the second day of our trip, Ateneo de Manila University students took us to the slums. I saw children on the dirty floor playing pogs, houses selling fish with flies over head, and a stream polluted with trash.
There, we had the chance to interview a mom of three children. She mentioned her fear of her boys getting bullied at school, and how it was a priority for her kids to finish school. Despite her lack of education, she knew that education would be their way out of poverty. Although she lacked many things, she was happy because of her family. Although I'm thankful for what I have, I never thought about how others have to constantly sacrifice for the sake of their children's education. Education is a privilege and this experience made me rethink that sometimes, giving back or showing appreciation could make a big difference.
I also learned about openness from our discussions on Japan-Philippine relations and issues. At Ateneo if of Manila University, we discussed  WWII and the issue of comfort women. Controversial topics like these are difficult to talk about in Japan. However, Filipino students and professors shared their views. We also had the opportunity to read diary entries of Maria Rosa Luna, a woman raped by the Japanese soldiers. We also looked at images  censored in Japanese textbooks. Instead of being ashamed to talk about these issues, I learned that it is important to open up and listen to each other's viewpoints.
The JPSS program also sparked my interest in working for organizations such as the World Bank in the field of international development assistance. I had always thought the government would prioritize problems such as poverty and education. I learned, however, that the Philippines has a very tough relation between the government and its people. Because of this tension, I believe international development organizations should focus less on infrastructure and more on poverty, affordable housing, providing quality education. With poverty rates so high in the Philippines, the youth will not  help the economy develop if it is not properly educated.
Overall, the JPSS program was an eye-opening experience for me. I have stayed connected to the university students I met. I also enjoyed learning about the Philippines' history and World War II,  gender roles, poverty, overseas Filipino workers, etc. I also experienced school life through visiting schools and universities. I truly recommend this program to ICU students who want to gain a global perspective and realize that as students, we can do so much for our community and beyond.
Moe Hoshino (Fourth-year student, Former Ateneo Exchange Student)
During this trip, I learned about the indigenous cultures and Filipino–Japanese relations in Baguio. These two issues stood out for me since my main focus as an exchange student at Ateneo de Manila University last year was studying urban poverty and education.
I was particularly interested  in indigenous culture. Visiting UP Baguio's Museo Kordilyera and talking to the experts added to my knowledge. For example,  I learned that the Philippines did not have class society until the arrival of the Spaniards. It was different from capitalist society, in that there were a lot of leveling mechanisms so that the people would not starve. The rich were not always the exploiter but rather  resources managers and community leaders.

The Filipino–Japanese relationship was a completely new field for me. I  was surprised to hear that there was a Japanese diaspora seeking opportunities abroad in the Philippines as early as the Meiji era. It is hard for me to imagine this  based on Japan's current economic status.
Overall, the JPSS program was a great immersion and introduction for people who do not have experience living in the Philippines but may aspire to study there through ICU's exchange program.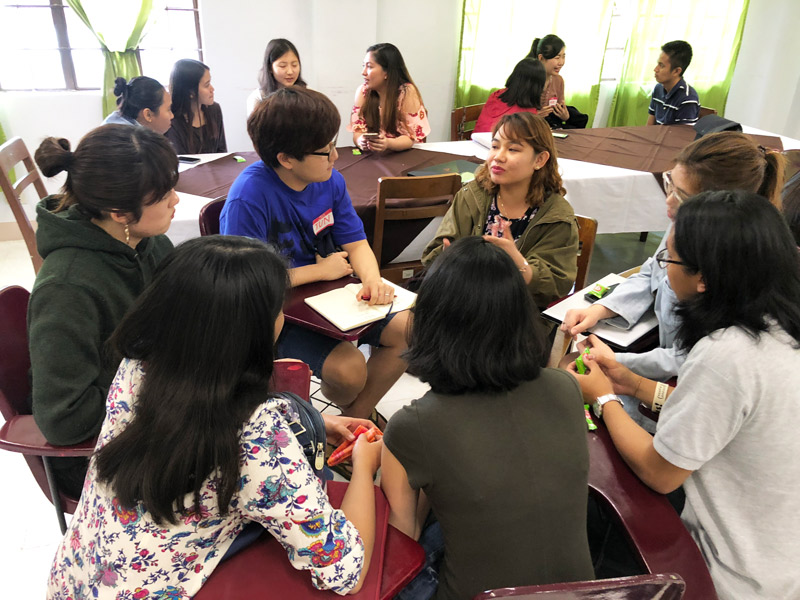 Miki Takahashi (Second-year student)
Joining JPSS gave me a great opportunity to gain a deep understanding of the Philippines. In the seven days that we spent there, I realized that I was blind to the inequality that exists in our world. Moreover, I learned  a lot by interacting with those with different cultural backgrounds. Out of the many experiences gained during my stay in the Philippines, four had a big impact on me.
The first experience was learning about comfort women in the Philippines during a museum visit. In Japan, we are rarely taught that the issue existed in places other than Korea. I did not know that Japan forced Filipino women to become comfort women. The  visit, opened my eyes and taught me the importance of having different points of view.
The second experience was my interaction with the people.  They were so warm and welcoming, and constantly willing to help me. They were also kind to random people on the street, and were not judgmental. I think that Japanese people tend to judge others by their physical appearances, and therefore exclude those who look or act different..

Through the experience, I began to think that education might be one of the reasons why Japanese people are less socially active compared to the students many other countries. In the universities in the Philippines, students had the freedom to choose what to do. In Japan, the teacher usually sets many strict rules to unite the students and help them get ready for society. This system leaves students unable to find their passion and prevents them from getting involved in activities that they truly are interested in.
The third experience was a visit to a mother in the slums. She mentioned how scary we looked when she was talking. We were not smiling. In Japan, we are taught that we should not smile too much when the other person is talking since it will give off the impression that we are not paying attention.
Not smiling, however, is seen negatively in the Philippines. This trip has taught me that smiling is important because it  really changes how someone sees you. Despite telling us about the terrible things that have happened to her and her friends in the slums, the mother kept smiling as she spoke. It really showed how she is a person capable of overcoming many obstacles without losing her positivity.
My last memorable experience was street children. In Japan, we do not see many street children. I thought about the opportunities they are supposed to have at that age. I realized that students needed strong support from their parents. The mother in the slums repeatedly stressed the importance of  education. This passion for her kids' education was the force that kept her kids going to school. With parental support, students will be motivated to get off the streets and go to school. One possible solution would be an organization that teaches the value of education to both children and parents.
The JPSS was a great opportunity to not only learn about another culture, but to see societal problems that I was unaware of. I enjoyed the program very much, due to the countless experiences that I would not have been able to gain had I stayed in Japan. I am sure that I will go back to the Philippines to not only deepen my understanding of the culture and the society there, but to experience the warm welcome again.
Angela Louise Rosario (OYR '16-'17)
JPSS is one of the few programs that gives the participating students a full experience of Philippine society, culture, and history. It was a pleasure for me to have them visit my university, Ateneo de Manila University, and my alma mater, University of the Philippines – Baguio.  Both universities were delighted to serve as hosts for JPSS and also had a hand in the planning of the itinerary.
When I met the JPSS students for the first time, they were shy, uncertain and reserved, but very curious. Being with them throughout the program, I witnessed them gradually change. The students became more confident in sharing their answers and opinions as well. From being shy to confident! Wherever we went, they would ask the hosts, people involved, or even me about Filipino culture, history, especially its social problems.
Not only did the JPSS students benefit from the program, the host universities' and other participants also got something out of it. Mutual cooperation and understanding created new relationships and fostered friendships between JPSS students and Filipino students and made ICU's ties with its partnership universities even stronger.As a Filipino and former ICU OYR, it was a pleasure to have had the chance to accompany JPSS and introduce my country to them.