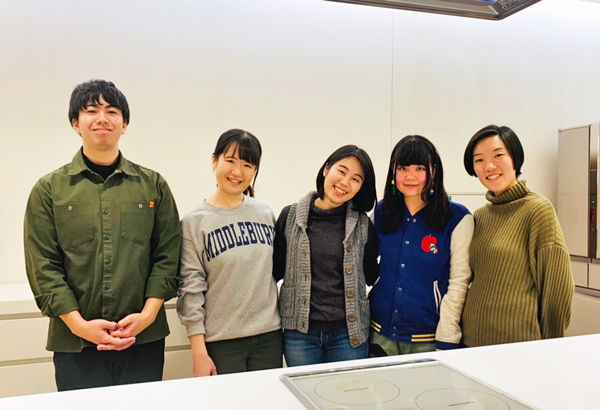 Last December, JICUF Student Activity Fund recipient and ICU student Akiyo Sasaki and co-organizers Machi Niiya, Ayumi Murase, Rio Kokuta, and Shimon Hibi began the "Nihongo de Itadakimasu: Cultural Exchange through Japanese Language and Food" project. The aim of the project was to promote intercultural communication by inviting ICU students of all Japanese levels to mingle with each other and learn about Japanese culture. From December to February, four workshops (Udon, Ozoni, Setsubun, and Matcha) were held biweekly that gave students a hands-on learning experience about Japanese ingredients, cooking, and customs. The only rule: try to speak in Japanese as much as possible!
Each activity had at least 13 students, with an even ratio of native Japanese speakers and international students. Akiyo Sasaki, herself a graduate student in the Education and Psychology program, was happy to see students freely engaging with each other and practicing their speaking skills. Below are her thoughts about the project:
At ICU, people of many different backgrounds have a chance to interact, which often results in English being the most frequently used language. "Nihongo de Itadakimasu" is a project that aims to create a space that emphasizes speaking in Japanese, through cooking. For this project, I wanted to to utilize all I've learned about Japanese language education to allow for connections to be made by speaking in Japanese. The reason I chose to do all this through cooking is because I believe cooking exists on the intersection of many different skills and studies. Working together to create something, experiencing Japanese culture, learning culinary vocabulary, and then all enjoying the same food…I hope this process allows people to meet somebody new.

Over the course of the four activities, many different students participated. For the cooking, 4~5 person groups with an even balance of native and non-native Japanese speakers were created. For the udon event, everybody participated in kneading the dough, and for the ozoni event, we made both Kansai and Kanto style ozoni. During the Setsubun event, we all ate the ehomaki we made in silence while facing the same direction. For the final matcha event, the ICU tea making club was invited and to give a workshop. Even though at first participants were hesitant to speak to each other, by the end there were often groups who continued to chat with each other after the events had finished.

During this project, I learned the importance of an "open to anyone" attitude. For example, some problems we faced were how to best communicate in Japanese with a non-native speaker (without using English), and making sure ingredients like fish broth didn't give vegan students problems. At the events, special preparations were made to make the event as accessible as possible: in order to accommodate people at any level of Japanese, we made sure that students studying Japanese language education were present. We also surveyed any dietary restrictions of participants beforehand to make sure vegan and gluten-free students could participate. I feel that learning how to make events as inclusive as possible, and learning about each other in the process, was an important step in making genuine human connections. 
Congratulations on a successful series of workshops!