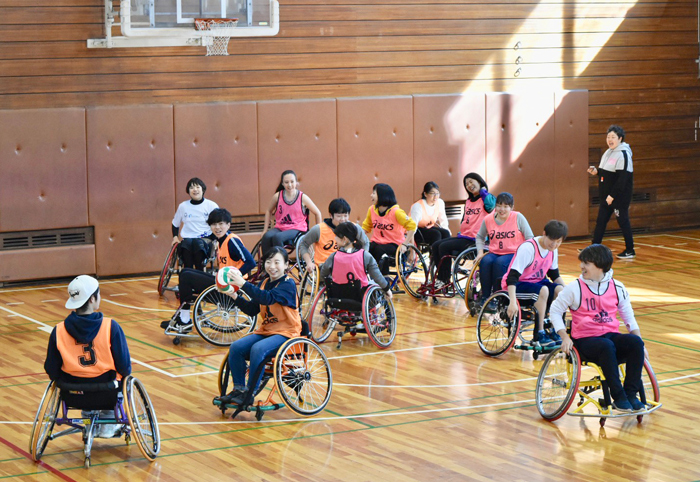 On February 20th (Wednesday) and 22nd (Friday), Ms. Mina Takanashi, Instructor in ICU's Health and Physical Education Program, hosted a Wheelchair Basketball Workshop in the V Gym at ICU. Ms. Takanashi felt that ICU students had few opportunities to mingle with people with disabilities although ICU emphasized the importance of diversity, and decided to plan a workshop to teach wheelchair basketball, an official Paralympic sport. JICUF awarded a grant of 236,000 yen to Ms. Takanashi last fall to help organize the event. This was the second "parasport event" organized at ICU, the first being the Blind Soccer Workshop organized by Instructor Hiroshi Yamauchi last January.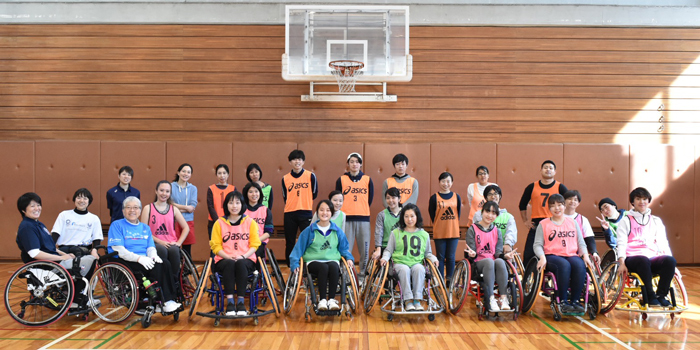 Ms. Takanashi invited Ms. Shiho Nagano, coach of the Tokyo women's wheelchair basketball team GRACE, and Ms. Toshie Tachi, former Paralympic athlete, as instructors. With Ms. Tachi's help, Ms. Nagano taught students how to control the wheelchair as well as the basic movements in wheelchair basketball, and oversaw games. In addition, Ms. Rie Odajima and Ms. Mami Sakamoto, two athletes who aim to participate in the Paralympics and Ms. Seiho Ikeuchi of the Tama Disability Sports Center participated in the event.
The workshop was held from 1 p.m. to 2:50 p.m. on both days, and about 25 students participated in total.
Below is a report from Ms. Takanashi.
I introduced some students to wheelchair basketball in a physical education class.

It is a parasport that is speedy and is more interesting than it seems, if you have a chance to play it. I wanted more students to experience it and learn about parasports. Moreover, I wanted students to feel closer to people with disabilities through sports, and understand their situation better. That is why I applied for a JICUF faculty grant and hosted a two-day wheelchair basketball workshop. In these two days, 25 students and eight staff and coaches participated in the event.

Instructor Mina Takanashi

Students were taught the basic skills of handling a wheelchair and how to dribble by the athletes and coach of the Tokyo women's wheelchair basketball team, GRACE. They played a game immediately after this. Students who were only available during lunch hour left at this point. Those who could remain had a break, and listened to the athletes talk about why they began to play wheelchair basketball. Each one of them spoke about the hardships they overcame and the efforts they were making to play in the Paralympics. Participants were moved by their stories.

"I still dream of running." "After being in an accident, I learned that it was ok to depend on others, and was able to relax." "Everyone could become disabled." "As long as I am living, I can do what I set my mind on." These were some words that left a particularly strong impression on me. I wonder what the students felt. We discussed the challenges the athletes faced in daily life. After this, we repeated six-minute games.

Students struggled to pass and shoot. However, everyone was trying hard with smiles on their faces. I suspect that they all had muscle pain the next day.

Rules of wheelchair basketball have changed recently, and able-bodied athletes can join teams now. (There is a classification system to evaluate the functional abilities of the players on a point scale.) I wish that more people can enjoy sports together regardless of their physical abilities. Playing sports together could help people learn about disabilities and other challenges that people face, and lead to a truly "barrier-free" society.  

I imagine that many students are afraid of asking certain questions to disabled people, but I wish they would engage in a conversation without making assumptions. Even if it were just to ask if they could be of help. I hope that this workshop inspired them to do so.
One of the students who participated in the workshop sent the following comment to Ms. Takanashi:
I knew about wheelchair basketball through the Paralympics and manga, but I'd never had the opportunity to try it myself, and this was a valuable experience. I've been playing basketball for almost ten years, and obviously this was very different. I was inspired by the coach's words that when we play sports under the same rules and with the same knowledge, it does not matter whether we are disabled or able-bodied. I realized the power of sports.