Twelve members currently serve the JICUF Board of Trustees. Delores Roeder, Junior Year Abroad student at ICU from 1960 to 1961 and the longest serving trustee, was interviewed by her colleague Anne Love. 
---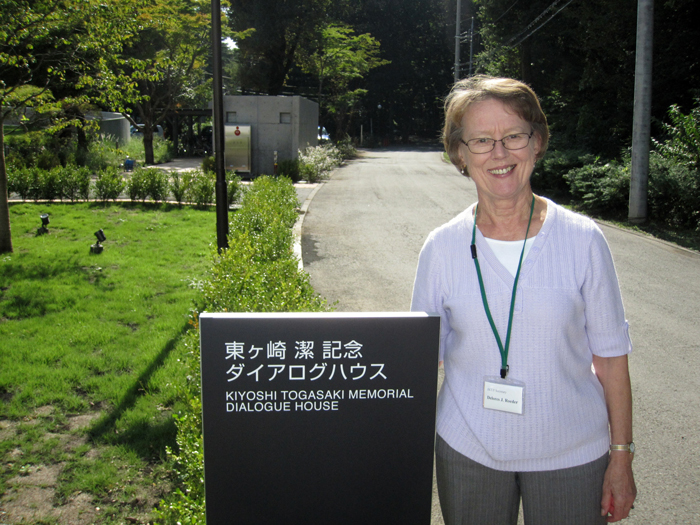 Delores Kinney Roeder's first connection to Japan was in 1953 when her father, who worked for Northwest Airlines (NWA), spent several weeks in Tokyo on business. He brought back wonderful pictures and a beautiful Japanese doll, which she still has today. In 1956 a Japanese NWA employee came to stay with her family while training at the Home Office. They remained connected for many years after.
Delores attended Macalester College in St. Paul, MN. At the time, the Presbyterian Church was sponsoring a Junior Year Abroad program encouraging American students to attend colleges and universities around the world. It was hoped that if young people got to know other countries and young people well, it would contribute to world peace. She applied to the program and was sent to ICU in 1960.
Delores lived in a dormitory (built with funding from JICUF) for part of the year and then she moved to join the Oishi family in Kichijoji.  One daughter of that family, Sachiko, was an ICU graduate living at home and the other, Noriko, was about to begin her senior year at ICU.  Noriko wanted to live on campus so Delores took Noriko's room in Kichijoji, paying her father the same fees she paid in the dorm, and Noriko got to live on campus.  Their families have remained very close ever since.  Both sets of parents traveled back and forth, Delores and her husband took their kids to stay in the Kichijoji house, and Sachiko and Noriko and Sachiko's children have visited the Roeder's numerous times.  Sachiko has met five generations of Delores' family and Delores knows four generations of Sachiko's.
Following her graduation from Macalester in 1962, Delores moved to New York City to work in the JICUF office. Delores said, "There was a fairly large staff at the time – probably 15 or so – and much going on. I remember working on the Women's Planning Committee Fall luncheon in 1962 at the Commodore Hotel, attended by over 900 people. I returned to get my Elementary Education degree at the University of Minnesota the next January. While living in CA during the early 1980's I completed a Teaching English as a Second Language Certification and then spent several years tutoring Japanese children and their mothers.  It was very satisfying work and now when I visit Japan, I get to meet the children of my students!"
Delores was first elected to what was then known as the Board of Directors in 1986. Many members were representatives of various denominational mission boards. The annual meetings always featured a special speaker and reports about progress at ICU. As denominational support for ICU waned in the late 1980's, JICUF had difficulties meeting financial goals. The New York office was closed by December. ICU cooperated financially in reopening a New York office in 1997. In 1998 the JICUF learned of the bequest from the estate of Donald and Mildred Othmer, and by October 1999 JICUF informed ICU that financial assistance was no longer necessary.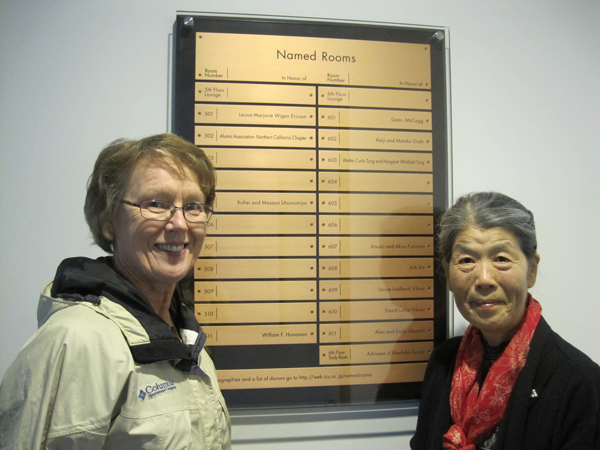 Summarizing her experience with JICUF, Delores said, "I have been privileged to experience the development of JICUF for over 30 years and to have served as Chair and as Secretary of the Board during some challenging times." Delores' long commitment to and involvement with JICUF has enriched both ICU and the Foundation; she is as an outstanding example of the outcomes that were dreamed about at the inception of ICU – an education that fosters deep respect and friendship across borders, and promotes knowledge and action for a just and peaceful world.
Written by Anne Love