The Spring 2019 JICUF Undergraduate Research Day (URD) was held on February 15th at ICU's Togasaki Kiyoshi Memorial Dialogue House. This event was first organized by Associate Professor of Linguistics Seunghun Lee last February to provide an opportunity for graduating students to present their research projects to the public. This was the third event that was held, the second having taken place in June 2018 for graduating September students. With the success of the two URDs in 2018, JICUF awarded Professor Lee a faculty grant of ¥600,000 in fall 2018 to continue to organize the events in 2019.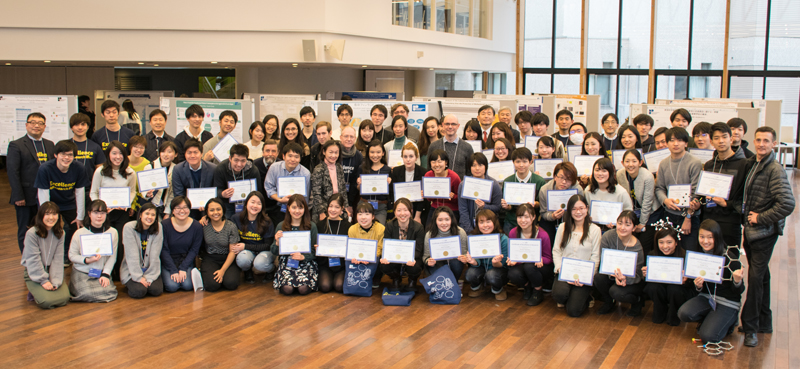 This year, the event was held from 3:00 p.m. to 6:00 p.m. 46 students representing 22 majors presented their posters. Majors in natural sciences, humanities, social sciences as well as interdisciplinary research were represented. Approximately 110 visitors in addition to  presenters, ambassadors and members of the organizing committee attended.
On February 4th, Professor Lee hosted a workshop on "How to Make an Academic Poster." 26 students took advantage of it. The participants not only learned several tips for an effective academic poster, but also practiced a 2-minute version and a 5-minute version of poster presentation in smaller groups.
JICUF photography intern and graduating fourth-year student Midori Matsunaga presented her research at URD and shared the following comment with us:
Midori Matsunaga

URD was a great event that I wish more people on campus knew about. While there have been venues for fourth-year students to present their research within each major, this is the first event that I know of where students from all majors had the chance to present together. Since I had little exposure to the natural sciences throughout my time at ICU, it was inspiring to get to know students majoring in chemistry or physics. For underclass students who were still undecided about their majors, it provided an opportunity to explore different majors. I hope URD continues in the future.
The June 2019 URD will be held from 3:00 p.m. to 6:00 p.m. on June 14th. Details can be found here.