Luke Wilson and Nicolas Correa are the second cohort of recipients of JICUF's United States Scholars Initiative (USSI) scholarship. USSI aims to increase the number of degree-seeking undergraduate students from the United States at ICU. This merit-based scholarship provides full-tuition support for four years of undergraduate study at ICU. 
We sat down with Luke and Nico and asked them about their experiences at ICU so far. 
---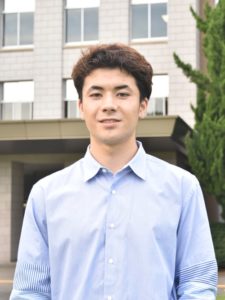 Luke Wilson
Born and raised in Portland, Oregon, Luke Wilson has a nikkei mother and American father. Growing up, he studied Japanese at a Japanese magnet program from kindergarten to high school and took advantage of any opportunity he could to speak Japanese and improve his language ability. His hobbies are sleeping, hanging out with friends, and playing soccer on the ICU team. 
JICUF: What motivated you to apply to USSI? 
Luke (LW): I first heard about USSI from my Japanese high school teacher – she actually graduated from ICU a while back. I was asking her for about recommendations for colleges in Japan because I was very interested in pursuing my Japanese language education and studying in Japan. She said that even though it might sound a little bit biased, she strongly recommends ICU. I gave ICU a look, and really fell in love with the liberal arts education and the whole scene of things. I found out about the USSI scholarship by researching the website. I thought it was a really generous scholarship and to me it was too good to be true. I thought I might as well give it a try, and now here I am. 
JICUF: What do you think about life in Japan and ICU so far?
LW: I've been enjoying it a lot. Moving to another country and living there for the next four years. It can seem a bit nerve-racking and scary. I'm slowly getting there, slowly growing accustomed to how things are going. Living in the dorm really helps me – living with new people, connecting with Japanese natives, and just being able to speak Japanese everyday really helps me improve my Japanese. Aside from the dorm life, I love the city. I've always wanted to come to Tokyo. I've been to other parts of Japan, but never Tokyo. I've only ever seen it on TV and Youtube videos. It's so surreal. But it's doable. It's a part of the culture: just riding on the trains, ordering at a restaurant, I feel immersed in the culture. 
JICUF: What do you hope to accomplish at ICU?
LW: The main reason for coming to ICU was to improve my Japanese, first and foremost. Fluency, grammatical aspects, overall vocabulary too. I also hope to develop and narrow down what I hope to do after college. The main reasons I chose ICU was the liberal arts program. The option it gives you to take a variety of classes, and then you have until the end of sophomore year to really narrow down on your major. I really like that aspect of ICU because right now I'm really stuck on a major between Media, Communication, and Culture and International Relations, but thanks to the liberal arts program I can find what I'm really passionate towards.
JICUF: Do you have a message for USSI supporters in the U.S.? 
LW: First and foremost, thank you for supporting the program. I really appreciate it. I think it's a great program to offer to students who really want to excel in a liberal arts environment. Especially for those who have a passion for Japanese, I think it's very generous to offer it. 
It's still a shock to me that I was awarded this scholarship. I still remember the exact moment when I read the email on my way to school. I pulled up in my car, I checked my email, I told the gas station attendant filling up my car and he was freaking out too – I'm sure he doesn't get that often. I think it's great that they're supporting the scholarship. There are not many scholarships like this out there for colleges in Japan. It was a really big shock for me seeing this scholarship for a university that I really wanted to go to. And to receive it, I was blown away. I think it's great that you're offering it to students in the U.S.
---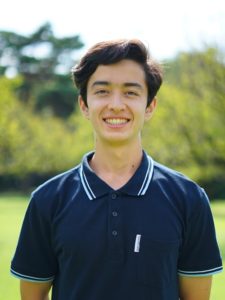 Nicolas Correa
Nicolas Correa, who goes by Nico, has lived in San Diego for the past ten years. Before that, he spent ages five to eight living in Yokosuka, Kanagawa. His first exposure to Japanse culture came from attending a Japanese youchien (kindergarten) as a young child. He is from a half Japanese/half Mexican family and is used to a mix of different cultures. 
JICUF: What motivated you to apply to USSI? 
Nico (NC): I first heard about the scholarship from a flyer that came in the mail, so I looked into the school (ICU) a little more. I wasn't completely sure if I wanted to go to school in Japan, I was actually more focused on the U.S. But once I heard about this opportunity, I wanted to keep my options open. Also, I thought applying was a good idea because I could save the money I would have spent on undergraduate tuition for a masters degree or law school, which I'm interested in pursuing. 
JICUF: What do you think about life in Japan and ICU so far?
NC: I've been enjoying it a lot. From the very start, I've met new people, from so many different countries and they're so open to talk. I've met people from Australia, England, France, Russia – a really cool mix of cultures. I've been pretty busy with soccer club and dance initiation. For the initiation, I volunteered to be a leader partly because no one else wanted to. Initially it was hard getting everybody to agree on ideas. Not everybody is from the same background, so we don't all understand each other. We don't all have the same ideas. Figuring out those kinds of problems felt like a mini United Nations – all these different representatives from different countries, coming together and working things out. That felt like a microcosm for what we can do on a greater scale. 
Another thing I've been enjoying at ICU are the classes I've been taking. Especially my Sociology class, it's been really eye opening. They're not 100% focused on just teaching you the information, but also on enriching your college experience in general. For example, my Christianity class. I've taken religion classes in high school, but here it's a different perspective because it's meant for people who may never have been exposed to Christianity. Reading books about Christianity that I never read in high school, I'm learning a lot in the class. 
JICUF: What do you hope to accomplish at ICU?
NC: One of the main goals is narrowing down my field of interest. I'm not completely decided yet, so I would like to decide soon and find what I really want to do. For a while I was interested in engineering, but senior year of high school, I decided that it's not what I want to do. I'm still trying to find what I want to study. 
Besides that, I really want to study abroad. I'm already kind of studying abroad since I'm from America, but I think if I could study abroad in a Spanish speaking country, it would be really good. I want to focus on studying language besides Japanese and English. I really want to improve my Spanish, and possibly pick up a fourth language as well. I don't want to forget to have fun by leaving time aside to explore Japan with my friends, and pursue hobbies like ceramics.
JICUF: Do you have a message for USSI supporters in the U.S.? 
NC: I want to thank the supporters for considering what prospective students are experiencing regarding the finances of college, and making a sacrifice to allow us to have this opportunity for an education. I also want to thank them for showing their support to the point where they're willing to invest in students who are trying to better the world.