Myra Lotus Shikimachi-Stickney and Julia Yamaguchi are the fourth cohort of recipients of JICUF's United States Scholars Initiative (USSI) scholarship. USSI aims to increase the number of degree-seeking undergraduate students from the United States at ICU. This merit scholarship provides full-tuition support for four years of undergraduate studies at ICU.
Despite the challenges posed by the pandemic, Myra and Julia have not let it hinder them and are making steady progress through their first term. We sat down with the two of them and asked about their ICU experiences so far.
__________________________________________________________________________________
Myra Lotus Shikimachi-Stickney 
Born in Irvine, California and raised in Austin, Texas, Myra Lotus Shikimachi-Stickney has a Japanese mother and American father. She attended a small Japanese school on the weekends through middle school and continued to pursue bilingualism through starting the Japanese Culture Club at her high school, joining the Japan-America Society of Greater Austin (JASGA), and returning to her Japanese school as a student volunteer. Myra's hobbies are dancing, singing, musical theatre, socializing, and event planning.
JICUF: What motivated you to apply to USSI? 
Going to school in Japan has been one of my dreams ever since I was little. I'm half-Japanese and half-American but have only ever lived in the States, so I've always been interested in what it would be like to receive an education from 'the other side'. Around my sophomore year in high school, I received a postcard from JICUF about USSI and attended an info session, which is when I first learned of one of the only merit-based scholarships available in Japan. I emailed Fernando (Rojas, JICUF Program Manager) about the scholarship and asked to stay updated until I was eligible, and when college application time rolled around, I applied to ICU and USSI.
JICUF: What do you think about life in Japan and ICU so far? 
So, fun fact: Julia and I are in the same dorm and we actually have classes together! One thing I can speak to that Julia might not be able to yet, is that when you come to Japan, there's this expectation of what it will be like. ICU has lived up to its reputation of being very global, but even having grown up with a Japanese cultural background, it hasn't necessarily been a seamless transition like I expected.
A positive surprise about Japan is how much everyone looks out for each other. The other day I was at the station with some friends, and suddenly an elderly man fell to the ground. Instead of ignoring his plight, people flocked to him and made sure that he was attended to. This sense of community — absolute strangers all working together because it was necessary — was something that I've never witnessed. On a smaller scale, even at ICU, I've noticed that I can approach practically anyone and they will point me in the right direction. There are positives and negatives in every new environment, but this is one thing that I have enjoyed so far about being in Japan and ICU.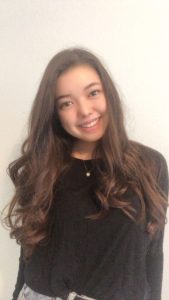 JICUF: What do you hope to accomplish at ICU? 
I have a whole list! There are some typical things on the list: make a lot of friends, maintain my grades, and consider studying abroad. One thing in particular I'm interested in is a double-major or major-minor, as ICU offers opportunities for that.
I also don't want to simply limit myself to on-campus goals. ICU is so convenient that it's easy to stay around campus, but I want to get out of that box and spend time exploring Tokyo. I've been joining a few circles too, and plan on participating in little things that pop up, like the student retreat.
One other thing that I've been exploring lately is why ICU doesn't have an official mascot. They have Bakayama-chan (for the ICU Festival), but not a real mascot like practically all American colleges. Some other Japanese universities have been catching on, and Japan itself has a strong mascot culture; however, I've spent some time visiting ICU offices and nobody knows why there isn't a mascot. I have a meeting scheduled with the Dean of ICU, and I think working on establishing an official ICU mascot might be something I work on during my four years.
JICUF: Do you have a message for USSI supporters in the U.S.? 
This is an incredible opportunity that I didn't think existed, and honestly without it, I probably wouldn't have been able to come to Japan. There were many pros and cons that went into my decision to attend ICU, but it was something I could take into consideration thanks to donors, teachers, and the JICUF.
The scholarship process starts earlier than simply learning of its existence; it starts with the idea to even create an opportunity for American students to study in Japan. Students don't usually consider all the work and support that goes into getting a scholarship up-and-running, and thanks to donors and JICUF figuring out the logistics of funding and spreading word, we don't have to. I realize that not everybody was as lucky to become a USSI recipient, and I want to make sure that I make the most of this opportunity.
__________________________________________________________________________________
Julia Yamaguchi
18 year old Julia Yamaguchi was adopted from Aktobe, Kazakhstan at 11 months and has been living in Honolulu, Hawaii ever since. Julia grew up with a wealth of Japanese cultural influences both from her father's side of the family being Japanese, and from the very prominent Japanese influence on Hawaii's mixing pot of cultures. She also studied Japanese during her middle and high school years. Julia's favorite thing to do is connect with different people and learn of their unique stories and cultures, and hopefully better her understanding of them and the world around her. Her hobbies include singing, running, writing poetry, event planning, listening to music, and stargazing with friends.
JICUF: What motivated you to apply to USSI? 
During my senior year of high school, I knew about ICU and I had been looking around for scholarships for the schools I was interested in applying to. Through research, my family and I found USSI, and the concept of the scholarship really pulled me in. I then visited an online information session, which solidified my desire to apply!
JICUF: How would you describe "an ICU experience"? How would you describeyour own experiences with ICU so far? 
Connecting!
Before the semester began, there was a lot of outreach on social media, with one being the student-run ICU 2025 Instagram page. I think it was helpful for students who couldn't make it to Japan to not feel completely invisible. I decided to post on the page and soon received a lot of messages from people abroad, in Japan, or living on campus! I hope the day will soon arrive when we can all finally meet, face-to-face!
Online classes are harder than in-person classes as far as feeling "connected" to everyone. Although, I really appreciated that many of my professors alloted time for getting to know my classmates. I felt as if the randomly assigned breakout rooms were a nice way to connect for those who were too shy to post on social media. I'm happy to report that I've had the pleasure of meeting many wonderful people and experiencing blossoming friendships! Overall, the medium of technology has been a major tool (since we cannot all meet in person), and the ICU community thus far has proven to be very international and friendly. People want to connect and not leave anybody out, and I am very grateful.
The liberal arts learning experience!
The classes I'm taking this semester are mostly foundational courses within various majors: Education, International Relations, and Development Studies. I think that, unlike general education courses, these classes allow for a deeper exploration into the topics. My professors have stressed that with a liberal arts curriculum, critical thinking is a common tool–and I find this very appealing. Being here only for half of a semester, I've noticed, already, that I think more critically and I am excited to continue to open my mind to new perspectives over the next few years!
JICUF: What do you hope to accomplish at ICU? 
One would be that I hope for my Japanese to improve. I will be done with J7 soon, so there's that!
I also hope to learn how to mold my current passions and academic interests into career aspirations. I am currently very interested in the major of International Relations and am leaning towards a career in the international field of diplomacy! But, this is always up for change, as I love how ICU allows for students to explore for two years before declaring their major!
JICUF: Do you have a message for USSI supporters in the U.S.? 
Thank you so much! I am extremely grateful to the supporters of this scholarship! I feel as if a lot of students in the U.S. may feel discouraged to go abroad since the U.S. offers so many great opportunities, but I think it's important to go and experience other cultures and points of view. Compassion for and understanding of different people will always help you through navigating society. I think it's really important that these types of scholarships exist, and that their supporters participate in outreach, because there is an abundance of students who wish to explore outside their home countries but don't know where to start. You–the supporters–are allowing students to step into a new adventure that seems daunting at first, but providing this feeling of security and support will set them up to flourish once they arrive abroad. Scholarships like the USSI are integral towards building bridges, instead of walls, between countries.