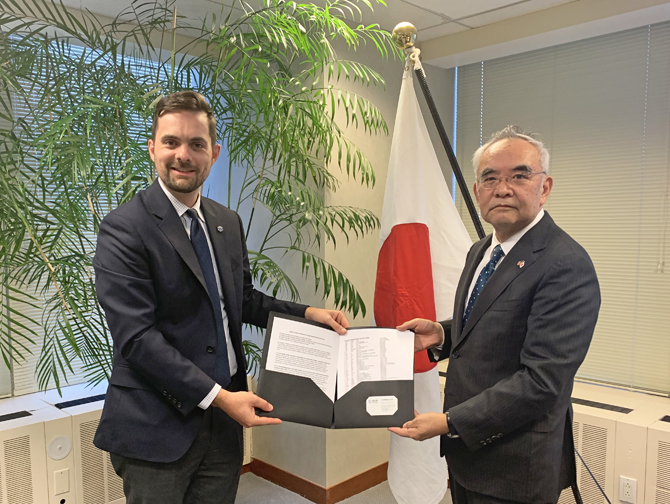 On October 21, JICUF Executive Director Paul Hastings presented an appeal to the Government of Japan to resume the issuance of visas to international students and researchers through Ambassador Kanji Yamanouchi of the Consulate General of Japan in New York. The appeal was signed by more than 650 university administrators, faculty, staff, other professionals and students around the world.
Last spring, in response to the pandemic, Japan suspended the issuance of visas to international students and researchers. Since then, apart from a short window last fall, most new students and researchers have not been allowed into the country. While international students receiving government scholarships are now permitted into the country, self-supporting students, who make up 96% of all international students, continue to wait. This has had a devastating effect on Japanese higher education as well as the students and researchers whose study plans and career paths have been derailed. In the first half of 2021, only 7,078 international students entered Japan, which is a 88.5% decrease from the first half of 2019. Japan is the only country in the G7 that currently does not admit new international students. 
Exchange programs between Japanese universities and overseas institutions are no longer reciprocal. Japanese students and researchers are able to go to overseas institutions, but overseas institutions are unable to send their students and researchers to Japan. Dr. Gavin Whitelaw, Executive Director of the Reischauer Institute of Japanese Studies at Harvard University and member of the JICUF Board, points out that the Institute typically supports over 100 visits by students, faculty and administrators to Japan each year, but in the past year, barring a few students with Japanese citizenship, none have been able to visit Japan. This imbalance is forcing institutions to reconsider partnerships with Japanese institutions.
With significantly fewer international students on campuses, Japanese universities have become notably less diverse. This goes against the government's efforts to globalize Japanese institutions. Moreover, among the international students and researchers who had planned to study in Japan, some have opted to study elsewhere, some are considering shifting the focus of their research, and yet others are struggling to make ends meet with their field research delayed indefinitely. Students who have chosen to matriculate virtually at Japanese institutions are burdened with time differences and limitations of online learning. Many students are suffering both physically and mentally. In the medium to long term, the effects of the travel ban could lead to a general decrease of interest in Japan in academia.
The Japan Association of Private Universities and Colleges (Shidairen), of which ICU is a member, delivered a similar appeal to the government earlier this month. JICUF drafted an appeal in English and circulated among its network outside Japan, with the hope to draw further attention to this important issue, and urge the Japanese Government to welcome international students and researchers. Before visiting the Consulate General, Paul Hastings, Dr. Whitelaw, and Professor Andrew Gordon of Harvard University held a press conference for the Japanese media to highlight this issue.
Ambassador Yamanouchi thanked JICUF for presenting the appeal and promised to convey the message to Tokyo. He remarked that the Japanese Government has been doing its best to prevent the spread of COVID-19, and the measures taken have been largely effective. At the same time, he understands the importance of international exchange between students and scholars, and indicated that it would be considered in shaping future policies.