Dr. Yutaka Morohoshi graduated from ICU in 1969, and has had an unusual career which took him around the world. Dr. Morohoshi graciously pledged a planned gift to JICUF this year, and joined the Hachiro Yuasa Society. We asked him to look back at his time at ICU, and the many adventures he has had.
---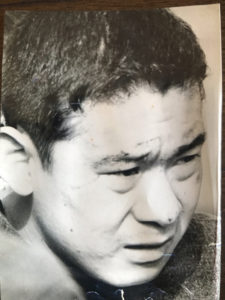 I would never have had the opportunity to work all over the world in diverse fields in my life without the experience I had at ICU. ICU was the only university I applied to, with the vague wish to lead a life that would take me around the world. I didn't have a particular major that I was interested in, and simply wanted to learn the ropes of living an unconventional life. I chose to enroll in the language department. 
Just a few days after matriculation, I had a mind-boggling encounter. An American student sitting across from me in the cafeteria asked me, "How do you spell Hawaii?" I thought to myself, "What? This guy is American, and he is asking me, a Japanese freshman, how to spell Hawaii?" At that moment, the invisible barrier that I had erected between myself and foreigners crumbled. This was precisely the kind of experience I was looking for at ICU. 
During college, I was extremely busy with American football team practice and games, forming a band with friends from other universities and doing live performances, and rallying in a car I bought with my earnings from my interpreter job and help from my parents. As a consequence, my grades were terrible. 
I decided to go to graduate school in the U.S., and consulted Prof. Tatsuro Misumi, who had been my mentor. He told me that since I liked having fun playing sports and music, I should become the first Japanese to get a doctorate in the field of recreation. I read about 20 books on leisure studies in a hurry. Following Prof. Misumi's advice, I went to Brigham Young University in Utah, well known for being run by the Mormon Church. Alcohol, cigarettes, coffee, tea, etc. were prohibited on campus. I studied hard and finished my master's in a year, and managed to escape quickly. 
While at Brigham Young, what I wanted to do became clearer in my mind. I became interested in criminology, which might be the ultimate study of humans. Professors at several schools whose doctoral programs I was admitted to advised me to leave academia for a while and gain practical experience. It was not easy to find a job in the U.S., and while working on my master's thesis, I found a job at a women's prison outside of Toronto, Ontario in Canada. There, I worked on psychological analysis and leisure activity history research. As a member of the correctional education team, I was engaged in criminal profiling and correctional programs. Two years later, I was transferred to a newly opened juvenile detention center. Another two years later, I returned to the United States to enroll in a doctoral program at the University of Utah.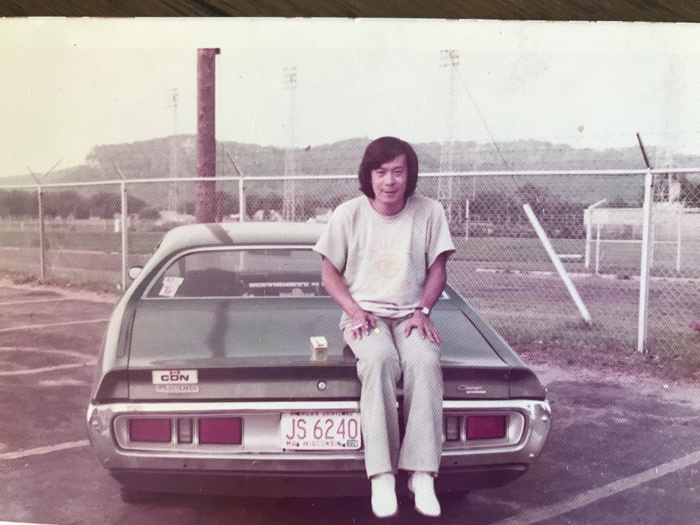 I received my doctorate in two years, and became Assistant Professor at Saint Cloud State University in Minnesota. I had no idea that the beautiful state of forests and lakes would be a whopping -40 degrees during the dead of winter (Fahrenheit and Celsius converge at -40 degrees). Still, eight years later, I became Professor, and three years after that the Dean, and was involved in university administration. 
In 1990, the State University Organization decided to open a campus in Akita, Japan, and I unexpectedly returned to Japan as its first president. I spent five years building its recognition and infrastructure. The university survived for 13 years after which its successor, Akita International University, was established. 
Going back to 1976, I'd like to mention one life-changing event. I was in my second year of the doctoral program, and had already completed the required credits and was about to finish writing my doctoral thesis. I received a phone call from a friend in Canada. He told me that the Japanese broadcasting team was looking for an interpreter and negotiator for the Montreal Olympics that summer. I was only half serious when I applied for the job, but was hired. During those two months, I made great connections by working daily with people from the International Olympics Committee, other influential sports organizations, and the television media and sponsor companies from around the world. 
Many years later, I was finishing up my assignment at the university in Akita, and was getting ready to return to the U.S. An old friend asked me to help him with the bid to bring the 2002 Soccer World Cup to Japan. I requested a two-year leave from my university in Minnesota, and during this time, I worked out of Tokyo and traveled to more than 50 countries to support Japan's bid. I was then invited to join a university in Tokyo as Vice President for Academic Affairs, and resigned from Saint Cloud State University and officially returned to Japan.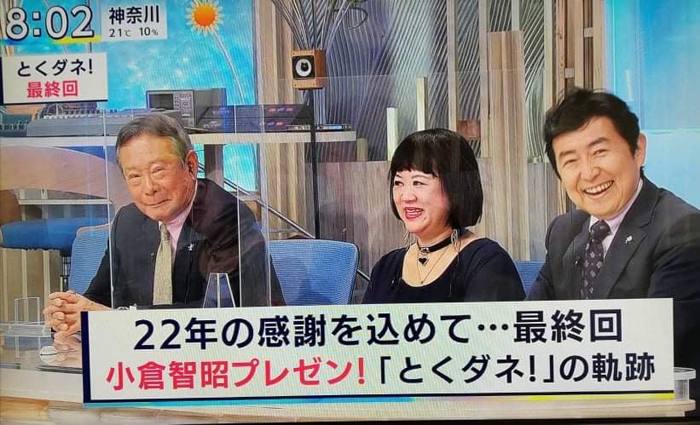 At around the same time, a friend in the television industry invited me to become a commentator on a new morning show on national television. He wanted to make use of my international experience and knowledge of social issues including crime, education, sports, and music. It was a program with about 14 million viewers nationwide, and I was to appear two days a week. I was on that program for 12 years, and had the opportunity to appear in other programs in other stations too, and spent a total of 20 years in the TV industry. 
Numerous sports organizations continued to invite me to work for them, and while I was vice president of a university, I was completely immersed in the world of sports. All in all, I was involved in seven summer and winter Olympics, and helped bring the World Gymnastics Championships to Sabae City in Fukui, in addition to lobbying to host the Soccer World Cup in Japan. I also contributed to bringing the World Games to Akita. The World Games are held every four years and feature 30 or so sports that are not included in the Olympic Games, such as karate, bowling, tug-of-war, water skiing, and skydiving. Furthermore, I helped to have golf included in the Olympics as vice president of the Japan Golf Tour Organization. The president of a company that sponsored a Japanese golf tour asked for my assistance in organizing tournaments in Australia and building a new golf course, and I ended up owning a home near that course. As for my main job, I worked for 40 years in higher education in Japan and the United States. Research and education were never part of my original life plan, and so I spent most of those years as an administrator and manager, working on internal and external reforms.
In the spring of my 68th year, I lost my spouse. I had been totally wrapped up in work up to that point, but I was suddenly at a loss. I went to my house in Australia alone to reflect on my life. I asked myself what I'd always wanted to do but hadn't had the chance to do. The two things that immediately came to mind were flying a plane and playing the piano. An hour later, I was taking a lesson at a flight school at a nearby airport. At 69, I got my private pilot license and bought a plane at the same time. In the six years since then, I've been spending roughly half of the year in the southern hemisphere. In the mornings, I enjoy aerobatics over the Great Barrier Reef, and in the afternoons, I play golf. Because of the travel restrictions due to the pandemic, I have not been able to return to Australia since last March, but it looks like I will be able to return around the New Year holidays.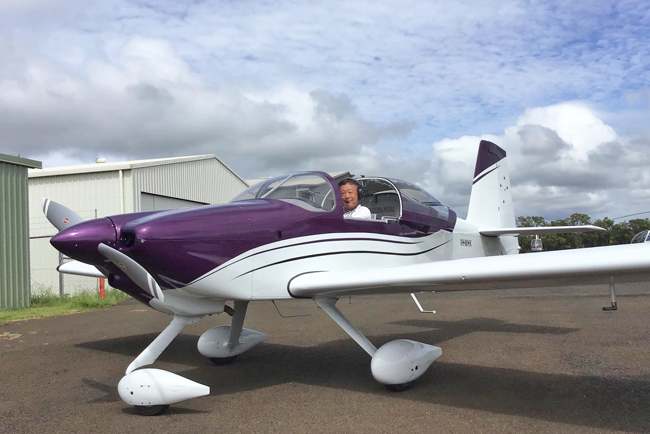 As for the piano, unfortunately, I couldn't get my fingers to move at all, so I'm hoping to improve my guitar skills instead while playing with my current band. Again, due to COVID-19, we have not been able to perform live and are currently inactive. 
I have met ICU graduates all over the world. Many of them were extremely free-spirited and followed their own unique paths. I have constantly challenged the unknown in my life. I am grateful for the education at ICU that made such a life possible, and for the people I met there. I wish for the further development of my alma mater, so that aspiring young people can enjoy the education that ICU provides.