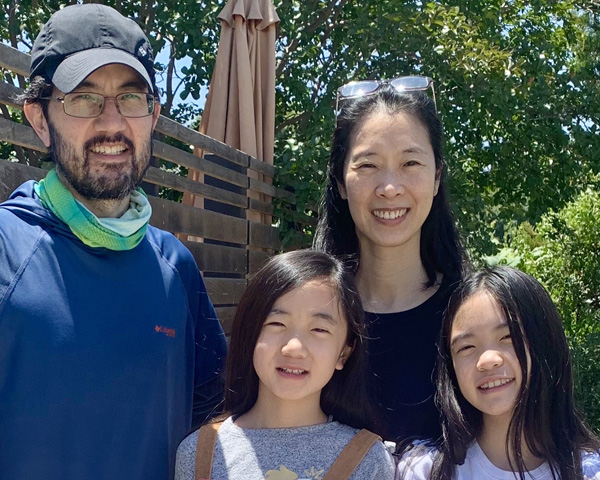 Wayne Tsutomu Osako attended ICU from 1990 to 1991 as an exchange student ("OYR") from the University of California, Riverside. After a career in education, he now works in outdoor retail at Recreational Equipment, Inc. in Orange County, California. Since 2006, he has volunteered to help the Stamp Our Story Campaign, as coordinator and co-chair, guiding community efforts to secure the "Go For Broke" Stamp. The ICU community supported him in his efforts, and the stamp is being issued by the US Postal Service this year. Wayne is currently writing a book based on his parents' wartime experiences. We asked him to share his story. 
————
Ganbatte and the 2021 Go For Broke Stamp
By Wayne Tsutomu Osako
"Ganbatte!" …Classmates cheered as I played dorm soccer at ICU in 1991. As a Nikkei Sansei (third generation Japanese-American) student, I didn't know much Japanese when I arrived, and didn't understand the word at first. 
Thirty years later, I still recall the persevering spirit of Ganbatte, as dormmates shouted the word, encouraging me on cold, tough training runs down the sakura-lined Kassoro Road straight to the heart of campus. Ganbatte Spirit would help restore pride in my heritage, and help lead to a special US postage stamp being issued this year.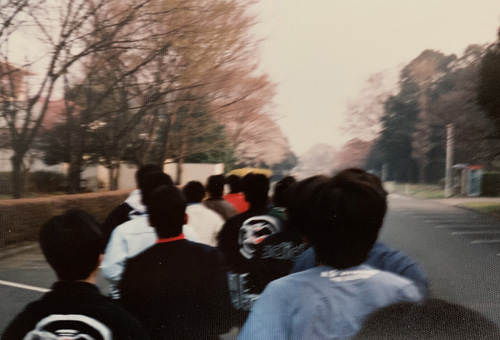 Ganbatte was first explained by my ICU mentors Jackie Wasilewski and Kumiko Osaki. They instilled its meaning through lessons that led me beyond Honkan, past Tenmondai-Dori, and across the Pacific back home to California. Volunteering as a Nikkei community activist in 2006 helped me understand a deeper meaning of the word, as we pressed the US government for fifteen years to issue a rare postage stamp. 
The US Postal Service receives over 30,000 stamp subject requests annually. Only a handful make it. Extremely few Asian American topics are covered. While working as an educator, I heard about a letter circulating among friends asking the Postal Service to honor the Nikkei Nisei (second generation Japanese-American) Soldiers of World War II, and my heart leapt.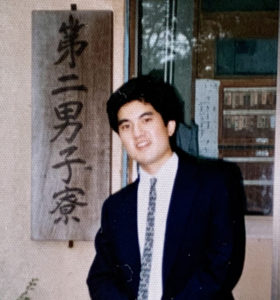 The Nisei Soldiers story is ingrained in my family history. My parents were incarcerated as children in the Nikkei detention camps in the US for three years during the war. Their families hadn't done anything against the law. Yet, their heritage implied sympathies with Japan, and as a result of this and general public anti-Asian sentiment, the President removed their US citizenship reclassifying them as "enemy aliens." Over 120,000 Nikkei were then forced into camps. Refusing to give up, some in my family and others' decided to take action, even from behind barbed wire.
Despite the oppression, amazingly, over 33,000 Nisei joined the US military — including a dozen or so of my extended family and close family friends. They chose to risk their lives and prove their American loyalty through service. The Nisei had a secret weapon to help them endure — the Ganbatte Spirit. 
Nisei "Go For Broke" Soldiers served mainly in the US Army's segregated, all-Nikkei 100th/442nd Regimental Combat Team, Military Intelligence Service, Women's Army Corps, and Army Nurse Corps. Over 800 were killed in action, including one of my relatives. They earned respect through the valor they served with, and they were recognized with thousands of accolades, including 21 Medals of Honor — the military's top honor.  Bipartisan lawmakers collectively bestowed upon them the Congressional Gold Medal, the nation's highest civilian award, in 2010.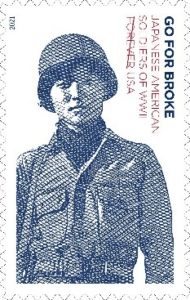 The phrase "Go For Broke" is a Nikkei Hawaiian phrase, meaning to persevere with all you have. It was popular slang among the 100th/442nd soldiers, and became their motto and rallying cry on the battlefield. "Go For Broke" is now used to describe all of the Nisei Soldiers who served, and embodies, in an American way, the "Ganbatte Spirit" instilled by their Japanese parents. This spirit emboldened them as they successfully fought not only against enemies overseas, but also against racial prejudice at home.
Through the generous help of thousands of people across the US, France, and Japan, this postal honor has succeeded. Support letters from Japanese Consul Generals Jun Yamada and Hiroto Hirakoba, and petitions from ICU teachers and alumni, were among the help from Japan. ICU Professor Jackie Wasilewski was especially supportive with kind encouragement and advice from the beginning. 
The US government announced last November that a "Go For Broke Japanese American Soldiers of World War II Commemorative Stamp" is coming this year.  Many Nikkei from Hawaii served, and the symbolic image on the stamp is Shiroku "Whitey" Yamamoto of Ninole, Hawaii.  When you see the postal commemoration, please take a moment, and reflect on the story, and Spirit, behind the image. Thank you!