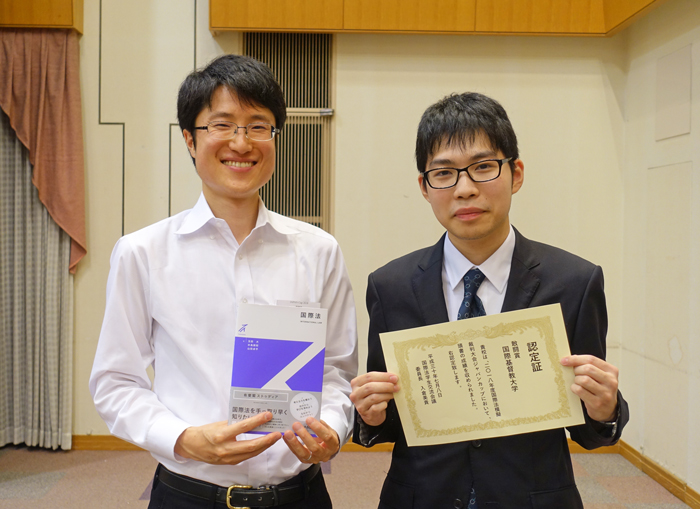 A team of ICU students participated in the 29th International Law Moot Court Competition Japan Cup held on July 7th and 8th, and received the Fighting Spirit Award. The Japan Cup was hosted by the International Law Student Exchange Council with Professor Emeritus Wakamizu Tsutsui (University of Tokyo) acting as the Adviser and Professor Yoshinori Abe (Gakushuin University) as the Special Assistant Adviser. The participating ICU students took the International Moot Court course taught by Assistant Professor Hiromichi Matsuda.
In international moot court, students are given a hypothetical case based on an actual case, and spend three months carefully studying materials and preparing legal arguments from the perspectives of both the plaintiff and the defendant. In the competition, students make oral arguments before the panel of judges comprised of law professors, diplomats and lawyers, and are evaluated on legal techniques to respond to questions.
Participants included teams from Aichi Prefectural University, Osaka University, Japan Coast Guard Academy, Kyoto University, Sophia University, University of Tokyo, Doshisha University, Tohoku University, Toyo University, Hosei University, Yokohama City University, Rikkyo University, Ritsumeikan University and Waseda University. While some of the most competitive universities sent teams of a few dozen students, the ICU team had just three students and yet managed to pull off an impressive performance.
Below are comments from Naoshige Aoyagi (fourth year student) who made the oral argument for the ICU team, and Professor Matsuda, who advised the students.
Naoshige Aoyagi
Moot Court is a role-playing game that takes place in a court setting to discuss hypothetical cases. In this competition, the setting is the International Court of Justice (ICJ), and players (participants) advocate for nations and make arguments based on international law. Players are not only required to have a wide knowledge of international law, but to be able to understand and analyze the hypothetical case and present a persuasive oral argument on their nations' behalf.
Since we were a small team, preparation was challenging, but we were able to utilize the skills we acquired at ICU in the research and discussion preceding the competition. I would like to make the most of the valuable experience I gained, not only in the competition itself but in the preparation stage as well.
Assistant Professor Hiromichi Matsuda (Law) 
The Japan Cup is a high-level national competition, and this is the third year that ICU has taken part in it. The ICU team is always small with just a few students, but is highly regarded. In international moot court, students must tackle a complicated case that closely emulates an actual case by themselves, and develop advanced research, legal writing and oral argument techniques. ICU students are expected to use the ability to learn spontaneously cultivated through active learning and contribute to the peaceful resolution of conflicts by legal means. I would like to thank the library staff, JICUF and others who continue to support this activity.
---
JICUF has been supporting Professor Matsuda's initiative to send ICU students to moot court competitions through the faculty grants program.