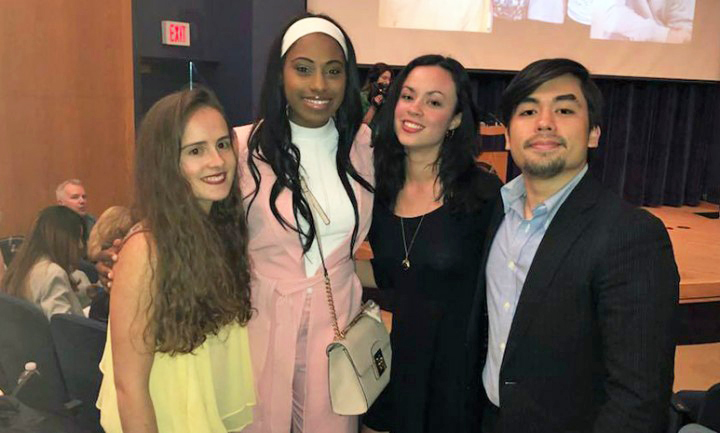 During a recent visit to ICU, I had the chance to interview Naoya Johnson. Naoya is a fourth-year student who studied abroad at Georgetown University during his junior year. While at Georgetown, Naoya took a class titled "Making an Exoneree" taught by Professors Marc Howard and Marty Tankleff in which students studied law by actively assisting the appeals of those in need. Through this class, Naoya and two other international students helped exonerate Valentino Dixon, who was wrongfully convicted and imprisoned for 27 years. In early November, Naoya was invited back to Georgetown to be a panelist at an open lecture by Mr. Dixon.
Details about Mr. Dixon's case and a video of the lecture and panel discussion from the Georgetown event can be viewed here.
Paul Hastings, JICUF Executive Director (PH): Please tell me a bit about yourself. Your background and what you are studying at ICU.
Naoya Johnson (NJ): My mother is Japanese and my father is from the United States. I was born in Kanazawa, and moved to Indiana when I was 3 months old. I returned to Japan at age five, first to Nara then to Shimane for a short period before settling in Tokyo. I went to a Japanese elementary and middle school and attended ICU High School. I am currently studying politics, and recently I have become more interested in philosophy and neuroscience.
PH: I understand you studied abroad at Georgetown University. How and why did you decide to study abroad and what specifically drew you to Georgetown?
NJ: I studied at Georgetown from August 2017 to May 2018. I am interested in political theory, and specifically what makes a society good and just. Having spent the majority of my life in Japan, I wanted to explore politics and society in the United States as a point of comparison. Georgetown is strong in international relations and politics, so it seemed like a good fit.
PH: In general, how was the experience at Georgetown, and how did it compare with and complement your studies at ICU?
NJ: Overall, it was a great experience. I made good friends both inside and out of my dorm. Academically, Georgetown is rigorous and it took some time to adjust. It was also exciting because I got to study not only theory, but also the practical side of things. For example, I was studying the history, philosophy and structure of U.S. government, but living in Washington, D.C., I also had a chance to closely follow how the U.S. government both does and doesn't work in real time.
My experience at ICU is that students get to decide how much effort to put into their studies and how actively to participate in class, while at Georgetown everyone is expected to perform at a high level and participate actively. I had to study hard to be prepared and ready to participate.
PH: I understand you were involved in a course that led to the exoneration and release from prison of a man named Valentino Dixon who had been wrongfully imprisoned for 20 years. Can you tell me about the course?
NJ: Yes, Mr. Dixon was released from prison on September 19, 2018.
PH: Can you please set the stage and explain how the course worked and how specifically you were involved?
NJ: There is a professor at Georgetown named Marc Howard who is charge of a program called the Prisons and Justice Initiative. He teaches courses on prison reform and the criminal justice system. I took his course in the fall of 2017 called Prisons and Punishment, and during the spring term I applied to and was admitted to a course called the Prison Reform Project, which is only open to 15 students. The students are divided into five groups of three and each group is assigned to a case study of a prisoner who, through various channels, is believed to be wrongfully convicted and imprisoned. The course is co-taught by Marty Tankleff, himself a former exoneree from prison.
Our coursework was all based on our case study. Outside of class, we conducted a large amount of research into court records, and had to summarize the parts of the record that seemed problematic. We also consulted with various experts, such as memory experts, witness experts, private detectives, etc. We would ask them about the validity of certain witnesses, and even to help us track down witnesses so that we could interview them directly.
In addition to conducting research on the case, we also had to develop advocacy materials to share with the general public. We learned that it is very important to raise public awareness of specific cases of people who are wrongfully convicted. Finally, we had a chance to interview lawyers and district attorneys who were involved directly in the case.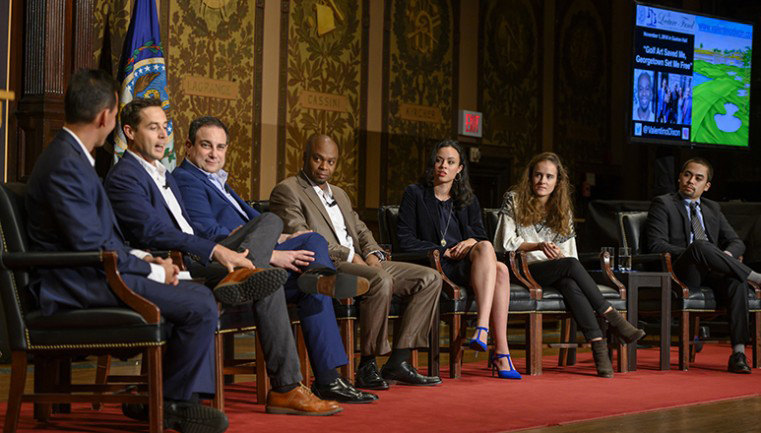 Then, in class each week we would share the progress we have made with each other. Experts would also come to class and share different strategies and techniques.
PH: Can you tell me a bit about the specific case?
NJ: Yes, Mr. Dixon's case took place in Buffalo, NY. He was convicted in 1992 of murder during a gunfight that erupted late at night outside of a popular bar. However, there were many problems with his case. For example, one of the witnesses who testified against Mr. Dixon had been drinking and consuming drugs. Another witness admitted later that he was pressured to testify against Mr. Dixon by the prosecutor. In addition, the actual shooter publicly confessed on TV soon after the shooting. However, even with all these inconsistencies, Mr. Dixon was convicted and was not having any luck trying to get a judge to reopen his case. That is why we felt that raising public awareness was very important.
While Mr. Dixon was in prison, he spent a lot of time painting. He ended up painting many golf-themed paintings, and in 2012 was featured in Golf Digest magazine. This also helped to bring publicity to his situation. Our team created a website and also started to take short explanatory videos. We also started an online petition in support of Mr. Dixon.
PH: I'm curious to know how this experience has made you feel about the criminal justice system in the United States?
NJ: The estimate for people who are wrongfully convicted in the United States is between 1% to 6%. Even if it's only 1%, that is too much. Also, every year, only 160 people get released from prison after being proven to have been wrongfully convicted. You have to be very lucky to get out and you often need hard evidence like DNA test results.
In some cases, the rules themselves are the problems. For example, disproportionate punishment for certain crimes. There are also certain groups within the United States that are disproportionately incarcerated. Both of these issues are problematic. In addition, the law is practiced by people and all people are flawed. There are prosecutors and judges that make problematic decisions.
The good news is that there is a growing consensus in the United States that reform is needed in the criminal justice system. For example, everyone agrees that we should lower the number of people who are wrongfully convicted.
PH: Last question, has this specific experience and the overall experience of studying abroad changed what you want to do in the future?
NJ: Yes, absolutely. I do not know exactly what I want to do, but the experience has deepened my interest about what drives people's decision making and in politics in general. I plan to take a break from school for a year and then apply to graduate school in the United States.
PH: Thank you so much for your time and or sharing your story.