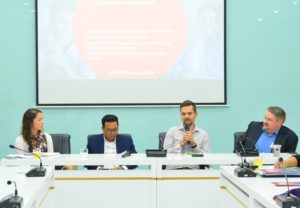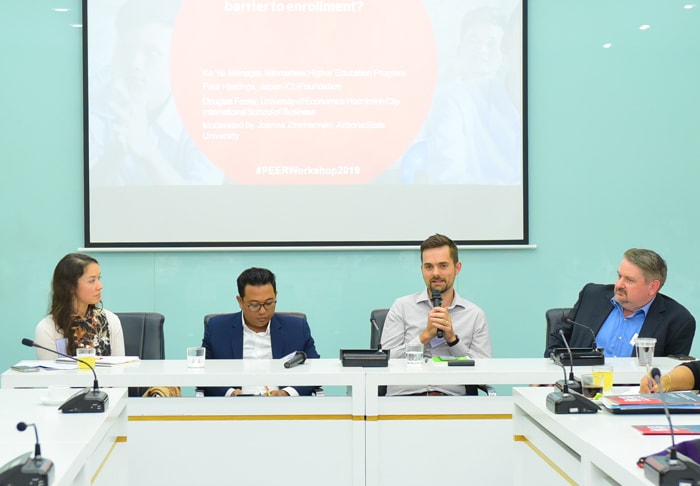 Earlier this month, JICUF Executive Director Paul Hastings was invited by the Institute of International Education to speak at a workshop in Vietnam on the topic of refugee higher education. JICUF's scholarship program for Syrian students, the Syrian Scholars Initiative, is the only private sponsorship program hosted by a university in Japan and has garnered much interest among the international community. ICU Professor Osamu Arakaki also participated in the workshop. Below is a report from Paul.
---
On Thursday, September 19, I had the opportunity to speak at a workshop in Ho Chi Minh City hosted by the Institute of International Education's Platform for Education in Emergencies Response, Western Sydney University and the University of Economics Ho Chi Minh City. The workshop's subtitle was "pathways to higher education for displaced students in Asia-Pacific." As the subtitle implies, the daylong workshop focused on efforts in the Asia Pacific region to provide higher education opportunities for refugee and displaced students. Amongst the 35 participants were university administrators and professors, leaders of university preparatory programs, refugee advocates, philanthropists, lawyers and students.
The keynote address was delivered by Dr. Yi-Chen Lan, Pro Vice-Chancellor, Global Development at Western Sydney University, and by Nant Smile Lin Htut and Naw Ngee Yee Win, displaced students studying at Western Sydney University. Dr. Lan spoke about the work Western Sydney University is doing to support displaced and marginalized communities. The two displaced students spoke eloquently about their experiences growing up in refugee communities on the Thai-Myanmar border and their pursuit of education.
I spoke on a panel in the afternoon titled, "Admission & Qualifications: How can we reduce the barrier to enrollment?" In my remarks I spoke about the unique challenges of managing the Syrian Scholars Initiative (SSI). I emphasized the high TOEFL / IELTS requirements as the biggest barrier for interested applicants. I also spoke about the importance of flexibility in regard to documentation requirements, stating that refugee students often do not have access to the original, signed and sealed copies of transcripts and recommendation letters.
It was a fascinating workshop, and I applaud the organizers and hosts.