On Friday, September 13th, JICUF hosted a 70th Anniversary Dinner at Riverside Church in New York City. Riverside Church sits across the street from the Interchurch Center, JICUF's home since 1961. 113 alumni and friends attended the event from the New York Metro Area, Boston, Washington D.C. and beyond.  A few even traveled from Japan.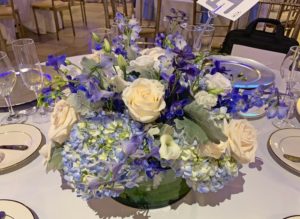 After a pre-dinner reception and champagne toast, 70th Anniversary Chair Delores Roeder, and ICU President Junko Hibiya made congratulatory remarks while JICUF Executive Director Paul Hastings introduced JICUF's history, current work and future vision.
Chair of the ICU Board and alumnus Hirotaka Takeuchi was the keynote speaker. Dr. Takeuchi showed photographs from his days at ICU where he was one of only five male students among 30 in the September class of 1969. At ICU, he played soccer, took part in theater and debate, and met his wife Nobuko. His first encounter with ICU was at the Tokyo Olympics in 1964 where he worked as a translator alongside talented ICU students, and his long relationship with the university will come full circle at next year's Tokyo Olympics where he will again contribute as a translator while serving as Chair of the Board.
Dr. Takeuchi showed that ICU's mission has remained consistent throughout the years – to nurture internationally-minded individuals who serve humanity and contribute to world peace. ICU's values of freedom, equality, democracy and universal peace continues to form the bedrock of its education. He closed his presentation by reminding us that "love is to give, expecting nothing in return" and called on the ICU community to "pay back and pay forward." 
Alumni from all seven decades were present. Guests included Mr. Lawrence Tsuyuki from the first graduating class (1957) to current ICU students Haruko Suzuki and Risako Yamashita (2021). Haruko just started her study abroad at Rutgers University, and Risako is currently taking time off to volunteer for NY de Volunteer.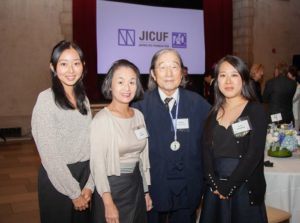 JICUF will host another commemorative event in Los Angeles on March 14th, 2020. Details will be announced on our website and Facebook page in the near future! 
Please enjoy the photo gallery below. (All photos by Kristie Chua)