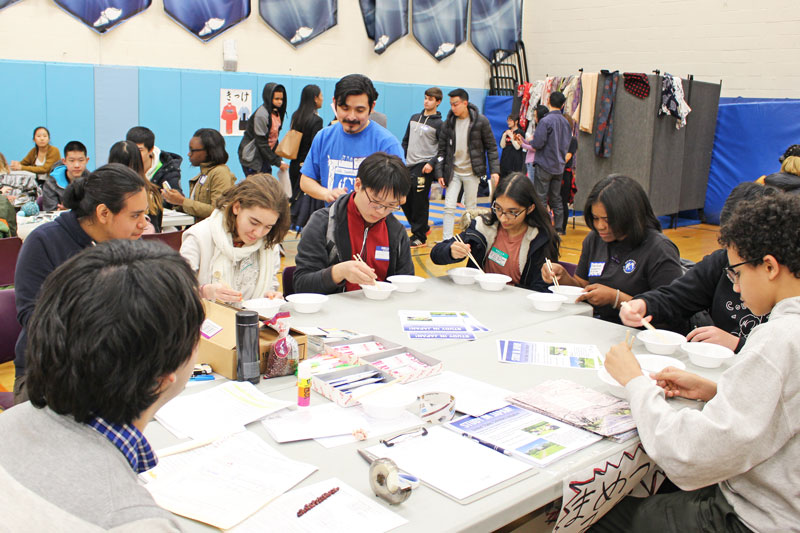 On March 19th, JICUF staff participated in the Harumatsuri (Spring Festival) organized by the Northeast Council of Japanese Teachers (NECTJ) at the United Nations International School (UNIS). Harumatsuri has been held every year since 1994. The aim of the event is to act as an educational event where students can hone their Japanese, as well as an exchange event that students can use to deepen their cultural knowledge of Japan.
According to NECTJ, more than 500 students who are learning Japanese (mainly high school students) and 100 volunteers participate in the event each year.
This year, students from 19 high schools in the NYC Metro Area joined the event. Two high schools in Japan (Osaka Yuhigaoka High School in Osaka, and Seisa School in Yokohama) sent groups of students as well. Moreover, five students from the Tohoku Region participating in the Kizuna program were invited to the festival by the Japanese American Association (JAA) and NECTJ.
After greetings from Mr. Masaru Sato of the Consulate General of Japan, students broke into small groups to visit the 43 activity booths manned by volunteers. Activities included many traditional activities such as shodo (calligraphy), sado (tea ceremony), karuta and kitsuke (wearing kimono). JICUF hosted the "Chopstick Challenge," a game in which students competed how fast they could move azuki beans from one bowl to another using chopsticks. We introduced ICU and our scholarship for U.S. students, the U.S. Scholars Initiative, to the students who stopped by. In total, we had the opportunity to meet about 70 students. They all seemed to enjoy the game, and we had just as much fun!