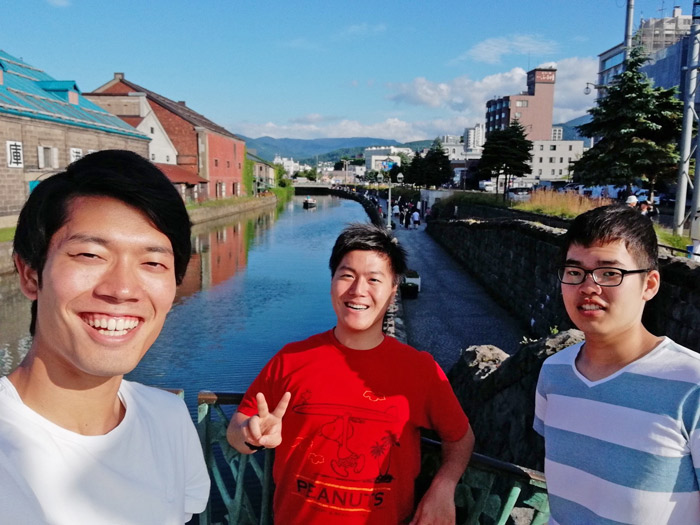 Fourth-year ICU student Michinori Suzuki received a JICUF student travel fund of ¥651,800 last fall to conduct two research trips to Hokkaido. Michinori majors in linguistics, and made the first trip in March with one other, and the second trip in July with two other students. In the spring, they visited Hakodate, Otaru and Asahikawa, and in the summer, they added Kitami and Kushiro to their destination. We asked him about his research on voiced plosives in two Japanese dialects.
JICUF: What is your research about, and what was the purpose of your trip?
Michinori Suzuki (MS): This project is part of a linguistic study with a focus on phonetics, which explores the sound systems of languages. The current project compares two Japanese dialects (the Hokkaido and Kanto dialects) by examining vocal vibration using acoustic and articulatory methods. The recording is conducted with a microphone and a device called Electroglottograph (EGG), which measures vocal vibration.We visited five locations in Hokkaido to collect data from speakers who grew up and stayed in the area.
At first, when I took a Phonetics course, the students had a chance to record our own voices using Electroglottograph(EGG). All of the students said "aba" ([b] sound is supposed to be accompanied by vocal vibration), but according to the EGG data, most of the Japanese students said "apa" (= the results did not show much vocal vibration). However, only one student from Hokkaido showed full vocal vibration during "b". Based on the observation, we hypothesized that vocal cords of people from the Hokkaido region vibrate more than people from the Kanto region when pronouncing sounds like [b], which are called voiced obstruents.
Then, we tried to conduct an experiment by recording eight ICU students (four from the Hokkaido area and four from the Kanto area). The results indicated a difference in pronunciation between these two dialects, and we reported this result in the 31st general meeting of the Phonetic Society of Japan. In the conference, a professor suggested that we research pronunciation of people who grew up and stayed in the Hokkaido area because ICU students from there have already spent two or more years in the Tokyo area, and Kanto dialects may affect their pronunciation. Therefore, in this project, we aim to examine whether the phenomena can be observed in the Hokkaido dialect. We would also like to explain how exactly these two dialects are different using statistical methods.
JICUF: How did your summer trip go?
MS: We conducted studies in five different cities in Hokkaido as suggested by Professor Mieko Takada, an expert in Japanese sound systems from Aichi Gakuin University. Starting from Hakodate, we moved to Otaru, Asahikawa, Kitami, and Kushiro. We spent one day recording participants and the next one day moving to the next city, because Hokkaido is very large. In total, research was conducted during a 10-day trip. We were able to record 20 participants in these regions.
I would like to emphasize that Hokkaido had nice weather compared to Tokyo. When we launched this project in Hokkaido, Tokyo was scorching hot. I'm pretty sure that I would have melted if I were in Tokyo at that time.
JICUF: How did the JICUF funds help you accomplish your project?
MS: The JICUF funds covered honorarium for the participants, transportation expenses, accommodation, as well as meals and incidentals. Under the guidance of Dr. Seunghun Lee, the fund also provided me with an opportunity to learn how to organize a research project. In particular, forming a research team (with two other linguistics students), preparing experimental stimuli, contacting prospective participants, and planning for analyses and dissemination. This project would not have been possible without funding from JICUF. I would like to thank JICUF for giving me this opportunity of conducting field research, which will prepare me better to become a linguist in the future.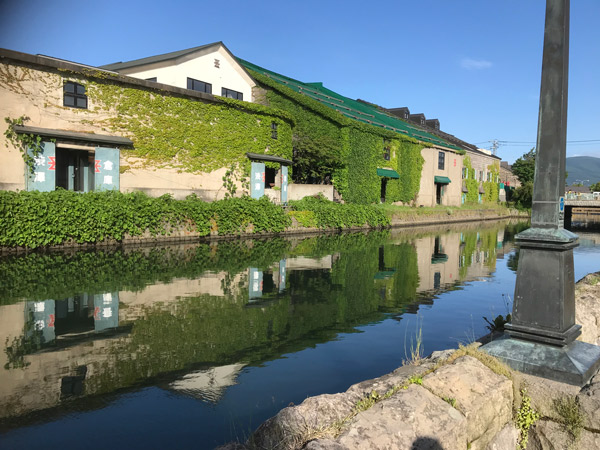 JICUF: Thank you Michinori! Good luck with your project!