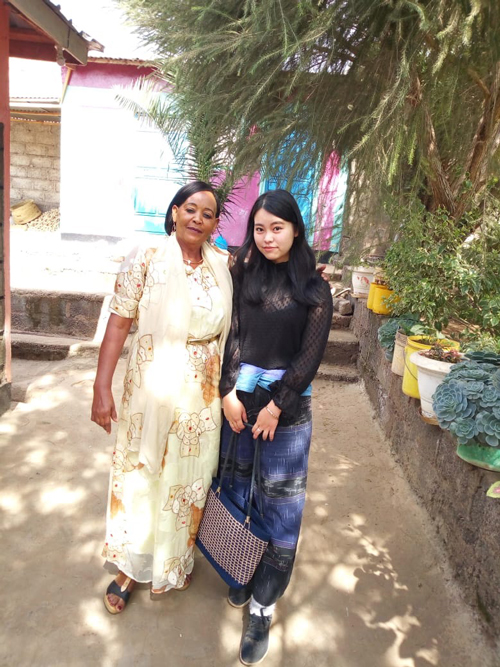 This spring, third year Education and International Relations student Naho Yoshikawa was awarded ¥316,523 via the JICUF Student Travel Fund. Her proposal was to research the relationship between students' self-concept and learning environments in Oloitokitoki village, Kenya, using psychological and pedagogical observation methods this July. Naho, who is currently studying at Université Libre de Bruxelles in Belgium, spent a month in the area last year as part of a service learning program which piqued her interest in the educational systems of marginalized communities in Kenya and motivated her to conduct this research project. JICUF funds were used for airfare, on-site transportation, and lodging. 
While in Kenya in 2018, Naho noticed that the classroom environments and practices she observed in public schools were different from what she understood to be an effective pedagogy. In order to research the effects of these environments on the students, she focused on how varying levels of social support in the classroom could affect the social-emotional competence and academic achievement of students. As part of her study, she observed the fifth-grade classes of one private school (St. Luke's Primary School) and one public school (DEB Primary School) in Oloitokitoki village for four weeks. She took note of teacher-student interactions, inter-student relationships, and general classroom environment. In addition, she conducted interviews with teachers and students and quantified their social-emotional competency using The Social-Emotional Competence Questionnaire (SECQ). 
She found that the importance of earning high marks and the necessity of meeting performance thresholds led to competition both among students (earning good grades) and teachers (having an overall high-scoring class). For example, teachers were motivated to give attention to well-performing students in order to maintain a high overall class score. This led to the well-performing students being more comfortable approaching teachers for help and bolstered their self-image. The attention, educational support, and self-esteem all seemed to affect the results of the SECQ. 
Another factor she noticed was peer interactions of the students. A student's access to classroom materials like erasers and pencils often changed how they were perceived in the classroom, which affected their self-esteem and interpersonal relationships. A student with an eraser would often be asked by other students to borrow it, leading to increased attention which affected self-esteem. 
Unfortunately, language barriers and a relatively short research period were obstacles for Naho. Interviews in English with native speakers of the Kiswahili or Maasai language were difficult, and she felt she didn't have enough time to build trust with some of the students. These experiences leave her motivated to continue her research with longer and more thorough projects. Overall, Naho views this project as the first step towards more research into the subject of educational systems in Kenya and Africa in general. 
Finally, the project allowed Naho to think about future career paths. She is now motivated to further research the politics of education in Africa, and how international geopolitics can have effects on the students and schools.  With her academic interests expanded, she hopes to spend a fruitful exchange year in Belgium to study history, politics, international relations, and the French language to broaden her future research possibilities in Africa.