"Global Citizenship is an ongoing process of development of our capacity to make sense of ourselves and those around us in a deeply and increasingly interdependent world."  – Fernando Reimers, Professor of Education at Harvard University
The Japan ICU Foundation was founded in 1949 by a group of visionaries inspired by caritas and a commitment to reconciliation. In the resolution to incorporate the Japan ICU Foundation, ICU was referred to as, "a perpetual monument to and an active instrument for peace and international understanding." 71 years later, the JICUF Board of Trustees reaffirms our founder's vision by announcing the adoption of new mission and vision statements for JICUF. Here are the new statements:
Mission Statement
The Japan ICU Foundation works with International Christian University to nurture global citizens who contribute to the well-being of humanity.
Vision Statement
The Japan ICU Foundation envisions a community of global citizens who actively contribute to a peaceful and sustainable future for humanity. These global citizens are critical thinkers and effective communicators, comfortable traversing cultural and national boundaries. They have a firm ethical compass and a commitment to the common good. They are inspired by ICU's Christian heritage and the universal values of peace, justice, equality, freedom and love.
**********
The mission statement is the primary objective of JICUF, and the vision statement describes the long term outcome JICUF strives to achieve. The statements were carefully drafted by the JICUF board and staff as part of a strategic planning process. In addition, we are also pleased to share four key organizational goals that stem from the mission and vision.
♦ Global Exchange
Increase opportunities for intercultural and international exchange.
♦ Capacity Building
Nurture students' critical thinking skills and real world competencies.
♦ Value-Based Decision Making
Develop students' core values that are crucial to principle-based decision making.
♦ Inspired Action
Challenge students to take actions that are reflective of core values and that benefit society.
JICUF achieves these goals in a myriad of ways. The following illustration shows how our programs and new initiatives connect with the goals.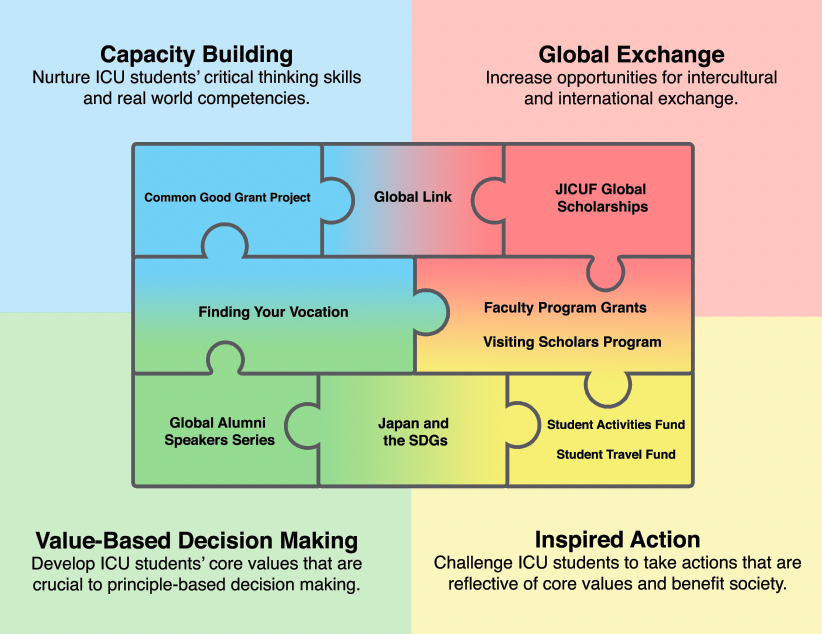 JICUF is excited to work closely with ICU to achieve our new mission and vision.